Players hold Roberto Clemente Award in highest regard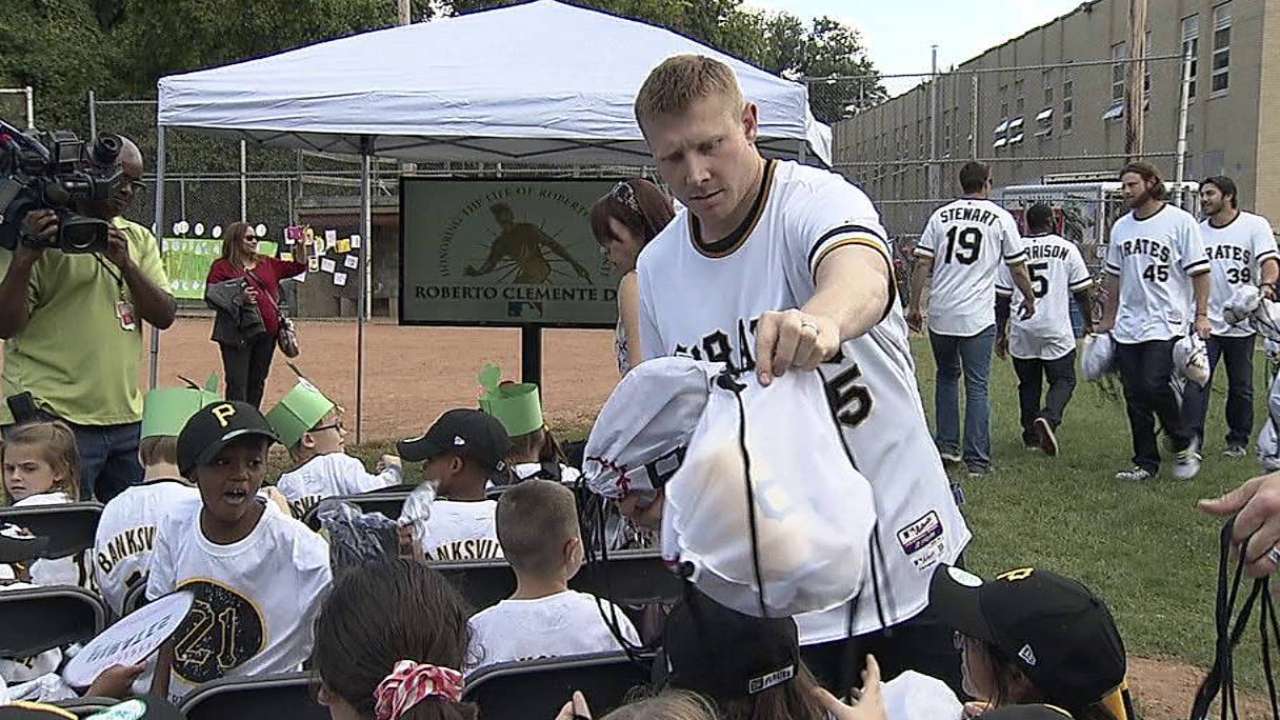 PITTSBURGH -- Roberto Clemente's entire family was on hand for Roberto Clemente Day festivities on temperate Wednesday night at PNC Park in Pittsburgh. It was Roberto Clemente day at every ballpark on the Major League schedule but since its inception in 2002, it's always meant something more here in Pittsburgh where Clemente is regarded more as a deity than a mere mortal. Clemente's number 21 was cut into the right field grass by the grounds crew, just in front of the 21-foot right field wall that bears his retired number four times along the top of the out-of-town scoreboard. In a pre-game ceremony, Clemente's widow Vera and her sons, Roberto Jr, Ricky and Luis all clad in No. 21 Pirates jerseys presented a framed Clemente jersey to the Pirates 2014 Clemente Award nominee Charlie Morton.
Though there are no statistical criteria for Major League Baseball's Roberto Clemente Award, it has become one of baseball's most revered honors since its inception in 1973. The award is presented annually "to the player who demonstrates the values Clemente displayed in his commitment to community and understanding the value of helping others."
Originally known as the Commissioner's Award when created in 1971, it was renamed in Clemente's honor following his death in an airplane crash while attempting to fly relief supplies to earthquake victims in Nicaragua on New Year's Eve 1972. Most baseball fans who are aware of Clemente's fascinating life story and career as a pioneering Latin American player are also familiar with his tragic demise, which can be seen as the ultimate example of Clemente's selfless humanitarian behavior and a defining element in the creation of the Roberto Clemente Award. However, his wife Vera says he lived every day of his life the same way.
Reflecting on her late husband at the Roberto Clemente Museum's fifth annual fundraiser celebration on Monday night, Vera Clemente told another story of his innate bravery and heroic courage.
"When Roberto was 11 years old and living in Carolina, Puerto Rico, he witnessed a car accident on the main road between Carolina and San Juan when a driver fell asleep behind the wheel and crashed into a tree," she said. "The car had caught on fire and Roberto ran across two lanes of traffic to pull [the driver] out of the wreckage. Other cars had stopped, but Roberto was the first on the scene and pulled [the driver] out of the car.
"During his entire life, from a very young age, Roberto was inclined to helping others. As a Major Leaguer he would visit children's hospitals and nursing homes and he did all these things to help others very quietly -- not seeking recognition -- just doing it for the intrinsic value of helping others."
To Vera and her family, the fact that Major League Baseball recognizes the inherent value of this type of achievement with such an elite award -- which is presented to only one player from a pool of 30 candidates, one from each Major league Team -- is a true honor.
"[It's] very special and very touching and just an amazing feeling for me and our family especially, because Roberto truly believed in helping others. He lived it, he believed it and he did it without trying to receive recognition. He did it because he believed it was the right thing to do and that was his calling."
Pittsburgh Pirates center fielder and 2013 National League MVP Andrew McCutchen was his team's nominee for last year's Clemente Award based on his involvement with organizations like Pittsburgh Promise, which develops Pittsburgh urban communities to be more conducive to learning, as well as his signature Cutch's Crew, designed to mentor inner city youth baseball players and at-risk children in the Greater Pittsburgh Region.
McCutchen spoke of the significance of Major League Baseball recognizing Clemente and what Clemente Day means to him.
"It means a lot, but it takes more than one day to be able to explain and have an understanding of who he was," McCutchen said. "He should be someone who is remembered around baseball on a daily basis ... I strive to be the type of person that he was -- doing the job that was set to do for him on this earth and to be able to use his tools and talents and his abilities to impact others in so many different ways and shapes and forms.
"I strive to be that type of person as well. I'm just trying to be that guy who can make a difference and be able to help others, to devote and dedicate my time to those in need."
Pirates' broadcaster and former starting pitcher Steve Blass was a teammate of Clemente's in Pittsburgh and spoke of the high regard current players have for the Clemente Award: "These players are very proud of [being nominated for the Clemente Award]. You look in all the media guides and the players that have been nominated have it included in their bios. It means something to these players and not just the Latino players. It means something because of the way he played the game, the way he played life. Clemente had a presence not only as a ballplayer, but as a humanitarian. And it's not created, either you have that in you or you don't. He had that."
Last year's winner, eight-time All-Star Carlos Beltran, said that receiving the Roberto Clemente Award ranked "No. 1" among the awards and honors he has received in his career.
"Playing the game of baseball is something we have to do," he said, "but giving back, not everyone chooses to do. And that's something that I take a lot of pride in."
Duane Rieder, executive director of the Roberto Clemente Museum in Pittsburgh, said that Beltran was a perfect choice to receive the Clemente Award last year.
"Roberto's dream was having a sports city in Puerto Rico where kids could play sports," said Rieder. "Well, that's Beltran's dream as well, and he did it on the other side of the island. These kids can never even travel to Carolina in San Juan, where sports city is, so he did it on his own and built it, he's an unbelievable person."
Vera Clemente sits on the committee that reviews applications for each team's Roberto Clemente Award candidates and said she was particularly pleased with Beltran's selection last year because of a personal connection he has with the Clemente family. Two of her grandchildren graduated from Carlos Beltran's Baseball Academy designed to assist in the development of young athletes, while also emphasizing the importance of a disciplined approach to education. Vera said the process came full circle when Beltran received the Clemente award and one of her children graduated from his academy with high honors.
Both Vera Clemente and her son Luis said that players who have received the Clemente Award have personally told them what it means to them.
"It's something that the players cherish," said Luis Clemente, "The families of the players that win it tell us how excited they are about it, some have even expressed that it's more important than receiving an MVP award."
The winners of this year's Roberto Clemente Award will be announced at the 2014 World Series.
Charlie Vascellaro is a contributor to MLB.com. This story was not subject to the approval of Major League Baseball or its clubs.