Reflections: Jeter a part of Rays' own stories
Maddon, players remember special moments in interaction with Yanks captain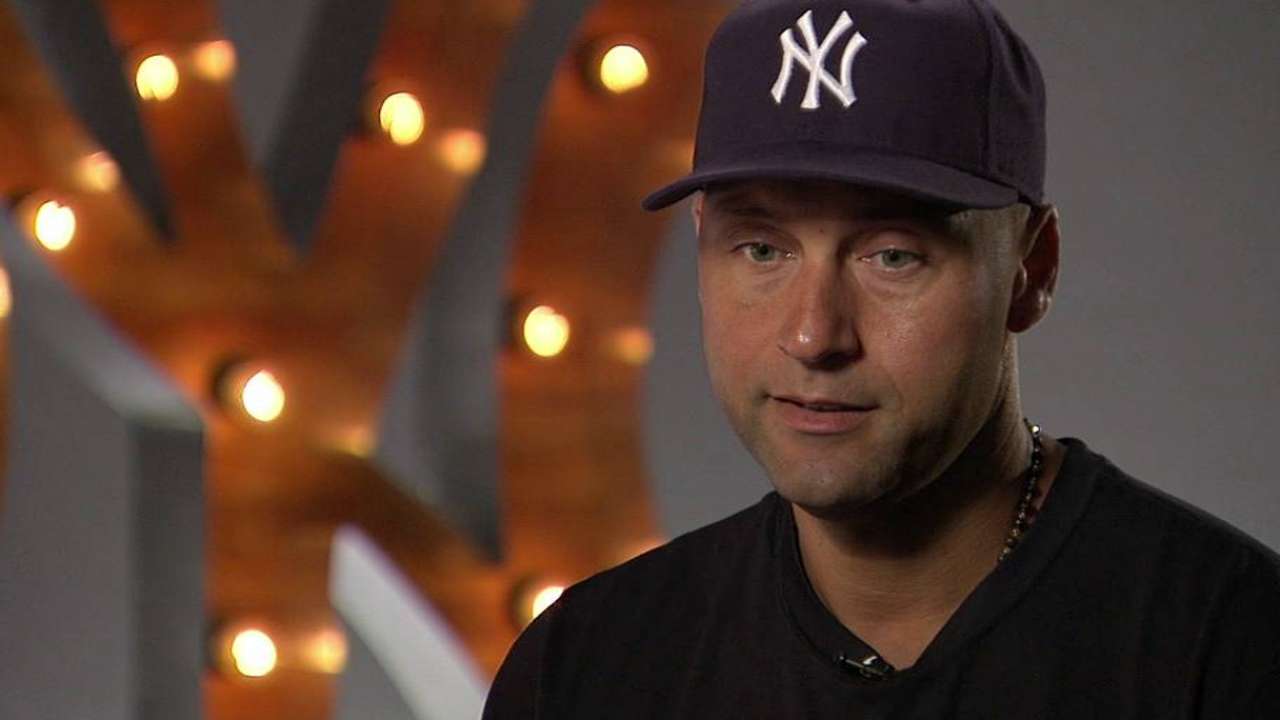 ST. PETERSBURG -- The Rays have been there for Derek Jeter's moments, of course. There've been plenty over his 20-year MLB career -- like when he hammered a home run off Tampa Bay ace David Price for his 3,000th hit. But Jeter's been there for the Rays' moments, too.
When Jeter and the Yankees came to Tropicana Field for his final series in St. Pete -- Wednesday's finale was his last game at The Trop -- several Rays recalled Jeter's appearances in their own career paths, not only their appearances in his.
There was Joe Maddon's first game managing a Major League team, as the interim manager for the Angels in 1996, when No. 2 was the opposing shortstop.
"My first interim manager game was against the Yankees in '96, when [Angels manager] John McNamara got sick," Maddon said. "I believe we won, but that's not the story. The point is, his first at-bat, [Jeter] comes up as the leadoff hitter and hits a home run. I remember that very distinctly."
There was a welcome-to-the-big-leagues moment for Ben Zobrist, who's the longest-tenured Ray but would have to be tenured a while longer to approach Jeter's run with New York.
"I can remember one of the first ground balls I ever hit to Derek in New York, in the hole, and that's been a hit my whole career coming up through the Minor Leagues and anybody else I've ever played against," Zobrist said. "And next thing I know, the ball beat me to first base."
And there was a milestone for closer Jake McGee. In 2010, Jeter became the flamethrowing lefty's first career out when McGee struck out the Yankees captain with the bases loaded on Sept. 14.
"That was my first out in the big leagues," McGee said. "My debut, I couldn't feel what I was doing, really, because of just so many jitters and nerves and stuff going on. But just to get him out ..."
These days, McGee throws almost exclusively fastballs. That day, he started Jeter off with a curveball for a called strike one. "I was so surprised I threw it for a strike," he said.
Now, McGee's velocity sits in the mid- to upper-90s. Not so when he caught Jeter back then.
"It was a fastball down and in," McGee said. "It was, like, 93 [mph] or something like that. I wasn't throwing that hard."
Knowing it was McGee's first Major League strikeout, during the Rays' next trip to New York, Jeter sent him an autographed bat wishing McGee the best. McGee still has it.
Jeter, for his part, recognizes the sheer amount of baseball he's been a part of over the past two decades.
"This is parts of 20 seasons here, but it's parts of 23 professionally," Jeter said. "I've been doing this longer than I haven't been doing this.
"As some of the older players used to say when I was coming up, it's time to let someone else play, you know?"
The thing is, Jeter's been involved with those "someone elses" playing -- like Maddon, Zobrist, McGee and the other Rays -- all along. It's just that now, they'll be playing without Jeter in the other dugout.
David Adler is an associate reporter for MLB.com. This story was not subject to the approval of Major League Baseball or its clubs.