Buchholz can't stop playoff-hungry Pirates
Making big league debut, Castillo notches first hit during fourth inning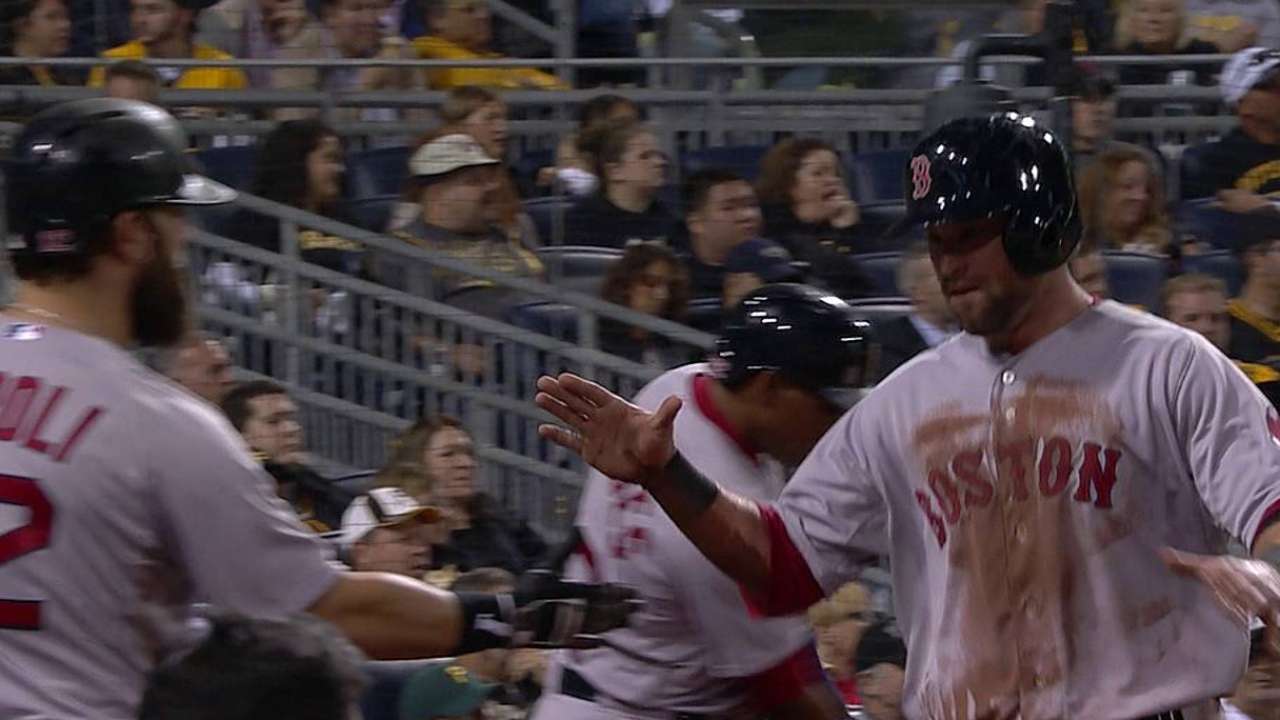 PITTSBURGH -- Just as he was settling into a nice late-season groove, Clay Buchholz was shelled on Wednesday night at PNC Park, as the Red Sox took a 9-1 loss to the Pirates.
Buchholz lasted just four innings, giving up six hits and five runs, four of them earned.
"He made some mistakes against some good hitters. Ran into some hittable counts and they took advantage of him," said pitching coach Juan Nieves.
The performance came on the heels of a brilliant four-start stretch, in which Buchholz went 3-0 with a 2.10 ERA.
"He's been really consistent for a long time now. He had a bad game tonight," said Nieves. "I'd expect him to pitch two more and finish strong, but he's showing some flashes of brilliance again for a long period of time. Very positive finish."
Especially compared to last season, when Buchholz was bothered by shoulder woes down the stretch.
"Never expected him to really start this season up to par because he finished the last season on a bad note, and the good thing about it is he's been pitching all year," said Nieves. "Health is not an issue anymore and we can take this and create a base for next year."
Meanwhile, center fielder Rusney Castillo made his Major League debut for the Red Sox, going 1-for-4.
There has been great interest in Castillo, considering the Red Sox signed him to a $72.5 million contract last month.
"I'm pretty satisfied with that being my first game," said Castillo. "Obviously you'd like a better outcome in terms of winning the game. But I was pretty satisfied with my overall approach and the way I stepped in today and had some results. Overall, satisfied."
The Pirates wasted no time getting to Buchholz, as Gregory Polanco belted a solo shot with one out in the first.
In the second, the normally sure-handed Mike Napoli dropped a throw by Xander Bogaerts for an error, and the floodgates opened from there, with the Pirates following with four straight hits to take a 4-0 lead.
"Actually, I felt my fastball velocity was better," said Buchholz, who dropped to 8-9 with a 5.29 ERA. "Felt good before the game. Last four or five games, I made mistakes during the game, but I didn't seem to pay for them. Every mistake I made tonight, I ran into a club that's swinging the bat real well right now. Everybody knows they have a good lineup. If you don't command the pitches like you're meant to against a lineup like that, that's how you get hit."
All eyes were on Castillo, who produced his first career hit in the fourth, an infield grounder that second baseman Neil Walker couldn't make a play on.
"You'd always like to hit the ball hard and maybe have it be a line drive. That being said, a hit is a hit and I'm happy I got one," said Castillo.
Bryce Brentz pinch-hit for Buchholz in the fifth and came up with a hit in his first career at-bat, a double into the corner in left.
"It's a dream come true," said Brentz, who is ranked the club's No. 20 prospect. "I think every player that comes up always wants to get their first one out of the way. I was more than happy to do that."
Knuckleballer Steven Wright faltered in place of Buchholz, getting belted around for five hits and four runs over one inning.
Ian Browne is a reporter for MLB.com. Read his blog, Brownie Points, and follow him on Twitter @IanMBrowne. This story was not subject to the approval of Major League Baseball or its clubs.