Bryant hoping his big league arrival comes soon
Cubs top prospect visits Wrigley as team's Minor League Player of Year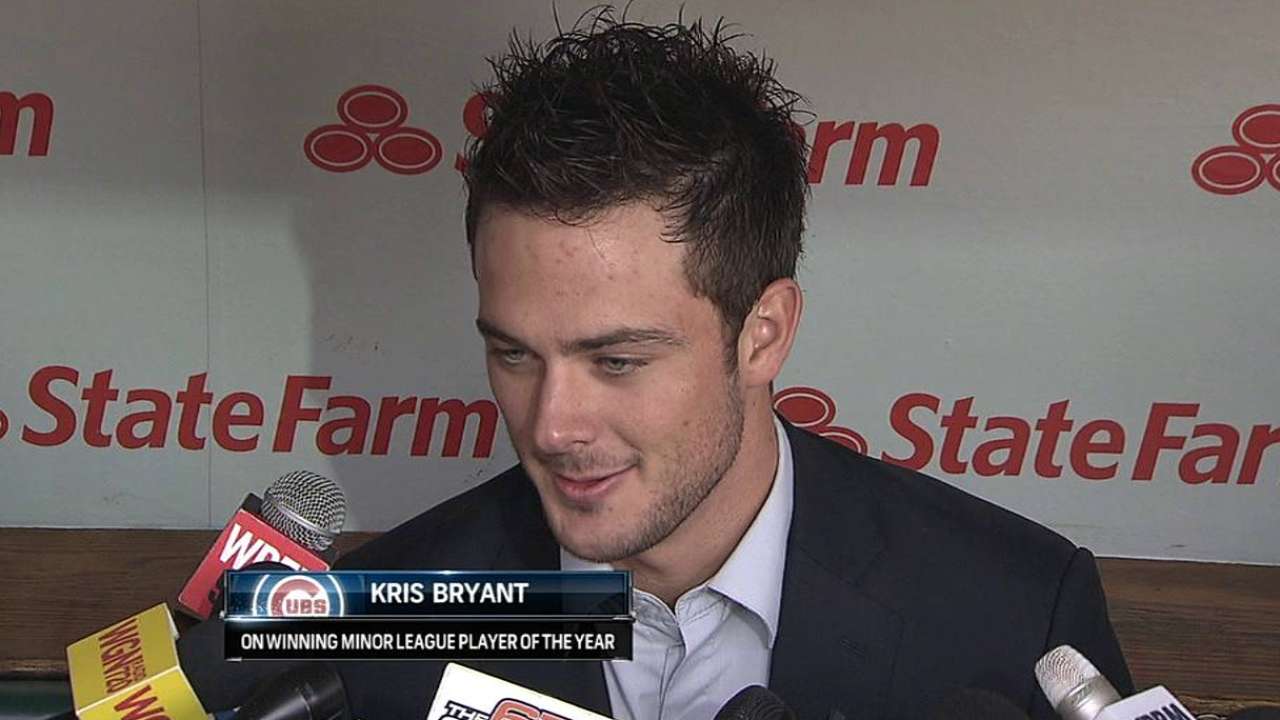 CHICAGO -- Before batting practice Wednesday, some of the Cubs players saw top prospect Kris Bryant in one of the suites at Wrigley Field and yelled at him to come down to join them. Not yet, but maybe next year.
Bryant and Jen-Ho Tseng were honored Wednesday as the Cubs' Minor League Player and Pitcher of the Year, respectively. Bryant, 22, has been the focus since he was selected second overall in the 2013 First-Year Player Draft.
"I feel like I've been here the whole year and I haven't played one game," said Bryant, who was able to catch up with some of his Iowa teammates, including Logan Watkins, Mike Olt, Javier Baez and Rafael Lopez.
"I guess it's bittersweet," he said about being in a jacket and jeans and not in uniform. "It's always been my dream to play in the big leagues and I hope for that day to come sometime."
The Cubs' No. 1 overall prospect (and No. 3 in baseball), according to MLB.com's Prospect Watch, Bryant led all of Minor League baseball with 43 home runs, 78 extra-base hits, 325 total bases, a .661 slugging percentage and a 1.098 OPS. He could only watch as his Iowa teammates were promoted.
"It's not up to me, it's up to the guys in charge," Bryant said. "I've always said my job is to make it hard on them and I think I did that this year, and that's all I'm going to do the rest of my career."
This offseason, he'll take a vacation at Disneyland, then get back to work on his hitting. Bryant has a batting cage in his backyard and works with his father, Mike. He said he wasn't jealous when players like Baez or Jorge Soler got the promotion.
"I'm happy for them," he said. "You want to be in their shoes someday, and I hope that day comes soon. We're all in this together and we all want to win a World Series. I'm very happy for my teammates in Iowa and Tennessee and all the callups. It's definitely been fun watching them."
Since Iowa's season ended, Bryant said he's watched several Cubs games on television from his home in Las Vegas. He's already been named the Minor League Player of the Year by Baseball America and USA Today. The Cubs want to see how the offseason goes before committing to him as the starting third baseman in 2015. Is Bryant prepared if he doesn't make the big league roster on Opening Day next year?
"Yes," he said. "I don't think that will be a problem for me."
Tseng, 19, went 6-1 with a 2.40 ERA in 19 games (17 starts) that spanned 105 innings with Class A Kane County. He walked 15 batters and struck out 85, helping to lead the Cougars to a Minor League-best 91 wins and the Midwest League title. The righty, signed as a non-drafted free agent last year, allowed three or fewer runs in 16 of his 17 starts.
His goal this season was to stay healthy, which he did. The right-hander was as eager to meet Bryant as some of the fans at Wrigley Field. Was Tseng ready to pitch Wednesday?
"Yes," he said, smiling.
Carrie Muskat is a reporter for MLB.com. She writes a blog, Muskat Ramblings, and you can follow her on Twitter @CarrieMuskat. This story was not subject to the approval of Major League Baseball or its clubs.