Homers help Bucs keep pace in NL Central race
Pirates stay 2 1/2 back as Polanco, Walker, Davis tee off against Red Sox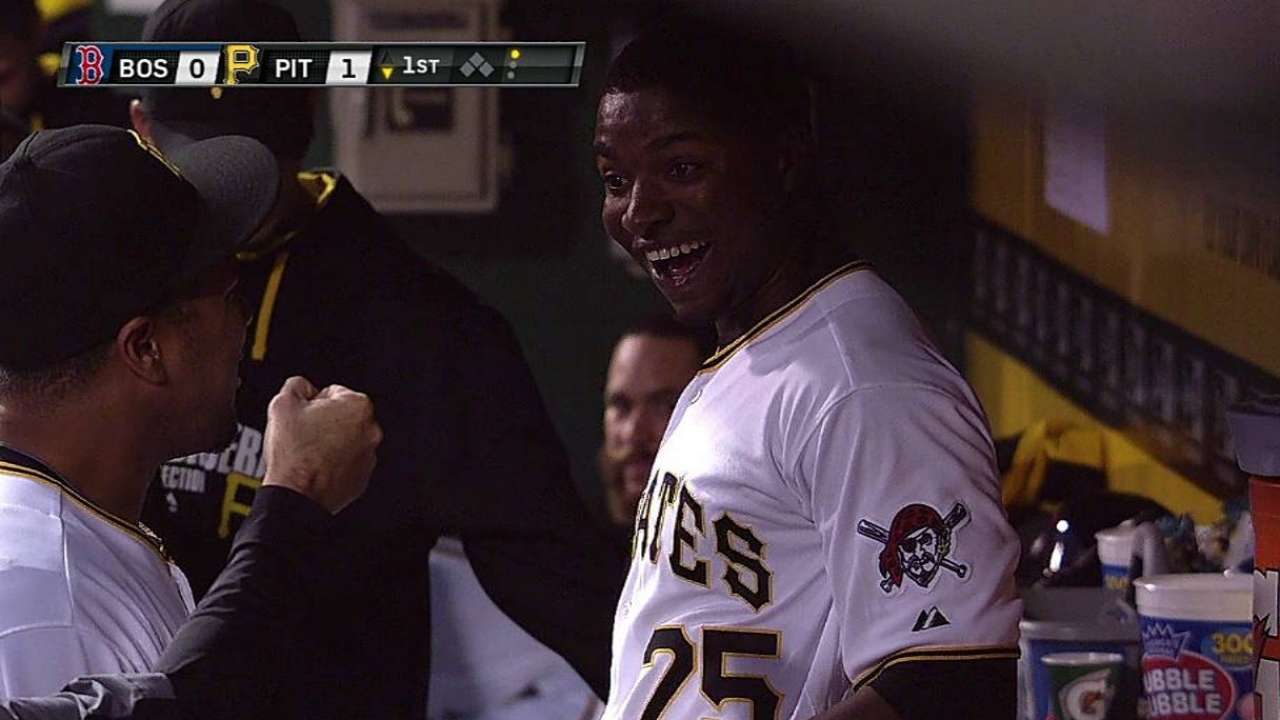 PITTSBURGH -- It might be a good idea for the Cardinals, who lead the National League Central, and the Giants, who hold the NL's No. 1 Wild Card spot, to channel Satchel Paige, the legendary pitcher who famously advised, "Don't look back. Something might be gaining on you."
Those footsteps belong to the Pirates, and they are heavy stomps -- essentially what the Bucs did Wednesday night to the Red Sox, stomping them, 9-1, behind a trio of homers and 12 other hard hits for their 10th win in 12 games.
The Bucs have taken 11 of their last 13 series at home, and seven of eight anyplace.
For the moment, you can call them the two-and-a-half men: That is the number of games they are behind both the Cardinals and the Giants -- and is their growing lead over the Brewers for the No. 2 Wild Card slot.
"We still have our eyes set on winning the division," manager Clint Hurdle said. "You just gotta go play. Everybody is playing for something. Last year, we had to play to game No. 162 to catch a breath, and we don't anticipate that changing."
At least, they got a breather Wednesday night, their frequent and relentless strikes against Boston right-hander Clay Buchholz hatching a rare comfortable victory.
It was win No. 81 for the Bucs, by the way -- guaranteeing a non-losing record -- and no one paid particular attention. That would not have been the case from 1993-2012, and Hurdle and his players hailed the silence as a loud victory.
"It's an evolution of what we're about, who we're trying to be, where we want to go," said Neil Walker, who hit the most compelling of the three home runs. "Our goals have changed. In Spring Training, 81 didn't even cross anyone's mind."
"This is the first time it's been mentioned -- and that's a good thing," Hurdle said. "We wanted to get to the point where we've moved past [just looking for a winning season]."
The Bucs' trio of long balls each carried significance.
It began with Gregory Polanco changing his tune. Escorted to the plate by new walkup music -- "Yo Quisiera," by Oscar D'León -- Polanco pulled a first-inning homer, his first extra-base hit in 54 at-bats since Aug. 17.
In the fifth, Ike Davis went to center off reliever Steven Wright with two on for his 11th homer -- and his 10th with the Pirates, giving them nine players in double-figures for the first time in team history.
"When you consider that includes guys playing off the bench and doing what they can to help us win, that's pretty amazing," Davis said. "Pretty cool to be part of that."
In between, Walker celebrated Roberto Clemente Day the only way a Pittsburgh Kid could: By ripping homer No. 21, making it 5-0, over The Clemente Wall and No. 21 mowed into the right-field turf.
"The beauty of this game ... he hits his 21st over the Clemente Wall on Clemente Day," marveled Hurdle. "That's special."
"Things like tonight ... it's kind of strange. Call it fate or whatever you want," said Walker, his mind drifting over the pregame presence on the field of Clemente's three sons and widow, Vera. "I usually try to stay in the moment as much as possible, but it's harder when you see Vera and the boys.
"We're playing good baseball, that's the most important thing, yes, but that was definitely a strange occurrence on Clemente Day. You don't see stuff like that every day. As much as he means to this sport, to this organization, to this city ... and we get to look at that wall every day, and to be able to honor him ... a good night all in all."
Clint Barmes, again subbing at short for stiff-backed Jordy Mercer, had three hits, including a two-run double, to add to Buchholz's misery.
"Last four or five games, I made mistakes during the game, but I didn't seem to pay for them," Buchholz said. "Every mistake I made tonight, I ran into a club that's swinging the bat real well right now. Everybody knows they have a good lineup."
The early assault cheered lustily by the nightly Buccos Nation pilgrimage to the banks of the Allegheny.
With Wednesday's attendance of 34,785, the Pirates' season gate rose to 2,290,051, exceeding last season's total (2,256,862) for the second largest in franchise history. With only four dates remaining in 38,496-capacity PNC Park, the club won't be able to catch the record 2,464,870 drawn in the showplace's debut 2001 season.
Once Francisco Liriano escaped a harrowing first-inning jam, there was the sense he'd been blessed with second wind. Not only did the Red Sox load the bases on him with a Mookie Betts single and a pair of two-out walks, but Liriano fell behind the next batter 3-0.
And that batter was Will Middlebrooks, a career .464 hitter with the bases loaded. Middlebrooks took a called strike, then hit a harmless roller to short for the inning-ending force.
"In that first, he had to push hard," Hurdle said, "and getting out of that inning I believe gave him some momentum."
Making good on his second chance, Liriano went on to total six innings, allowing three hits and one run. His control continued to wander, as he walked five.
Tom Singer is a reporter for MLB.com and writes an MLBlog Change for a Nickel. He can also be found on Twitter @Tom_Singer. This story was not subject to the approval of Major League Baseball or its clubs.