Reds pondering Corcino's future as starter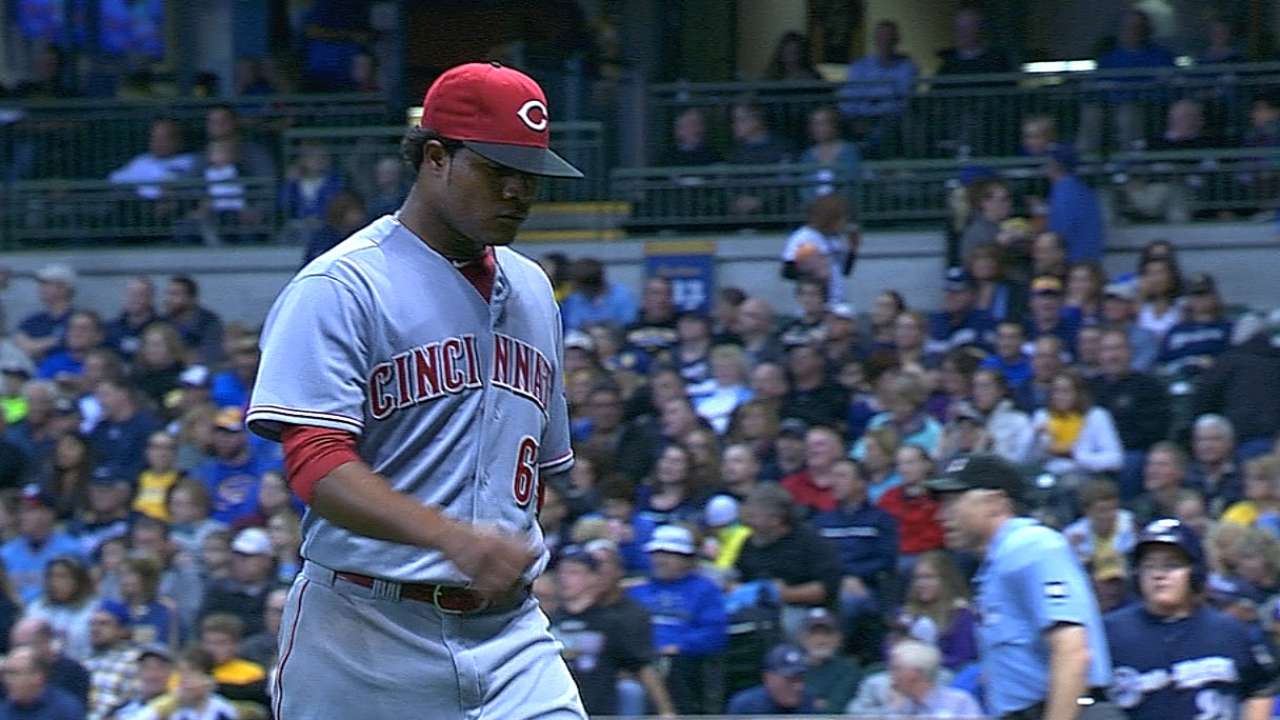 CHICAGO -- Right-hander Daniel Corcino has steadily worked his way into the Reds' long-term rotation conversation as season's end draws near.
Corcino made his second straight start Wednesday against the Cubs in place of right-hander Mat Latos, who continues to recover from a bone bruise in his pitching elbow.
In light of his unexpected starting opportunity, Corcino has been a pleasant surprise, manager Bryan Price said.
"He was more aggressive than anticipated," Price said Wednesday at Wrigley Field. "Really, our look at Daniel had been mostly in Spring Training with a couple relief appearances since his callup. One thing we really wanted him to do was go out and throw a lot more strikes than what we saw in Spring Training, and he's done that."
In two starts, Corcino has allowed four earned runs, five hits and five walks with 10 strikeouts over 11 2/3 innings, taking the loss Wednesday despite a solid effort.
He was plagued by a lack of run support in Wednesday's 3-1 loss to the Cubs.
"Daniel Corcino gave us a chance to win a ballgame," Price said.
"He did a nice job. I like to see these young guys come in there and be willing to throw it over the plate and compete. The only way you can find out if you can play at this level is to go out there and compete, especially as a pitcher. You've got to go out there and throw it over the plate, No. 1."
Fellow callup and Minor League teammate Tucker Barnhart caught for Corcino on Wednesday. The two played together at three levels, and Barnhart said he's seen a more tempered repertoire in Corcino's approach the last two weeks.
"I think he commands his pitches a little bit better," Barnhart said. "When you're younger, you throw harder. We weren't real sure where he was going to go at times. I think his pitches weren't ready."
Corcino has tallied a career-high 163 innings between three levels this year -- 14 1/3 frames in four appearances with the Reds, including Wednesday's start. He was among 10 called up when rosters expanded in September.
Corcino's long-term durability in a starting role is the focal question heading into the offseason.
"The small handful of starts here in September at least give us the opportunity to evaluate his stuff," Price said. "Does it play as a guy that can go out there six-plus innings on a regular basis or is he better suited for the bullpen? Hopefully not a decision we have to make in too short of a time here."
Pending propelled progress by Latos -- he played catch Tuesday and Wednesday -- Corcino would likely start again next Wednesday against the Brewers.
"When I got the opportunity and they told me I was going to have my second start, I started preparing, threw a good bullpen, worked out in my five days," Corcino said. "Every time you've got the ball, you've got the opportunity because, the level, you've got to do your job. That's how you can stay here."
Daniel Kramer is an associate reporter for MLB.com. This story was not subject to the approval of Major League Baseball or its clubs.