Rookie in name only, Panik has it under control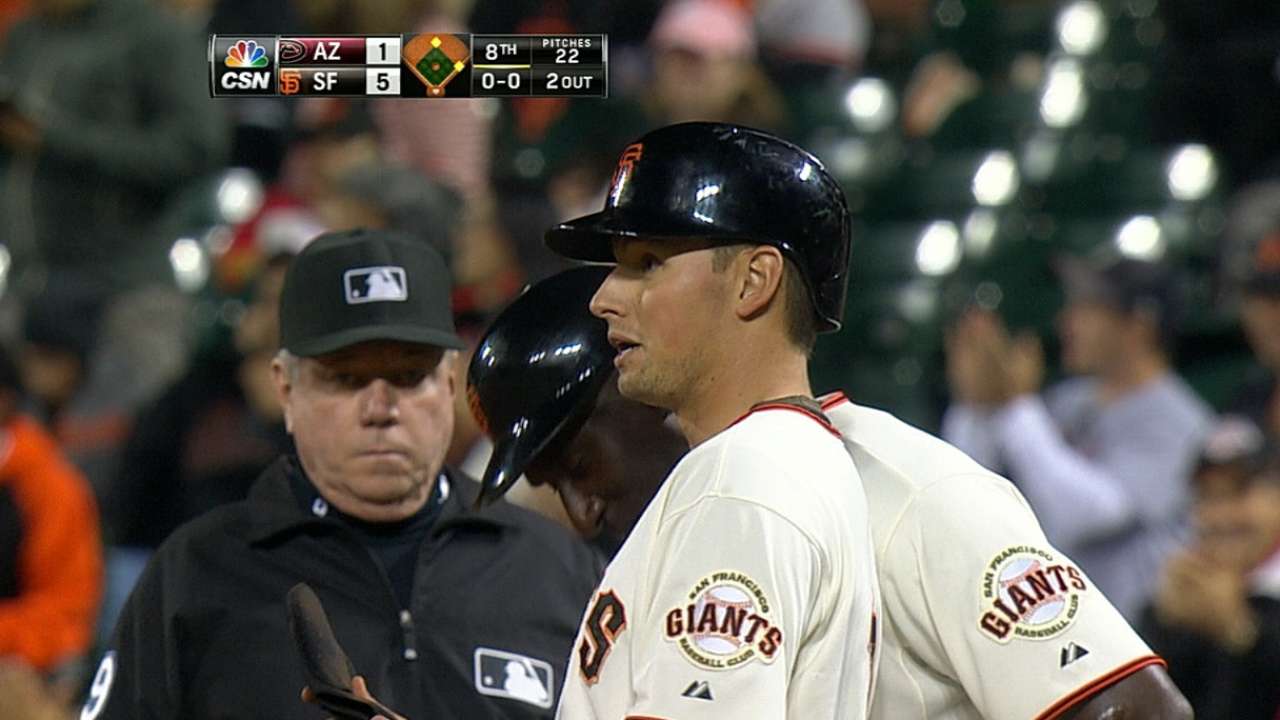 Associating Joe Panik with Willie McCovey would seem to be a huge stretch, but there is a bond connecting the San Francisco Giants' young second baseman and their legendary slugger.
Like McCovey, who set the gold standard for first seasons in 1959, Panik has made the most of a limited debut campaign, thrusting his name into the conversation for the National League Rookie of the Year Award.
McCovey needed only 52 games to claim the honor in 1959, batting .354 with 13 homers and 38 RBIs. Panik, who debuted on May 22, is batting .300 through 64 games.
The Reds' ultra-swift Billy Hamilton and Mets right-hander Jacob deGrom appear to have a leg up on the rookie competition, but Panik has made positive contributions to a contender down the stretch. Settling into the No. 2 spot in the order, he has helped drive the Giants to within two games of the Dodgers in a spirited NL West race that's destined for a wild finish.
"It's kind of crazy how quick the whole process has gone," Panik, 23, said. "I was drafted in '11, and I've been preparing myself for this opportunity. When things happen, an injury or two, you have to be ready to take advantage of it."
Marco Scutaro's misfortune in the form of a lower back ailment opened the door. Panik has stepped through with a cool, confident attitude that brought him immediate acceptance from teammates.
"He's really easygoing," said shortstop Brandon Crawford, whose four hits on Wednesday against the D-backs were critical in a 4-2 victory that has the Giants breathing down the Dodgers' necks. "He has a calm demeanor, no matter what's going on.
"I played with him in the 2011 [Arizona] Fall League, his first year playing second base. I could see the skills were there. He's athletic enough, and he had a real good approach to the game."
A left-handed hitter who drives to the gaps and uses the whole field, Panik has a .344 on-base percentage and a .370 slugging mark to go with his .300 batting average. He has had a five-hit game and a pair of four-hit efforts.
A shortstop at St. John's University when the Giants took him with their first-round choice (No. 29 overall) in the 2011 First-Year Player Draft, Panik has made a seamless transition to second base.
Panik's adaptability comes as no surprise to John Barr. San Francisco's scouting director weighed character heavily in evaluations that drew Panik to the likes of Buster Posey, Crawford, Brandon Belt and Andrew Susac, position players whom the Giants have drafted in recent seasons.
"Work ethic is one thing you can't teach," Barr said. "That might be the hardest thing to find out about a young player. There are things you can look at, like how much he improves from his freshman year in college, but you have to trust your instincts.
"If a guy has ability and a good work ethic, there's a good chance he'll be able to become what you expect -- if not more. When you have that combination, you have a winning player."
San Francisco scouted Panik extensively at St. John's, with area scout John DiCarlo presenting a glowing endorsement.
"Everybody who ever saw him -- I think we had 20-some reports on him -- said basically the same thing: 'He can hit,'" Barr said. "We felt he could stay in the middle of the infield, play second, if not short.
"I saw him hit like 15 times over the course of three games, and 10 or 11 times he hit the ball hard. He has a good feel for the barrel of the bat, with a simple swing."
Panik appreciates Barr's confidence in his ability to handle this challenge.
"He's the big dog," Panik said, grinning. "John's always had faith in me from Day 1, through the ups and downs. When somebody in his position has your back, it means a lot."
Susac, the Giants' second-round pick in that 2011 group of draftees, also is playing a significant role as Posey's backup behind the plate when the 2012 NL MVP plays first.
"Susac is another hard worker who really wants to be good," Barr said. "He's done a nice job for us."
Matt Duffy, an 18th-round pick in 2012, is paying dividends as well. It was Duffy's two-run pinch-hit single in the ninth that delivered the go-ahead runs on Wednesday.
The Pipeline churning out quality prospects has enabled San Francisco to keep the payroll reasonable, while manager Bruce Bochy has steered the club to World Series titles in 2010 and '12 -- with a shot at a third championship in five years.
"He's not a guy whose tools jump out at you," Bochy said of Panik, "but he knows how to play. He's done a heck of a job for us."
Panik was born in Yonkers, N.Y., and grew up about an hour north of New York City in Hopewell Junction. He was a Yankees fan almost out of the crib, developing a special attachment to -- that's right -- Derek Jeter.
"I remember my first game at Yankee Stadium," Panik said. "I was 3 years old, and the Yankees were playing Oakland. Jeter was my guy."
As the great one's career winds down to its final days, the kid who admired him is just getting started.
Lyle Spencer is a reporter for MLB.com. This story was not subject to the approval of Major League Baseball or its clubs.