Burns reflects on impact of 'Baseball' after 20 years
Landmark documentary illustrates how game has mirrored societal change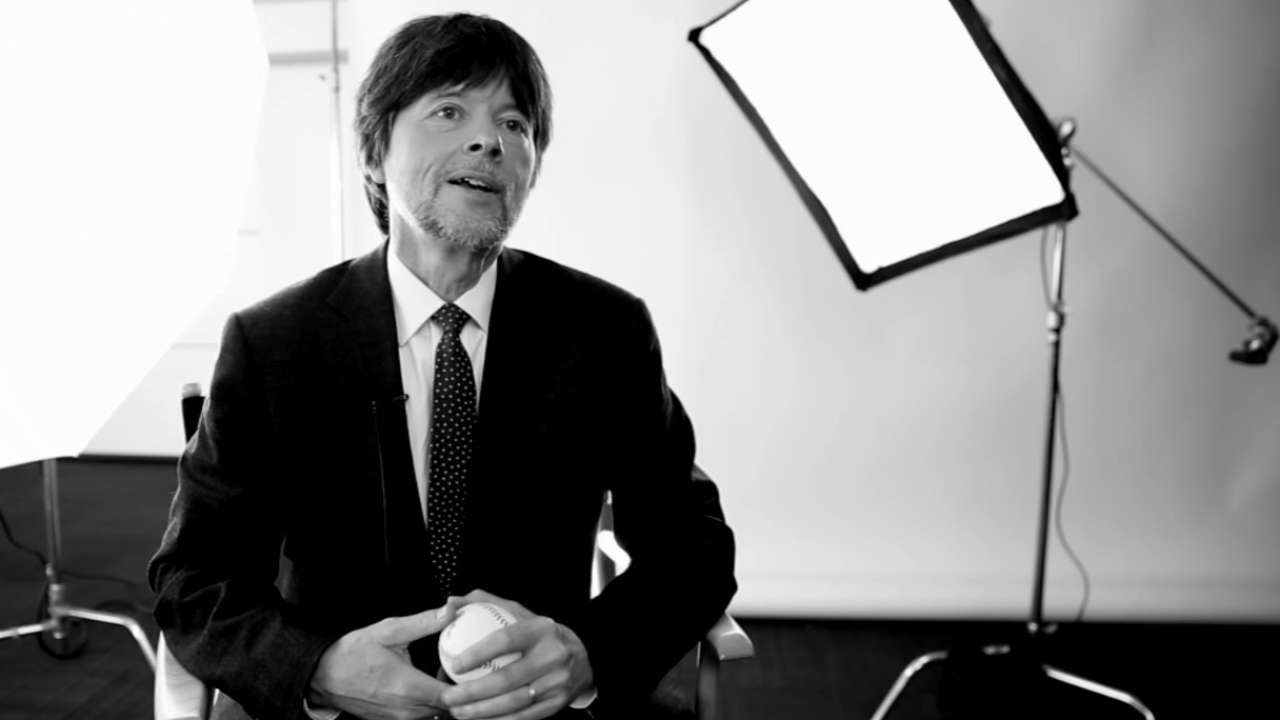 Twenty years ago, documentary filmmaker Ken Burns changed the way fans of all ages view and appreciate the game when one of his finest works, "Baseball," first aired. Last week, Burns sat down with MLB Publishing inside MLB's headquarters to discuss the film and the sport he so dearly loves. The full version of this story will appear in the League Championship Series program and in a digital edition available through MLB.com's At Bat and At the Ballpark apps.
"Baseball," the Emmy Award-winning documentary that Burns deems "a complicated, passionate love letter to the game of baseball," was a magnificent, sprawling, 18 1/2-hour production that covered the history of the game. Two decades ago, the production aired over 11 nights and became the most watched mini-series in public television history, attracting an audience of 41.3 million viewers.
"Baseball" was divided into nine chronological episodes, fittingly called innings. Each inning covered a specific era of baseball history, from the game's origins in 19th-century America right up through the beginning of the 1994 season.
In addition to its titanic length, "Baseball" distinguished itself from other documentaries and histories of the game in the compelling way it connected the sport with the story of America. Burns had recently completed another award-winning documentary, "The Civil War," when he took on the four-year project.
In an ironic twist of fate, "Baseball" went on the air in the middle of a labor dispute that forced the cancellation of the 1994 postseason. In the absence of the actual game, the documentary assured baseball-starved fans that the sport would recover and go on despite the turmoil of the moment.
On the 20th anniversary of the epic, Burns reflected on the film, the state of the game today and, most of all, his deep love for our pastime.
Let's start out by talking about your relationship with baseball. What does the game mean to you?
I love this game! Let's just say, "What are the elements that make this the greatest game ever invented?"
No clock. And in what other sport does the defense have the ball? Baseball is the evolutionary improvement on cricket. In baseball, the defense has the ball. In all the other sports, the ball scores. In baseball, the man scores. And he comes home! The ball could be going in the other direction. In fact, if it is going in the other direction, he does go home.
Baseball demands blinding speed but it has this strange, contemplative pace to it. There is an amazing set of things that go on in this game that make it observable at any level. You can keep score of every pitch or at-bat, or you can just follow the game avidly, as I do."
The pace is terrific. All meaning accrues in duration. The work you're proudest of, the relationships that mean the most to you, have benefited by your sustained attention. Baseball rewards attention. Life rewards attention. Most of our consumer society is based upon inattention. It's the tortoise and the hare. I'm happy to be with something that people might think is really slow because the others will sit down and rest and we will always cross the finish line. It's the greatest game ever invented.
Tell us when the idea of a documentary about baseball struck you.
I remember sitting in a bar with a friend in the early 1980s and we talked about "The Civil War" and what we were going to do after that, and he said, "What about baseball?" I thought, "What a great idea." I was thinking 90 minutes or two hours, and as it was beginning to develop I thought maybe it would be longer; maybe I would develop it into nine one-hour episodes. And then it exploded into the 18 1/2 hours it turned out to be, because it was such an amazing Rosetta Stone of American life, in all the good ways.
You're known for films on some very serious and important subjects like the national parks, Prohibition, World War II and the Civil War. How does a subject like baseball fit into all that?
"Baseball" trumps them all. I see the "Baseball" series we made in 1994, and its subsequent update, "The 10th Inning," as the sequel to the "Civil War" series. Some people looked at me like I was out of my mind, but as I was working on "Baseball," it occurred to me that the Civil War defined us as Americans.
If you wanted to understand post-Civil War America, you couldn't do better than to use baseball as the lens. We tend to tell American history through the sequence of wars and presidents and generals; that's the political-military bias. Baseball, which includes that political-military narrative, also happens to deal with race, labor, immigration, advertising, popular culture and the myths we make about ourselves and who we really are. It has to do with heroes and villains and fools. It happens to be a great way to sweep up all the narratives that are missing from the presidents and generals narrative.
One of the narratives that is prominent in "Baseball" is that of race. What message were you trying to convey about that subject?
When Jackie Robinson walked out on that ballfield in April 1947, it was before the integration of the military, before lunch counters in Virginia and buses in Montgomery, Ala. It was the first real progress in civil rights since Reconstruction, which makes this a huge moment not just for baseball, but also for America.
Another theme you mentioned was immigration.
Baseball was invented by English clerks in Manhattan. The first great stars were Irish, the next were German and central European, then southern European, then Jewish, then, belatedly, African-Americans, and now Hispanics and Asians. Could you tell me what the arc of immigration in America is through this story?
Did those ancillary themes help appeal to viewers who weren't necessarily baseball fans?
It was so interesting because women would come up to me after "The Civil War" and say, "What are you working on now?" and I'd say, "Baseball." They would say, "Oh, my husband and son would love that." I would say, "So, you loved 'The Civil War?' Are you interested in military history?" and they would say, "Oh, no. It was the emotional story." I would say, "I'm making it for you. I know your husband is going to watch it, but I'm making it for you."
I knew that I would get the baseball fans and they would say, "Well, you left out Harmon Killebrew and you didn't do this and you didn't do that," which is great, but we didn't want it to be an encyclopedia. We wanted to tell a good story.
In 2010, you came out with an update, "The 10th Inning." What prompted that?
As time went along, we began to see things overtake us, spectacularly positive things like the dominance of the Braves, the incredible play by Barry Bonds, Joe Torre's managing of the Yankees (and I'm a Red Sox fan). There was Cal Ripken Jr. bringing things back from the strike, McGwire and Sosa's summer of 1998.
I still remember how phenomenal it was to watch Derek Jeter come from the shortstop position to foul territory to take an errant peg from right field and toss out a standing Jeremy Giambi. If Giambi had slid, he would be safe, but he was so stunned that anyone got the ball. Or have Ichiro throw someone out at third base and have a reporter say, "That throw should be framed next to the Mona Lisa at The Louvre."
In both the original series and in "The 10th Inning," you presented the stories through the voices of the people who lived them, including many players, broadcasters, historians and fans. Which people and their stories stood out for you?
Certainly Ted Williams. We fought for years to get the interview and he finally said OK, but we were told that he could change his mind at the last moment.
Williams was the world's greatest baseball player and the world's greatest fly fisherman, so I brought an antique fly for him. When I met him I said, "Mr. Williams, I don't know anything about fly fishing but I thought you might like this; it's an antique."
Williams took one look at it, threw it over his shoulder and said, "It'll do." We sit down, and I'm very anxious. I've memorized all my questions. The interview goes on and I remember thinking, "Wow! He's fantastic. This is better than I've ever seen Ted Williams in an interview."
I had all my primary questions answered, so I exhaled and started on my secondary ones. He said, "You've got what you needed," and pushed the boom microphone away and walked out.
The mythology around him is that he saw a shooting star and said, "I want to be the greatest hitter who ever lived." I said, "Tell me about that," and he said, "Well, I was in San Diego and I saw this shooting star and I thought -- 'Money, money, money! And I want to be the greatest hitter who ever lived.'"
I thought, "God, what an honest guy!"
Many people believe Buck O'Neil stole the show with his rich memories of life in the Negro Leagues and his joyous, engaging personality. How did you find him?
Lynn Novick, one of my co-producers, went to a Negro Leagues convention in Cooperstown in 1991 or '92, before we started filming. She came back and said, "I talked to a lot of the Negro Leaguers who we should interview, but there's this one guy named Buck O'Neil …"
I had the great privilege of giving the eulogy at his funeral and I said, "Our religious traditions tell us that man was made in God's image but there's very little in human behavior that suggests that is true, except for Buck."
Any other great interview moments?
We did one with [Mickey] Mantle that was fantastic and funny. He was at ease. He was dying but he had reached a place where it wasn't so desperate for him.
Also, Bob Costas gave one of the most moving interviews I've ever heard about his dad. When our seventh inning was way too overloaded, the editors wanted to take that out. I showed that inning to some people at a screening and an intern came to me and said, "You know, my dad never told me he loved me, but he took me to baseball games. When I heard Costas talk about his dad taking him to a baseball game, I realized that was my dad's way of saying he loved me."
I said, "We're keeping that!"
What role did baseball play in your childhood and in your family?
It's a funny thing. Most people say, "My dad took me to this game and I remember the green grass," but my mom was dying of cancer and my dad was very distracted. The catches in the backyard were few and far between, and attendance at my games was non-existent. Baseball, I understood later on, was how I escaped a pretty sad situation.
Baseball now binds my own family together. I have two little girls who love baseball and we go to Red Sox games, and I have two grown daughters who live in Brooklyn and are Red Sox fans. We went to the World Series together.
I did this wonderful "shadow ball" with my big girls when they were pretty little. I went back to the baseball diamond I played on in Newark, Del., and I played out all the little strips of film of my play back then -- this great catch I made, this double play I made. They sat there so happy watching their Dad.
Let's talk about the game today, as other sports have risen in popularity.
Baseball has never been in better shape. Competition is really, really good.
What do you think of instant replay, and do you fear it will radically change the game?
It will probably keep going, but baseball is really good about the baby steps. Changing a game is always like walking on a precipice. You've got to keep inching along.
I think it was really important for the home run challenge to happen, and now I think the other challenges are pretty interesting. It seems to be working out pretty well.
You're a Red Sox fan. Last year's postseason must have been pretty exciting for you.
Last year was the best World Series ever. I went to the first and last game, which was the first time there had been a World Series victory at home in Boston in the last 95 years. It was so sweet, and the team was so improbable after the Boston Marathon bombing.
I had the opportunity to be at an event with the President of the United States and the Governor of Massachusetts on the night of the sixth and final game. I wore a suit, and underneath was my Red Sox T-shirt, the same shirt I always wear. I went up to the governor and said, "This isn't the most important thing that I'm going to be doing tonight," and he looked at me and said, "Me neither!"
He went to the game later in a motorcade, but I got there in time for the game, too. I took off my suit with my T-shirt underneath and I felt like Superman.
Can baseball fans look forward to any more Ken Burns films about the game?
We have a documentary on Jackie Robinson coming out in 2016. I want to make it real. Heroes aren't about perfection. They're about very interesting internal stuff. I'd rather paint a complicated portrait of Jackie and not just go into that one year. We'll start with his birth in Jim Crow south Georgia and end at his death at age 53. We'll deal with the tragedy of his son's death, which is just unspeakable. His daughter Sharon spoke to us about it. She was there when the sheriff came to tell Jackie. It's going to be a full hankie moment.
And the obvious question: Will there be an 11th inning?
Somewhere in the 2020s, I hope there is a critical mass in the history of this game that gives me the excuse to do an 11th inning. Something has to happen, though. Clearly, if the Cubs win the World Series, I'm there.
Final question: It took you 18 1/2 hours to explain the magic of baseball. Can you sum it up in one sentence?
Home.
David Moriah is a contributor to MLB.com. This story was not subject to the approval of Major League Baseball or its clubs.