Mercer remains sidelined with back tightness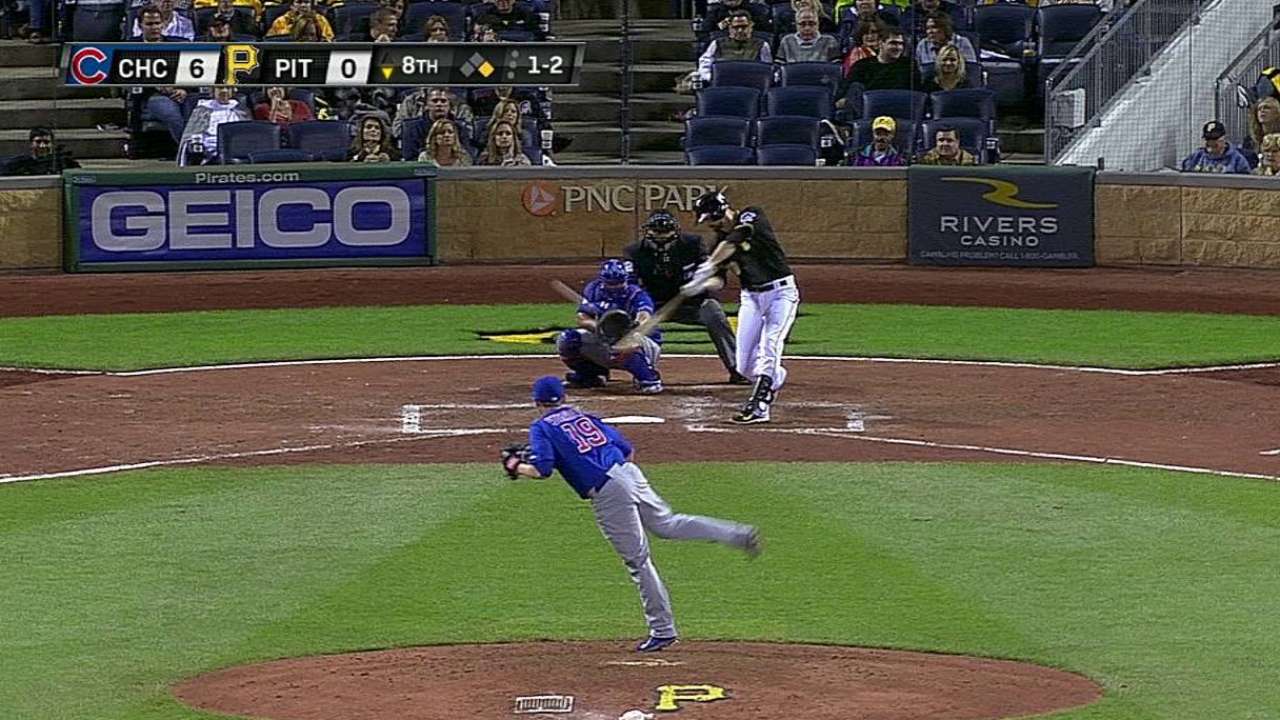 PITTSBURGH -- Shortstop Jordy Mercer was out of the Pirates' lineup for the second consecutive game due to back tightness.
Mercer was a late scratch Tuesday night against Boston, and Clint Barmes again started at shortstop and hit eighth for the Bucs. Manager Clint Hurdle was uncertain if Mercer would be available off the bench when he spoke with reporters Wednesday and said the team would have a "better read" on him closer to game time.
Mercer said he felt some spasms in his back while taking swings in the batting cage prior to Tuesday's 4-0 victory against Boston, and he missed his first start since Aug. 26 because of the tightness. In his third Major League season, Mercer is hitting .264/.311/.397 in 138 games this season. In his last nine games, he has a .389 average, 1.103 OPS and nine RBIs.
Barmes went 1-for-3 in Mercer's stead on Tuesday, raising his average to .232. Barmes missed more than a month earlier in the season with a groin injury, and Wednesday will mark his 25th start of the season.
Worth noting
• The Pirates still have not announced a starter for Sunday's series finale with the Brewers, as they wait to see how Charlie Morton responds to his first start in more than a month. Morton tossed five scoreless innings against the Red Sox on Tuesday, and Hurdle said Morton was going to throw off flat ground Wednesday.
Depending on how it goes, either Morton -- who was sidelined with a sports hernia in his right hip -- will get another start, or the Pirates could go with Vance Worley on Sunday.
• Injured infielder Pedro Alvarez was taking grounders on his knees Wednesday at PNC Park. Alvarez, who was diagnosed with a stress reaction in his fourth metatarsal of his left foot and will likely miss the rest of the regular season, has not started since Aug. 26, when he initially hurt the foot while diving after a ground ball.
First number, last word
.704: The Pirates' winning percentage against American League teams at PNC Park since 2012. The Bucs have won 19 of 27 Interleague games in the last three seasons, including a 6-2 record this season.
"Every time I think I've said, 'Man, a home run right now would be nice,' I don't think we've ever hit one. It just doesn't seem to work that way. But to know you have more guys in the lineup [with home run capability], I really make sure I don't say it."
-- Hurdle, on his team, which has nine different members with at least 10 home runs this season
Stephen Pianovich is an associate reporter for MLB.com. This story was not subject to the approval of Major League Baseball or its clubs.