Ruf makes his case for playing time with big night
Platoon player has two hits, scores two to back Hamels' stellar outing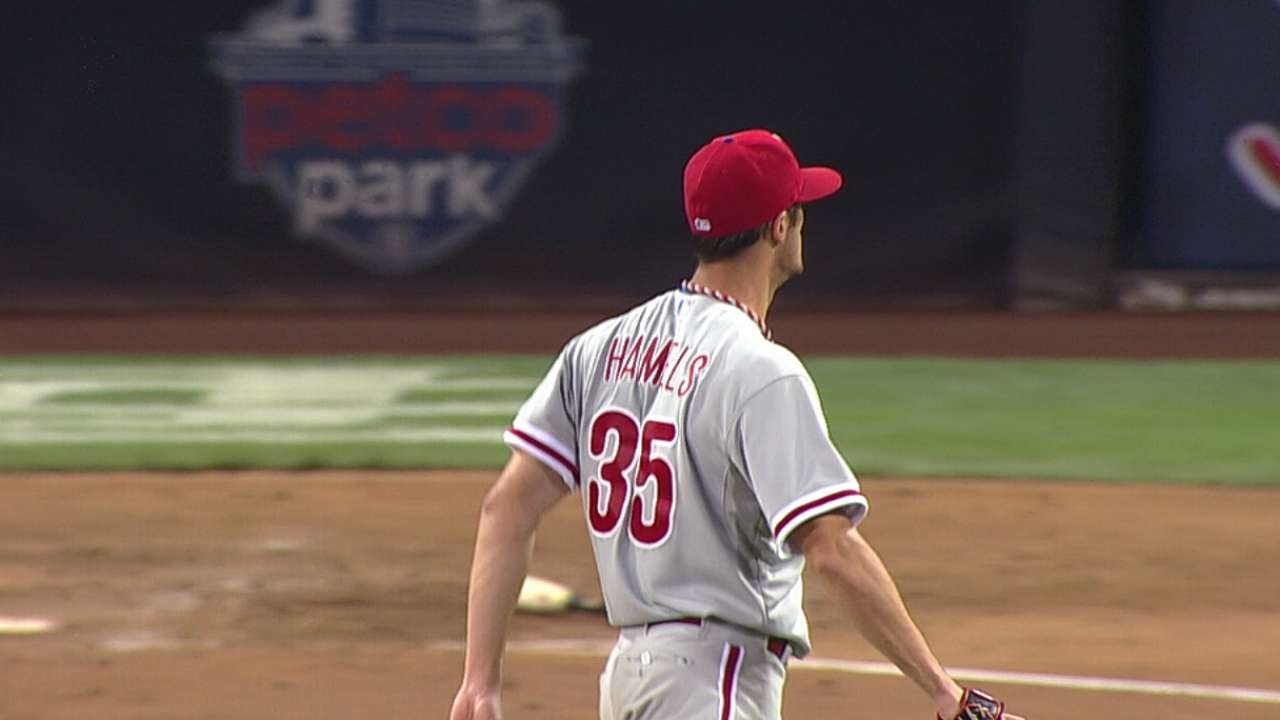 SAN DIEGO -- Pat Gillick has been following the Phillies around the country since ownership named him interim president late last month.
He has been evaluating the talent on the field and considering the ways to improve a team that is suffering through its third consecutive season without a winning record, despite Wednesday's 5-2 victory over the Padres at Petco Park.
He will take his opinions into meetings with Phillies general manager Ruben Amaro Jr. and the rest of the Phillies front office next month, when they plan a course of action for the offseason.
Darin Ruf certainly will be discussed. He went 2-for-4 with two runs scored and a double Wednesday.
How much is he part of the Phillies' plans?
It has been a topic of conversation for Phillies fans since Ruf slugged 38 home runs with Double-A Reading in 2012. He is hitting .255 with 17 doubles, one triple, 20 home runs, 48 RBIs and an .814 OPS in 424 career plate appearances. He has been even more productive as a starter, carrying an .851 OPS in 98 career starts before Wednesday.
"I try to [take advantage]," Ruf said about his starts. "That's the goal. Get hits when you play."
But he has played only sporadically since the Phillies recalled him from Triple-A Lehigh Valley on July 22.
It had not started that way. Phillies manager Ryne Sandberg announced the following afternoon he planned to play Ruf frequently at first base the rest of the season. He said he already knew what Ryan Howard could do. He wanted to see others play there.
Sandberg benched Howard for three consecutive games July 23-25, but after Amaro quickly came out to support Howard, Ruf's playing time at first base dwindled. Wednesday was Ruf's fifth start at first base in the past 49 games.
He has started in left field just 10 times in that 49-game stretch.
"It might be my role going forward, so I've got to get used to it," Ruf said. "Take advantage of when I'm in there. If it's a pinch-hit situation, try to take advantage of that. Be aggressive."
He keyed Cole Hamels' ninth win of the season. Hamels allowed seven hits, one run and one walk and struck out nine in seven innings. He has a 1.86 ERA in his last 21 starts, and despite spending most of April on the disabled list with left biceps tendinitis, he has thrown 189 2/3 innings.
He should hit the 200-inning mark with two more starts to go.
"Everything," Hamels said, when asked what it would mean to reach 200.
Hamels allowed a run in the fourth inning when Tommy Medica singled, stole second and scored on Cameron Maybin's single to hand the Padres a 1-0 lead. But the Phillies answered with four runs in the fifth to take a 4-1 lead.
Ruf started the inning with a single to left field against Padres left-hander Eric Stults. Domonic Brown and Carlos Ruiz followed with singles to load the bases, and Freddy Galvis followed them with a single to center field to score a pair of runs to make it 2-1.
Ben Revere doubled down the left-field line to score Ruiz and Galvis to give Hamels a three-run cushion.
Ruf doubled and scored in the sixth to make it 5-1.
Internally, the Phillies believe Ruf could be a platoon player in the future. The Phillies faced the first of five consecutive left-handed pitchers Wednesday, so it should mean more playing time this week, especially with the Phillies getting to use the designated hitter this weekend in Oakland.
"Hopefully," Ruf said. "We'll see. I show up planning on playing every day, but we'll see what happens."
Ruf missed time earlier this season with a strained left oblique, which he suffered in Spring Training, and wrist and knee injuries in Triple-A. He will play some Winter Ball in the Dominican Republic to get back the at-bats he lost this summer.
"Hopefully get some at-bats against right-handed pitching," he said. "Keep working on defense. Keep refining my approach at the plate. The only way I know how to get better is to keep playing."
Todd Zolecki is a reporter for MLB.com. This story was not subject to the approval of Major League Baseball or its clubs.