Back on top: Angels reclaim AL West title
Bats back C.J.'s gem, but party doesn't start until A's loss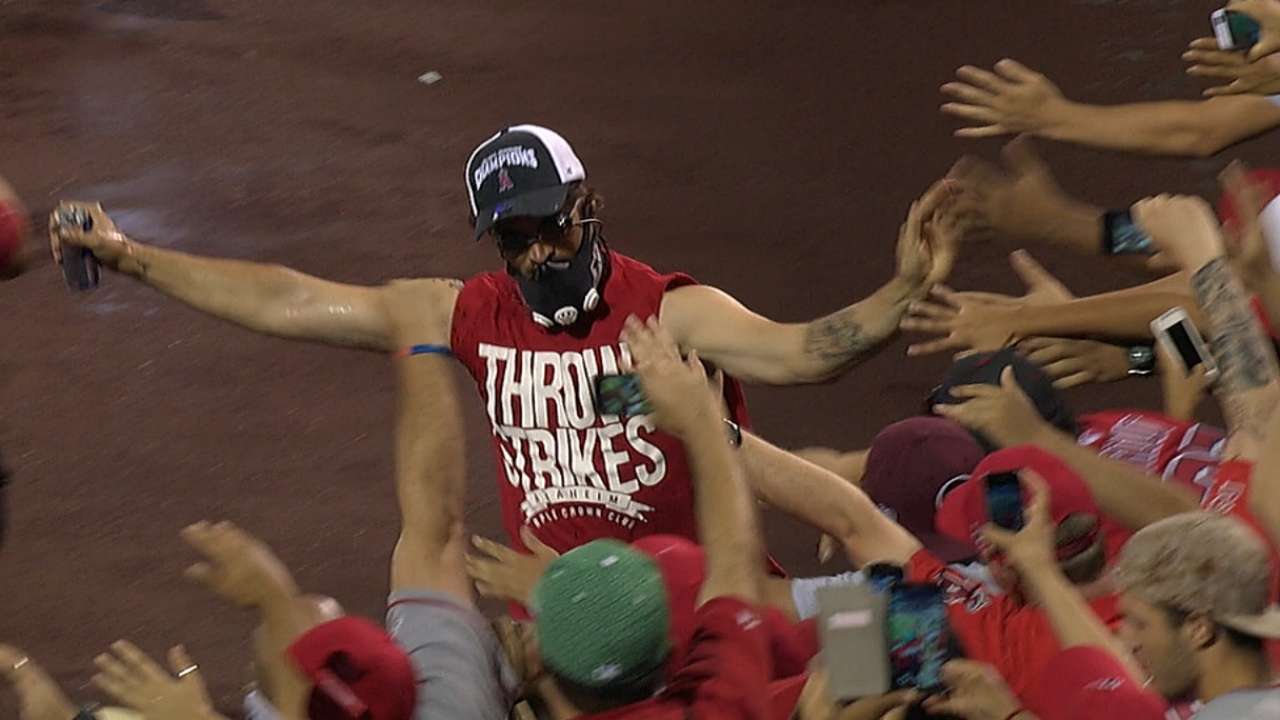 ANAHEIM -- The Angels experienced their symbolic return to the top from the bowels of their home ballpark, glued to the clubhouse televisions while their fans cheered the Rangers from the stands, refusing to leave Angel Stadium until the final out in Oakland was recorded and the American League West title was theirs again.
Almost an hour after the Angels had secured the 95th victory of their breakthrough season, 5-0 over the Mariners, it happened. The A's crumbled in the ninth, the Angels clinched their first division title in five years and jubilation swept the ballpark, fireworks exploding from the rock pile and players prancing onto the field, champagne bottles in hand.
Jered Weaver, the longtime ace and franchise fixture, was one of the first players out.
"Indescribable, really," Weaver said after the franchise's first division title since 2009. "This is the only reason why they're here; they want to see us win. It's been long overdue. Hopefully we can make a good push here in the postseason."
Backed by C.J. Wilson, who twirled seven innings that were every bit as dominant as they were encouraging, the Angels pulled through against the playoff-striving Mariners, then watched the Rangers rally from a one-run deficit with a six-run ninth inning at O.co Coliseum.
Angels general manager Jerry Dipoto said he "became the biggest J.P. Arencibia fan in the history of the world."
The Rangers catcher's homer had involuntarily lifted the Angels to their ninth division title overall and their sixth since 2004, four years after Mike Scioscia took over as manager. They were the first team to clinch a postseason berth on Monday -- the 10th in their history, counting the 2002 team that won the World Series after getting in as the AL Wild Card -- and they hold a three-game lead on the Orioles for the best record in baseball, with 10 to play.
If they win half of those, they'll be the first team to win 100 games since 2012, tying their franchise-best mark set in 2008.
"It feels really, really good," owner Arte Moreno said. "This started last October, and then getting ready for Spring Training, and here we are. But we still have another season left."
After Wilson's one-hit shutout effort, the offense's five-run seventh and the bullpen's back-to-back 1-2-3 innings, Angels president John Carpino went to pick his son up from the Katy Perry concert at the neighboring Honda Center.
When he walked outside, he noticed hundreds of Angels fans waiting to come back in so they could watch history unfold on the video board.
"So I opened the gates," Carpino said. "It was the easiest decision I've ever had, really."
Down below, once the A's had lost, Scioscia had the floor first.
"You guys worked hard. You guys fought hard. Enjoy it," he told them. "Go ahead, do what you guys want tonight. Don't get in trouble, though. We're not done yet."
The Angels' skipper, whose job had come under scrutiny these last two seasons, summoned Albert Pujols to pop the first bottle of champagne. He couldn't. He wanted one of the young guys, those who had never experienced anything like this before, to do the honors. Fittingly, he called up Kole Calhoun, the leadoff man.
"I was more nervous to pop that first bottle of champagne than I was to play baseball," Calhoun said. "I'm the leadoff guy, so I guess I had to start it. It was awesome."
The A's were supposed to run away with the division, if you'll recall. They added three starting pitchers (Jon Lester, Jeff Samardzija and Jason Hammel) to an already-solid rotation before the end of July, then watched as the Angels lost two starters for the season (Garrett Richards and Tyler Skaggs) from a staff that was thin to begin with.
Then crazy things started to happen.
The Angels picked up 15 games in the AL West over a 33-day stretch from Aug. 10 to Sept. 12, going from four games back to 11 games up. They swept the A's in a four-game series from Aug. 28-31, won a 10th straight game for the first time in 12 years on Saturday. And after Richards tore the patellar tendon of his left knee on Aug. 20 -- an event many were sure would doom their season -- the Angels have reeled off baseball's best record, winning 20 of 27 games.
"Every team goes through adversity, things like that, but this group just keeps plugging away," David Freese said. "It shows. To win a division like this, it's unbelievable. What a great group."
The Angels finished 10 games back of the Rangers in 2010 and '11, shocked the nation by signing Pujols and Wilson in one fell swoop the following December, came up short in 2012, signed Josh Hamilton three months later and spent only one day above .500 in 2013, prompting many to wonder if Moreno would dismiss either Dipoto or Scioscia at season's end.
"Nobody was going anywhere, but nobody wanted to believe me," Moreno said. "It is a team effort. We spent a lot of time talking. We have a lot of really smart people that study and work, and everybody's communicating, and all the fans keep coming."
They did it with a deep bullpen, solidified when Jason Grilli and Huston Street joined an already deep group midseason. They did it with a potent offense, one that leads the Majors in runs while riding an MVP-worthy season from Mike Trout and contributions up and down the lineup. They did it with unlikely heroes, from Matt Shoemaker to Cory Rasmus to Calhoun, the leadoff man.
"Great team chemistry," Trout said when asked what it took this season. "We really just rallied together. Unbelievable."
Alden Gonzalez is a reporter for MLB.com. Read his blog, Gonzo and "The Show", and follow him on Twitter @Alden_Gonzalez. This story was not subject to the approval of Major League Baseball or its clubs.