Managing wrist pain, Teixeira back in action
Yankees first baseman returns quicker than expected after treatment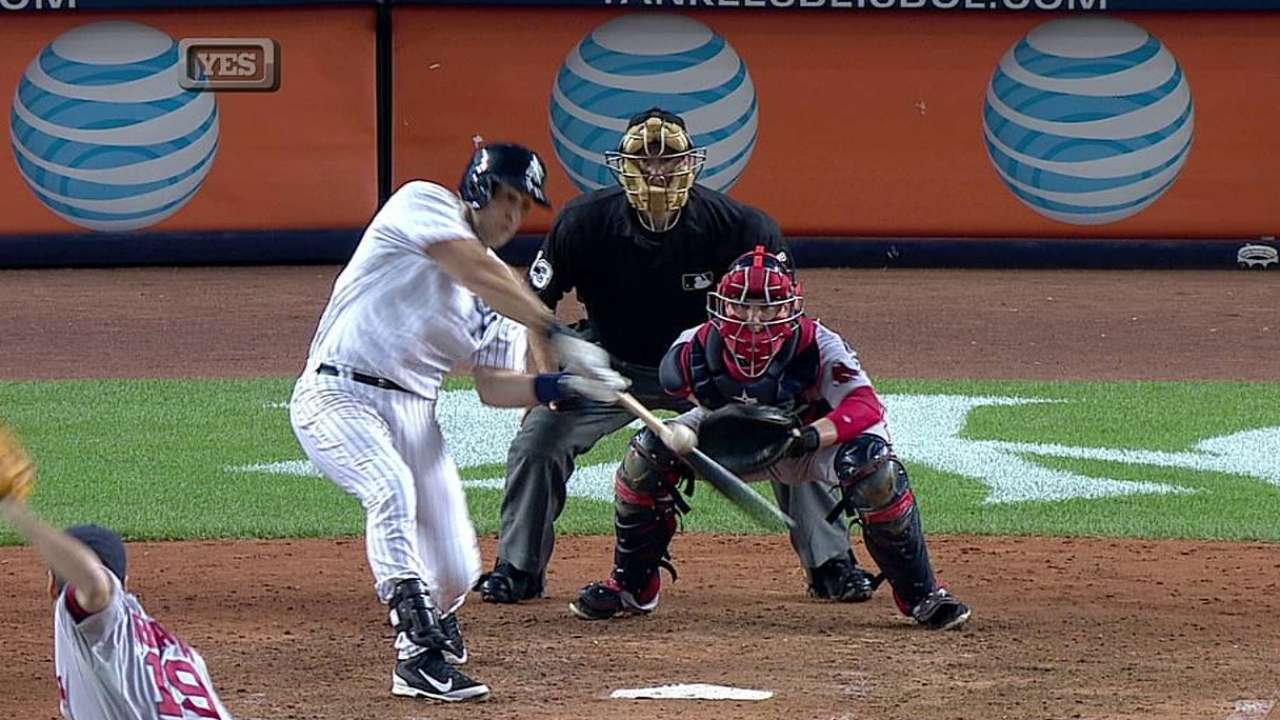 ST. PETERSBURG -- One day after telling Mark Teixeira to "come see me when you're ready to return," Joe Girardi heard a knock on the visiting manager's door at Tropicana Field. The response was quicker than initial impressions might have suggested.
Teixeira said that his sore right wrist improved markedly after receiving treatment, and so the first baseman declared himself ready to return to the Yankees' lineup on Wednesday against the Rays.
"We spent all day yesterday trying to get the inflammation out, and I think we were semi-successful, so good enough to play today," Teixeira said.
The wrist has been bothering Teixeira since the end of the Yankees' most recent homestand; Teixeira entered play on Wednesday with two hits in 14 at-bats (.143) on this road trip, but the discomfort increased after Monday's game.
"It just progressively got worse," Teixeira said. "Unfortunately I can't have any more cortisone shots this year, I've already had two, so we just have to manage it the rest of the year. It's manageable, but yesterday was important just to get the inflammation out of there."
Teixeira was limited to just 15 games last season and had surgery to repair a partially torn ECU tendon sheath; Girardi has expressed hope that a full offseason of rest will help Teixeira bounce back, just as Jose Bautista of the Blue Jays and David Ortiz of the Red Sox eventually saw their production improve after similar wrist procedures.
"Absolutely. That's what was expected all year," Teixeira said. "I was fully expecting to have some bumps. This season, I can't really be that disappointed with the wrist. When it's flared up, we've dealt with it. Take a few days off here and there, get a shot here and there when you need it. But it's structurally sound. That's the most important thing. If it gets sore every now and then, you deal with it."
Teixeira got off to a decent start this season, batting .241 with 17 homers, 48 RBIs and an .805 on-base plus slugging percentage in 73 games. His production fell off sharply following the All-Star break, after which he has posted a .179 average with four homers and 10 RBIs in 42 games.
He said that not being able to work out regularly this past offseason, when his focus was on rehab, has left him feeling fatigued since the All-Star break.
"It didn't help. I need to get stronger," Teixeira said. "This second half has been brutal. I just hit a wall. I need to get a lot stronger, so this offseason is going to be important for that because I'm definitely not where I want to be physically.
"... I didn't have a normal offseason. That's tough, but it is what it is. I had to rehab all offseason, but the wrist is structurally sound, and from all indications it shouldn't be a problem next year."
Bryan Hoch is a reporter for MLB.com. Follow him on Twitter @bryanhoch and read his MLBlog, Bombers Beat. This story was not subject to the approval of Major League Baseball or its clubs.