Elbow sprain puts Lagares' status in doubt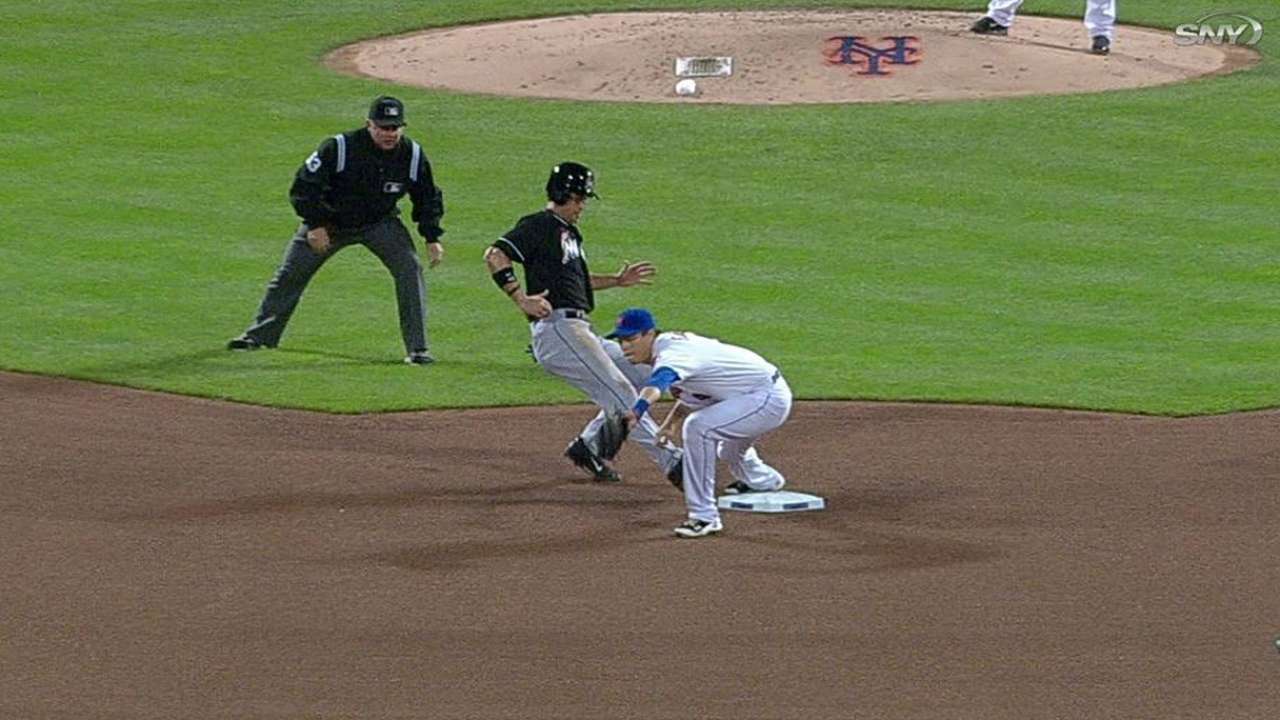 NEW YORK -- Tests taken Wednesday on Juan Lagares' right arm revealed a sprained elbow, which could end his season.
The Mets plan to reevaluate Lagares this weekend, at which point they will determine his status for the final week of the season. With just nine games remaining after Thursday's contest against the Marlins, time is running out for Lagares to make an impact, though the Mets are still very much leaving the door open for him to return.
"They don't know for sure," said Lagares, adding that his elbow improved overnight. "I have to wait a little to see what the decision will be. They want to see it again and make sure."
Though Lagares exited Tuesday's win over the Marlins only after feeling pain on a throw to second base in the fourth inning, he said the elbow had been bothering him for about a week and a half prior to that. Lagares had a history of arm issues coming up as a Minor League infielder, but shed most of them upon his conversion to the outfield. He has since developed into one of the game's strongest-armed outfielders, setting a Mets rookie record with 15 outfield assists last season.
Manager Terry Collins admitted that Lagares' aggressive style of outfield play may result in more injuries than the average player, but noted that he is fully willing to accept that risk.
"There's always a concern in the back of your head that one of these guys who's got great talent is going to get hurt and you're going to miss him for a period of time," Collins said. "But I wouldn't trade that, those worries, for the fact of how he plays. Obviously we're going to let him rest as long as he needs right now, because his arm is a big part of his game. But I'm not going to ask him to back off in any phase of the game. I think there's only one way to play it, and Juan plays it that way."
If Lagares' season is indeed over, he still managed to establish himself as a leading National League Gold Glove Award candidate in center field. Despite a disabled-list stay earlier this year and several other nagging injuries, Lagares leads all big league center fielders in Defensive Runs Saved, a statistic that estimates how many runs a particular player has prevented from scoring. He also boasts the highest Ultimate Zone Rating -- a catch-all statistic used to estimate a defensive player's overall value -- of anyone at his position.
Lagares has improved offensively in his second season as well, batting .281 with four home runs, 13 stolen bases and a .703 OPS in 116 games.
Worth noting
• Rookie Dilson Herrera sat out a second straight game Wednesday in favor of Ruben Tejada, who played shortstop while Wilmer Flores manned second base. Collins said he is simply trying to avoid fatiguing Herrera, who will return to the starting lineup this weekend.
Anthony DiComo is a reporter for MLB.com. Follow him on Twitter @AnthonyDiComo. This story was not subject to the approval of Major League Baseball or its clubs.