Chin music: Maddon, Headley spar over HBP
Rays skipper clarifies wording after Yanks third baseman takes exception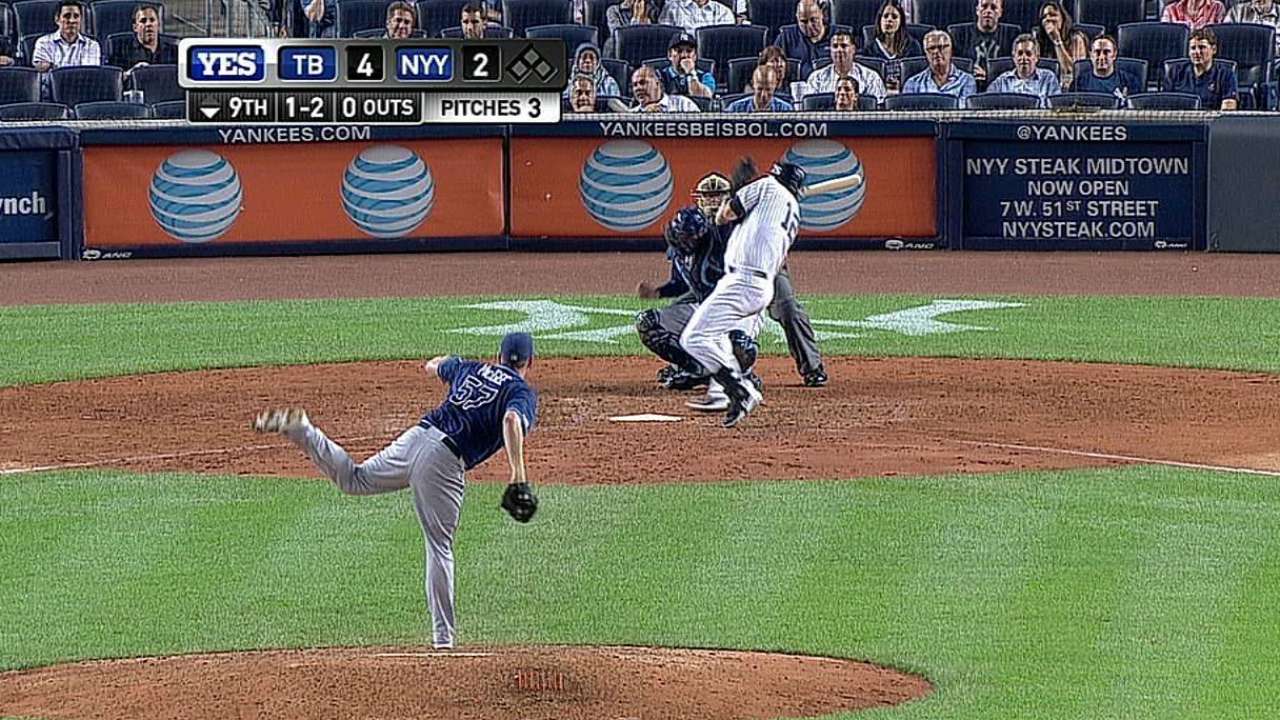 ST. PETERSBURG -- Rays manager Joe Maddon loves to go into the dictionary to talk about baseball, but Wednesday afternoon at Tropicana Field, Yankees third baseman Chase Headley wasn't happy about the words Maddon came up with.
Last week, Headley was hit in the chin by a fastball from Tampa Bay flamethrower Jake McGee, and he didn't return to the lineup until Monday's series opener at The Trop. But in Tuesday night's 6-1 Rays victory -- after Derek Jeter was hit by a Steve Geltz pitch, which led to three Yankees ejections and a benches-clearing incident -- Maddon referenced Headley's injury by saying, "I'm so happy Headley's fine after being grazed in the chin -- I was very happy to see that he was back and playing again."
A teammate passed the "grazed" comment on to Headley, who didn't appreciate it, as he made clear before Wednesday's series finale.
"I'm just going to hope that that's what happened, that it was a poor choice of words, because that certainly wasn't the case," Headley said. "I was pretty lucky, the way that it turned out, but I don't think that it's fair to be minimized or kind of downplayed in how this all went."
When Maddon heard of Headley's reaction, he tried to clarify his intent, saying he didn't mean to make light of Headley's injury, only to express that it did not turn out to be more serious.
"It's all about semantics. If he's offended by the word 'grazed,' I apologize for that -- I didn't mean it in any lack-of-respectful way," Maddon said. "My point was, I was happy he was not hit more squarely and hurt on a more permanent basis. Like, for instance, what happened to [Giancarlo] Stanton recently. ... If I offended him by using the wrong word, my point was the fact that he was not hurt more seriously."
Asked if he had another word to describe what happened to Headley in hindsight, Maddon went with, "Hit-in-the-chin."
Stanton was hit in the face by a pitch on the same day as Headley, in the Marlins' game against the Brewers, and had to be removed from the field on a stretcher. His season, unlike Headley's, is over. That may be why Maddon didn't completely back away from choosing the word "grazed" on Wednesday.
"Well, I was really happy that he wasn't hit flush," Maddon said. "If he was, he wouldn't be playing yesterday."
That also didn't sit well with Headley.
"I can tell you what the doctor said and what I went through. I think that speaks for itself," Headley said. "He said it was a miracle that my jaw didn't shatter. That's his term."
Yankees manager Joe Girardi recalled how "scary" the moment was when Headley got hit, noting that it could have ruined his career and that Headley is still dealing with the effects of the injury.
But Headley said he did at least understand Maddon's intentions, although he disagreed with the semantics.
"Yeah, I don't think there was ill intent as far as being like, 'I wish it would have been worse' or anything," Headley said. "I don't think that. I just think that when you have what's going on in the context of that happening, you've got to be careful.
"It could be construed as minimizing what happened in context to how everything else is going. If Evan Longoria got hit like that, or Ben Zobrist or one of their guys, he wouldn't use that term."
David Adler is an associate reporter for MLB.com. This story was not subject to the approval of Major League Baseball or its clubs.