Kansas City drops Sale, sits half-game back of Tigers
Cain, Escobar go deep against lefty; Ventura stellar for seven innings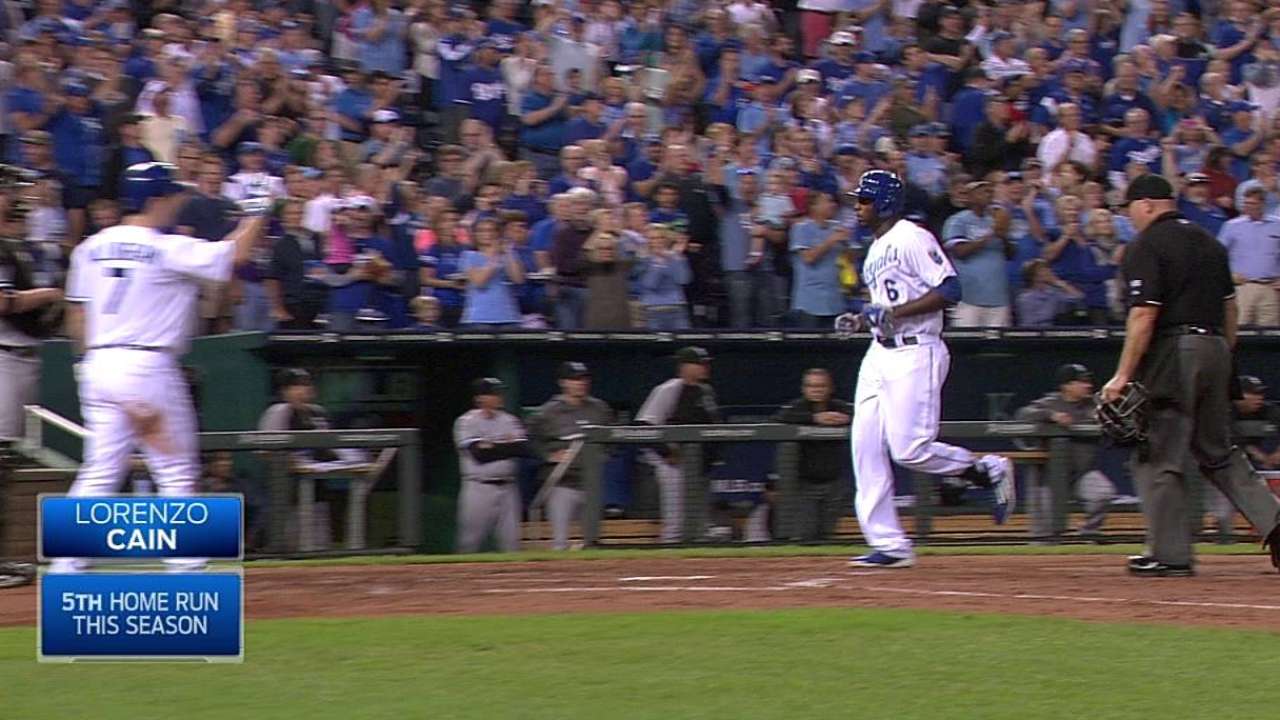 KANSAS CITY -- So here came Chris Sale, usually tough on the Royals and pretty much everybody else, sashaying into Kauffman Stadium with his 12-3 record, 1.99 ERA and Cy Young aspirations.
And there he went after just five innings, giving up home runs to the Royals' Lorenzo Cain and Alcides Escobar and absorbing the loss as the Chicago White Sox went down, 6-2, on Wednesday night.
Royals starter Yordano Ventura pitched seven innings for his 13th victory, second on the staff to James Shields' 14, to help Kansas City grab a series win.
The victory, combined with Detroit's loss at Minnesota, pulled the Royals to within one-half game of the first-place Tigers in the American League Central. The top two contenders square off in a three-game series this weekend at Kansas City.
The Royals also pulled even with the A's, who lost to Texas, for the top Wild Card. Kansas City and Oakland are two games ahead of the Seattle Mariners, who lost to the Angels, for the second Wild Card.
In Cain's view, the Royals' latest win should help against the Tigers, who have dominated them this season, winning 11 of 16 games.
"It can definitely turn things around," Cain said. "Facing Chris Sale is always tough. He's definitely one of the best in the game. But we did a great job of swinging the bats tonight, so facing Detroit here soon, the confidence should be high."
Sale had already beaten the Royals twice this season, giving up one run in 15 innings, so manager Ned Yost took care to pack his lineup with right-handed hitters against the tall left-hander. Another point in the Royals' favor: Of the six best hitters against Sale in his career, five were in the Royals' lineup, Cain and Escobar among them.
Wouldn't you know, it was Cain who belted a three-run homer off Sale in the third inning. The blast over the left-field wall followed singles by Escobar and the red-hot Nori Aoki.
"I'm looking heater and adjusting to offspeed," Cain said. "He's running it up there at 96 [mph], so look offspeed and a fastball is by you. But it was one of those hangers, he left it up and missed his spot and I put a good swing on it and it got out."
Strangely enough, it was the first time in his big league career that Sale had given up a home run on an 0-2 pitch.
Sale saw a fearsome focus on him from the Royals.
"They are fighting every game, every inning, every pitch," he said.
It became a four-run inning when Josh Willingham, in the lineup as designated hitter, drew a walk and then scored as Salvador Perez's two-out popup dropped between three White Sox fielders in short right field.
In the next inning, Escobar came to the plate with two outs and powered a 2-2 pitch over the left-field wall. It was his first home run since last May 11, or 409 at-bats ago.
Escobar has more hits off Sale than any Major League hitter -- he's 18-for-45 (.400) against him.
"I like to face lefty pitchers and that guy is one of the best lefties in the Major Leagues, but I feel comfortable, really good when he starts pitching to me," Escobar said. "Everybody's got one pitcher that he can see really good and you can really put the ball into play."
Aoki had a pretty good eye on Sale and all the White Sox pitchers in this series. He set a Royals record for most hits in a three-game series, going 11-for-13. He had four hits in each of the first two games of the series.
Ventura gave up just one run and three hits in his seven innings, retiring 10 straight batters at one point. He walked two, hit one and struck out seven.
The only run came in the third after the White Sox loaded the bases with no outs. After two singles, Marcus Semien squared to bunt and Ventura's pitch grazed his helmet. After Adam Eaton's sacrifice fly, Ventura ended the inning with two strikeouts.
"He's a kid that kinda likes these games," Yost said. "He wants that big game so that he can go out and do exactly what he did tonight."
There was some concern in the sixth inning when, after Alexei Ramirez's single, Ventura shook his pitching hand vigorously. That brought a concerned Yost and head trainer Nick Kenney rushing to the mound. It turned out to be a numbing sensation on his right thumb.
"I felt like it was a falling asleep-type sensation and once I was able to shake that off, it felt normal," Ventura said.
He finished that inning with a double-play grounder and went out to pitch the seventh with no further problems.
"I had an eagle eye on him and after the first hitter, I'm like, 'OK, he's going to be all right,' " Yost said.
And he was, but Sale was a different story. He got knocked around some.
"It shocks you when that happens," said White Sox manager Robin Ventura. "It just shows he's human. He'll bounce back. It's just that tonight wasn't his night."
Dick Kaegel is a reporter for MLB.com. This story was not subject to the approval of Major League Baseball or its clubs.