MLB.com Columnist
Lyle Spencer
Just like talent, you can't teach style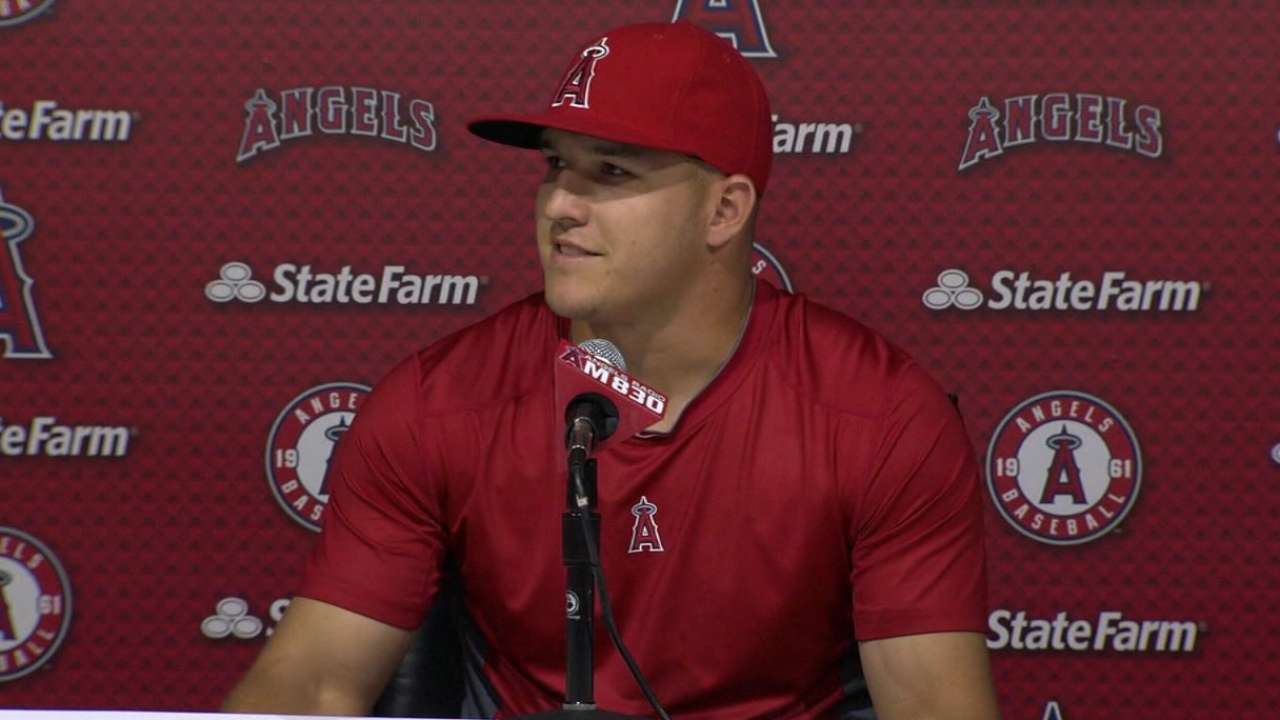 Style, like beauty, is in the eye of the beholder. Busy with more pressing details, Don Mattingly is sure he played with one of the game's foremost stylists in Rickey Henderson during their Yankees days. The Dodgers' manager uses the "Man of Steal" as his barometer.
"The best style comes from guys who aren't trying to have style," Mattingly said. "A guy like [Clayton] Kershaw, his style, that unique delivery, is who he is. He's not trying to impress anybody. Rickey was like that. He didn't care what anybody thought. He just did his thing.
"You look around the game today, and the guys that come to mind for me are [Mike] Trout, [Miguel] Cabrera. Who could have more style than Derek Jeter? They just come to play every day and do what comes natural; that's their style, what they bring to the field every day."
The Giants come into focus as a team loaded with style. They claimed the 2010 and '12 World Series championships with a collection of stylists not trying to be stylists, players who performed with passion in their own unique fashion: Buster Posey, Tim Lincecum, Hunter Pence, Pablo Sandoval, Juan Uribe, Angel Pagan, Sergio Romo, Brian Wilson, Madison Bumgarner and Matt Cain. On and on it goes.
An informal survey of scouts and Major League insiders uncovers a short list of current players bringing a consistently natural style to the game.
Adrian Beltre, Rangers
No one has played third base the way Beltre plays it, with a distinctive flair admired by peers even more than fans. "He's one guy I'd pay to watch play," Mariners manager Lloyd McClendon said. Beltre is just as entertaining at the plate. He's been known to go to his left knee taking a particularly wicked swing. When he connects, the ball often leaves the yard.
Miguel Cabrera, Tigers
Years ago, Tony Perez called Miggy "a once-in-a-generation hitter, like Hank Aaron." He was on the money. Like Aaron, Cabrera makes it look so easy, and he has an endearing playful side that enhances his style and persona.
Robinson Cano, Mariners
Nobody turns a double play or makes a stab behind second base -- and then throws in one motion, across his body with force and accuracy -- the way Cano does. He has a smooth, effortless stroke that calls to mind Bobby Abreu. Nobody in the game is cooler than Cano.
Clayton Kershaw, Dodgers
The best pitcher in the game exudes style, from his deceptive delivery to his all-out approach in other aspects of the game. Kershaw takes his at-bats seriously and helps himself with his all-around game. On top of that, he's a humanitarian (which is why he's the Dodgers' Roberto Clemente Award nominee), doing the right thing socially because it's just his style. The total package, as good as it gets.
Andrew McCutchen, Pirates
Everything about "Cutch," the Pittsburgh center fielder and reigning National League Most Valuable Player, is stylish, from his appearance to the way he hits, runs, fields and throws -- a five-tool stylist in the fashion of greats of the past. For Pirates fans, that means the incomparable Clemente.
Johnny Cueto, Reds
In an era dominated by compact deliveries that tend to be geared toward function, Cueto is a stylist similar to such legendary Latin American pitchers as Juan Marichal, Luis Tiant and Pedro Martinez. Overshadowed by Kershaw's historic greatness, Cueto has had a brilliant season, and he's as artistic as anyone in the game.
Felix Hernandez, Mariners
Similar in some ways to Cueto, King Felix is more subtle in his style, but he's breathtaking to watch. His devoted following in Seattle responds to him in ways that few fan bases give players, and Hernandez never lets them down.
Ichiro Suzuki, Yankees
The man from Japan made an instant impact in Seattle with a style entirely his own, taking what is commonly known as small ball to dazzling heights with his slashing hitting style, grace and elegance -- and a cannon of an arm in right field. And his personal style in a fashion sense is perhaps without equal in the game.
Buster Posey, Giants
As hot as the weather in Southern California, Posey sometimes "finishes high," appearing to brandish the bat way up with his left arm almost fully extended at the end of the follow-through. He could be a silhouette for a company brand. Posey is all substance, all the time -- Mattingly's prototype for style.
Jose Fernandez, Marlins
We can only imagine how good Miami would have been this year if this sensational young artist of the mound hadn't gone down. In the company of the amazingly gifted Giancarlo Stanton, Fernandez gives Marlins fans the contemporary equivalent of Dwight Gooden and Darryl Strawberry of the Mets' glory days. Fernandez is pure gold.
Salvador Perez, Royals
If Kansas City reaches the postseason, the nation will be wowed by this young catcher, who is poised to succeed Yadier Molina as the defensive gold standard behind the plate. Perez is a leader, and he can hit. There's enormous upside for this stylish athlete who doesn't mind splashing on some cologne when he works to feel as good as he looks.
Mike Trout, Angels
Trout is the new face of the sport for a reason: he has it all, from otherworldly talent to sincere charisma to style in everything he does, bringing it every day.
Derek Jeter, Yankees
He's the model for Trout and virtually every other young player who has come to the sport over the past two decades. An all-time great, he's the walking, beaming definition of natural style.
Lyle Spencer is a reporter for MLB.com. This story was not subject to the approval of Major League Baseball or its clubs.