MLB.com Columnist
Mike Bauman
Williams' influence on playoff-bound Nationals clear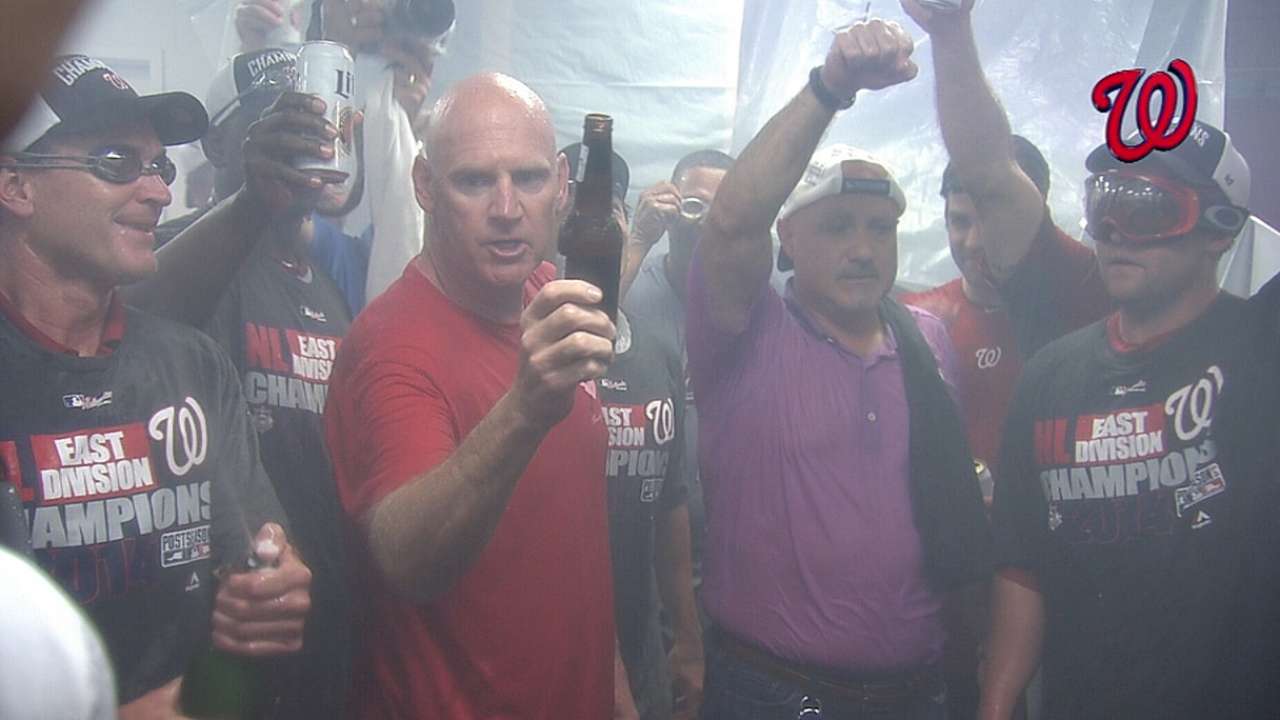 ATLANTA -- Here's another rookie Major League manager who is not in the least overmatched by the task of managing a genuine big league contender.
Matt Williams of the Washington Nationals fits that description. Tuesday night, his club became the first National League team to clinch a division title this season. Better still, in terms of their postseason future, the Nationals currently have the league's best record at 87-64, giving them the lead for home-field advantage through two rounds of the postseason.
The idea of a first-year manager being handed the reins of a top-shelf team was once unthinkable. Recent baseball history, though, says that if you find the right man for the job, his rookie status will be no barrier to success.
The Cardinals awarded their managing job to Mike Matheny after they won the 2011 World Series and Tony La Russa retired. It was Matheny's first managing job, but the Cards in 2012 came within one game of the World Series, defeating the Nats in a Division Series along the way. In 2013, St. Louis had the best record in the NL and went to the World Series.
This may have opened the door for other potential managers who had intelligence and leadership abilities but had not gone through the traditional managerial apprenticeship.
There was general agreement in baseball circles following Davey Johnson's retirement as Nationals manager that the Washington job, in terms of the talent on hand, was the best managerial opening in baseball.
Williams had managed in the Arizona Fall League, and briefly at Double-A. There were safer, more conventional, more experienced choices available, but Nats president of baseball operations and general manager Mike Rizzo went with Williams. The 2014 regular season says that this was a very solid choice.
The Nationals went through a period of early injuries and were a sub-.500 club as late as early June. But they battled through that period, and since June 3, they have been 60-36, becoming runaway winners of the NL East.
It could be argued that Williams' outlook and his presence were invaluable parts of Washington's success.
"There's no panic," Rizzo said of Williams' nature. "He's been there before. Don't forget, this is a multi-Gold Glove guy, a multi-All-Star guy, who for the first couple years of his career was up and down, struggling, so he can relate to all sorts of players, every talent level, he can relate to.
"And he has a calmness to him that [goes] throughout the entire team. When things were at their toughest, he was at his calmest. And I think that was a big, important aspect."
The Nats became the type of team Williams wanted, a team whose determined, resilient nature matched his own profile as a player.
When asked to describe the character of the Nationals, Williams responded:
"They're tenacious. That's part of their DNA. That's part of the way they established that they wanted to play this game. So for me, if you wanted to use one word, that would be tenacious.
"I think we established that in Spring Training. We sat down as a group and established how we wanted to play the game. I let them be free in expressing how they wanted to go about doing it. And that's how they wanted to be. They wanted to be tenacious. They wanted to be applying pressure to the other club. We've all taken ownership of that. It's been very nice to see."
Williams' single-minded sense of purpose was on display in the days leading up to the Nats clinching the division. He refused to become caught up in any of the hype surrounding this sort of event, insisting that the only sensible approach was to focus completely on the task at hand, winning the next game.
When Williams was asked about the added excitement of the possible division clinching, he replied, with a small smile: "There's just more folks around, that's all."
Wednesday night was a time for rest and regrouping. No Nationals regulars played. Blake Treinen started and pitched five shutout innings. The Nats eventually lost, 3-1. Williams said that the regulars would be back on the field Thursday night in Miami, and, for as much as they were needed, over the rest of this season.
The Nationals have another issue to work through as schedule winds down. They are hoping to get Ryan Zimmerman back from a Grade 3 hamstring strain in time for the postseason. If Zimmerman is healthy enough to play, he is an obvious plus. In the meantime, you are reminded what the Nats have accomplished with Zimmerman, a mainstay of their lineup, playing only 53 games.
The Nationals were talented when Williams arrived. He did not have to work miracles to win with this group. But it may be that with Williams' influence, the Nats have become increasingly, yes, tenacious.
Mike Bauman is a national columnist for MLB.com. This story was not subject to the approval of Major League Baseball or its clubs.