Braves hold steady in WC race after topping Nats
Wood, Bethancourt lead way for Atlanta as club chases Pittsburgh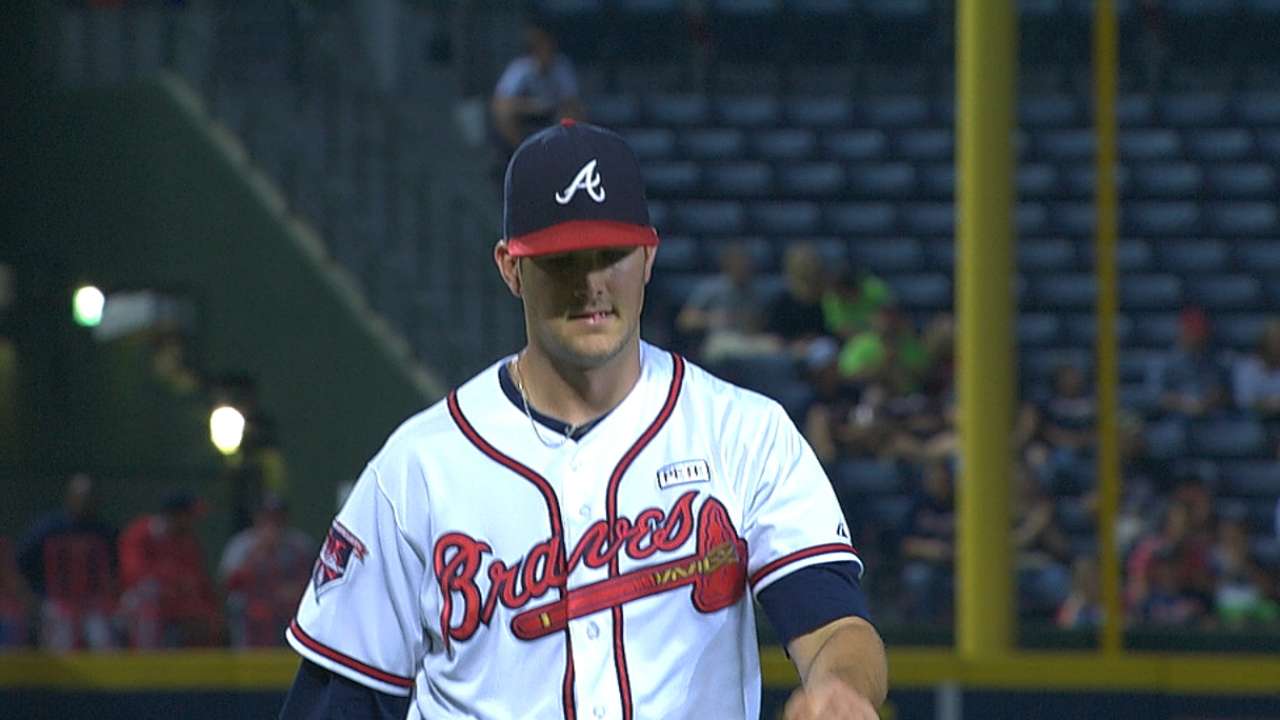 ATLANTA -- When rookie catcher Christian Bethancourt strolled toward the plate with two outs and the bases loaded in the sixth inning of Wednesday night's series finale against the Nationals, there was reason to assume he would become the latest Braves player to squander a prime scoring opportunity. But the young catcher instead created some much-needed excitement for a club that slumbered over the past few weeks.
Bethancourt's sharp single accounted for each of the three runs Alex Wood received as the lefty extended his mound dominance in a 3-1 win over the Nationals, who filled their lineup with backups after clinching the National League East title on Tuesday night.
"We finally got a guy to come through in that big spot with a couple guys on," Braves infielder Phil Gosselin said after matching a career-best three hits. "[Bethancourt] has been able to do that since he's been up. He's done it a few times. He's done a great job offensively and defensively."
The Braves are still a miraculous finish away from claiming a postseason berth. But they at least gained a spark with Bethancourt's single that scored two easily and gave Jason Heyward a chance to display his hustle and baserunning skills.
Heyward scored from first base despite the fact that the single deflected off first baseman Tyler Moore's glove and came to rest in shallow right field. There was a roar from the home crowd when Heyward caught the Nationals by surprise by taking off toward the plate as right fielder Nate Schierholtz threw the ball to shortstop Danny Espinosa at second. The resulting excitement was certainly justified given that fact that the Braves scored three runs on the play, which was greater than what they had totaled in 10 of their past 16 games.
"You're always trying to be aware of your surroundings," Heyward said. "I saw the guy receiving the throw had his back turned. When I saw the throw go up out of [Schierholtz's] hand, I said, 'Hey, I can get there,' and it worked out."
Heyward was forced to exit in the eighth inning because of the swelling that formed around his left thumb after he was hit with a Ross Detwiler pitch that loaded the bases for Bethancourt, who showed off his rocket arm while preventing Michael Taylor from stealing third base with none out in the top of the sixth.
"His approach at the plate has been really good," Wood said. "Behind the plate, we've been on the same page, for the most part. Obviously, his arm is nice to have back there."
With what was just their fourth win in their past 15 games, the Braves snapped a five-game losing streak and at least maintained some hope to sneak back into the playoff picture. They are 5 1/2 games behind the Pirates, who are currently positioned to claim the NL's second Wild Card spot.
The Braves began their sixth-inning rally with the second of the three singles notched by Gosselin, the newly appointed leadoff hitter. They totaled just three hits during the five innings completed by Blake Treinen, who learned he would start in place of Gio Gonzalez once the Nationals had clinched the division. Treinen had not completed more than two innings since he tossed 4 2/3 innings on Aug. 24 in the final start he made for Triple-A Syracuse.
With Jayson Werth, Adam La Roche, Anthony Rendon and other Nats regulars resting on the bench, Wood limited the Nationals to one run and five hits over six innings. The only blemish on his line came courtesy of Steven Souza Jr., who drilled his first career home run deep over the center-field fence with one out in the fifth inning.
Wood has posted an impressive 1.84 ERA over his past 10 starts. The Braves had scored fewer than three runs in six of his previous nine starts.
"He deserves about 20 runs one of these nights as well as he has pitched," Gosselin said. "It's nice to get a few there. He did a good job, as always."
Mark Bowman is a reporter for MLB.com. This story was not subject to the approval of Major League Baseball or its clubs.