Heyward's thumb hit by pitch; Simmons tweaks ankle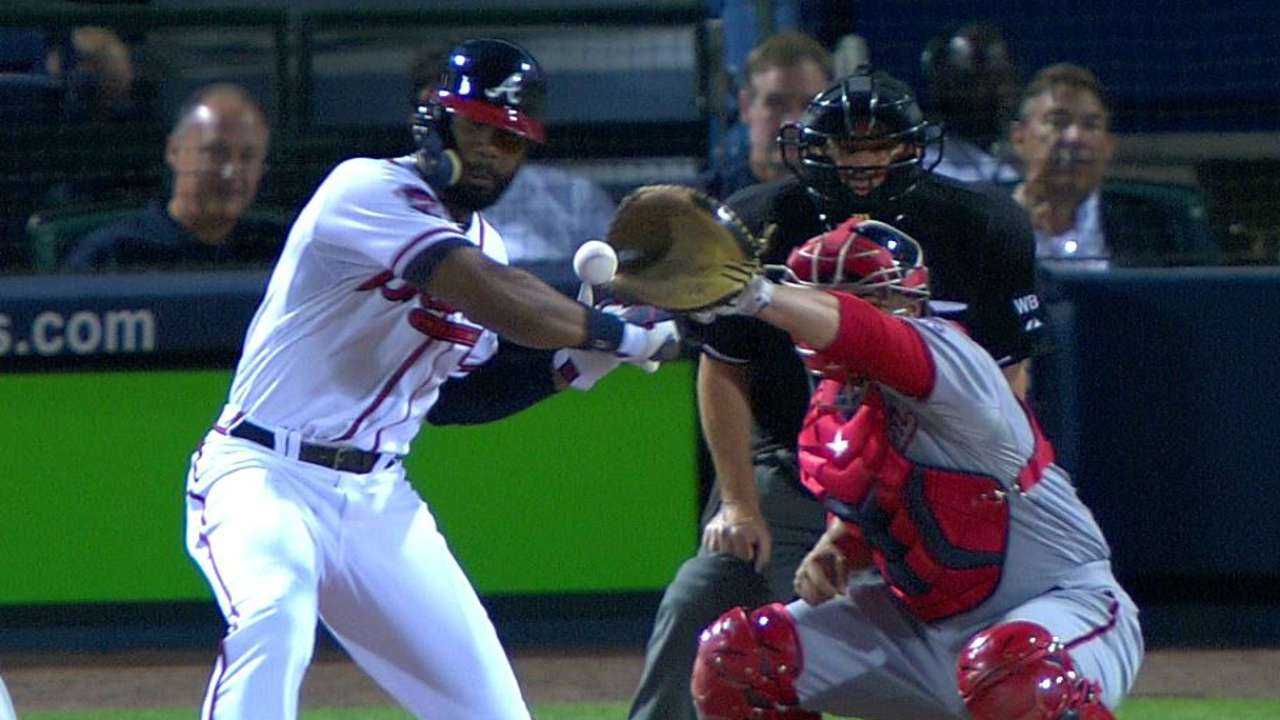 ATLANTA -- Jason Heyward received some encouraging news when X-rays revealed that he did not fracture his left thumb when he was hit by a Ross Detwiler pitch in the sixth inning of Wednesday night's 3-1 win over the Nationals. But the Braves' right fielder knows that a thumb injury can prove bothersome for more than just a few days.
"Thumbs [stink], I've dealt with it before," Heyward said. "We'll see what happens. Once swelling is in there, it's tough to get it out."
On the way to snapping a five-game losing streak with what was just their fourth win in September, the Braves lost both Heyward and Andrelton Simmons, who exited after the third inning because of a sore left ankle. While Heyward's status for Friday's series opener is up in the air, Simmons looked like he will be ready to return to the lineup. As he exited the clubhouse without a noticeable limp on Wednesday, he said the ankle was not providing much discomfort.
Simmons has aggravated the ankle a few times since spraining it in Seattle on Aug. 5. The latest such occurrence was when he exited the batter's box after flying out in Wednesday's third inning.
"It's not a sprained ankle," Braves manager Fredi Gonzalez said. "It's more of an Achilles things, up high, that bites him every once in a while. I didn't want to take a chance with it."
After getting with the pitch, Heyward remained in the game until the bottom of the eighth inning, when the swelling around his thumb increased to the point where he could not throw a baseball or grip the bat with much authority.
"It definitely swelled up as time went, and I couldn't throw," Heyward said. "Gripping the bat was out of the question. If I could have thrown, I probably would have gone to the plate and stood there and played defense."
Mark Bowman is a reporter for MLB.com. This story was not subject to the approval of Major League Baseball or its clubs.