Marlins shut down Stanton for rest of 2014
NL MVP candidate expected to make full recovery for Spring Training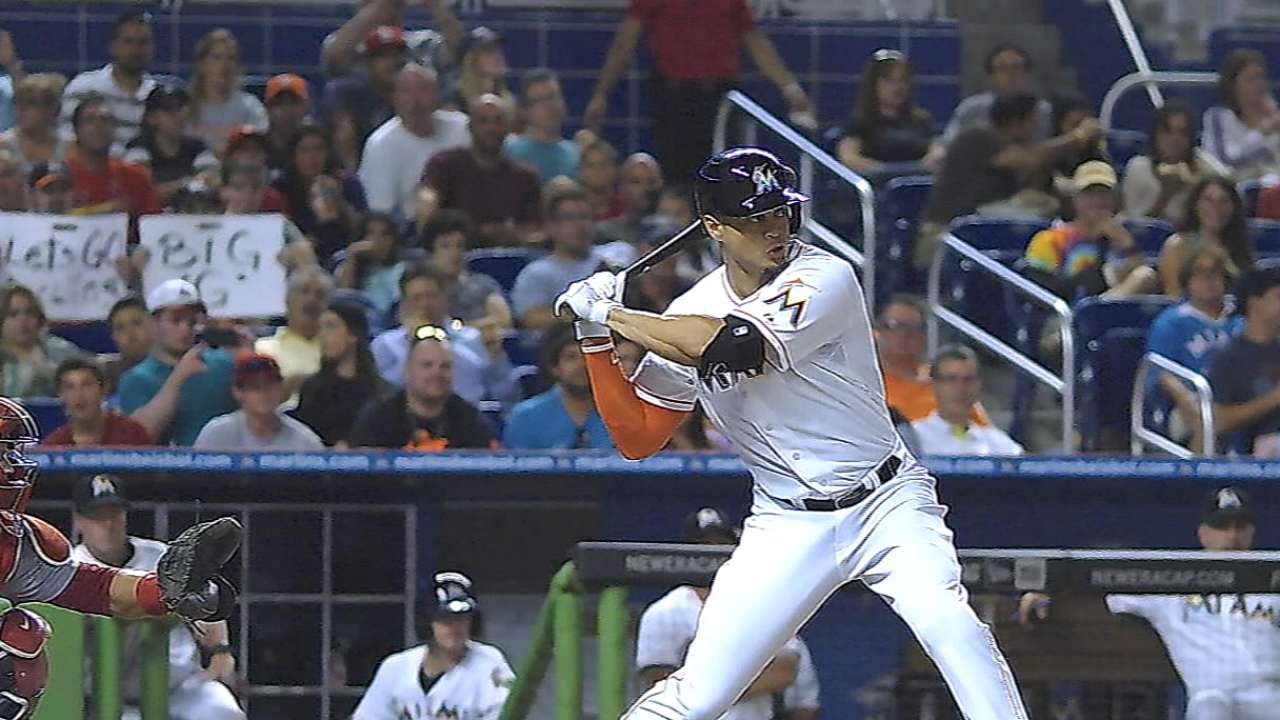 NEW YORK -- Along with putting up MVP-caliber numbers, Giancarlo Stanton was also having one of the greatest power-hitting seasons in Marlins history. Now, instead of chasing records, the 24-year-old will have to wait until next year to regain his game-changing form.
As expected, the Marlins on Wednesday announced the two-time All-Star right fielder is being shut down for the remainder of 2014. After being examined by team doctors in Miami on Tuesday, it was determined the slugger's facial injuries need more time to heal.
"As soon as the injury happened, the most important thing was obviously his health," Marlins president of baseball operations Michael Hill said. "That was always at the forefront. We wanted to make sure he received the best care he possibly could get from the second he was carted off the field."
Stanton, who was striving to play in all 162 games, had his goal cut short after he was struck on the face by a Mike Fiers pitch on Sept. 11 at Milwaukee.
The gruesome injury occurred in the fifth inning when Fiers' 88-mph fastball ran up and in and drilled Stanton on the left side of his cheek.
Stanton suffered multiple facial fractures and lacerations that required more than 20 stitches. Several teeth were compromised, and a plastic surgeon was immediately brought in to help repair the left side of Stanton's face.
Even though his regular season is over, the Marlins are hopeful Stanton will be able to get at least one at-bat in an instructional league game at the team's Spring Training complex in Jupiter, Fla. That season runs through the first week of October.
Hill noted that Rawlings is working on three models of helmets that include protection for the face.
"He's made tremendous progress," Hill said. "But there was still some swelling, then the multiple fractures. There just wasn't enough time, not enough schedule, to get him back on the field."
In the aftermath, the Marlins have rallied around the NL MVP candidate, displaying his No. 27 jersey in their dugout during games.
Until Wednesday, the team had been hopeful for a miraculous return. Stanton hadn't given up on playing again in 2014, and neither had the club.
The best-case scenario included Stanton getting back into the batter's box to start the mental recovery of once again seeing live pitching.
The team wasn't intending to let Stanton play defense or run the bases; his role would have been as a pinch-hitter. If he had reached base, he would be removed for a pinch-runner.
No Marlins player has won the National League Most Valuable Player Award, home run title or RBI title. Stanton had a chance to accomplish all three this season.
Now, MVP voters will have to determine if Stanton did enough in his 145 games to earn the NL's top individual honor.
Stanton has since slipped to second in RBIs with 105. But with 37 home runs, he still has a chance to finish first in that category.
In the coming days, Stanton has some more appointments and more dental work, but he is expected to be fully ready for Spring Training.
The Marlins plan on retaining the slugger for 2015, and they're expected to approach him with a multiyear contract offer.
"We're hopeful that the season will end and he will be named MVP of the league, and we'll get back into our offseason preparation and hopefully our long-term discussions with him," Hill said.
The Marlins' single-season home run record is 42, set by Gary Sheffield in 1996. Stanton could have challenged that total, but he instead finishes up matching his own personal best. In 2012, he also belted 37 homers, the second most in team history.
"To see his growth and development as a player from last year to this year has been fun to watch," manager Mike Redmond said. "To see him the last month or so, as the games continued to mount with us trying to make the playoffs, you really saw him kind of blossom."
Stanton finishes the season with a .288 average, a .395 on-base percentage and a .555 slugging percentage.
Stanton walked 94 times, the fourth most in team history, and his 170 strikeouts are the third highest.
"Everything is going well for him," Redmond said of Stanton. "There isn't enough time for him to come back. At the end, it comes down to the doctors and making sure we get him properly healed for next year, and for Spring Training."
Joe Frisaro is a reporter for MLB.com. He writes a blog, called The Fish Pond. Follow him on Twitter @JoeFrisaro. This story was not subject to the approval of Major League Baseball or its clubs.