Fiers flirts with no-no, but Crew falls back in WC
Righty yields two-out hit in 6th, while error aids decisive two-run 7th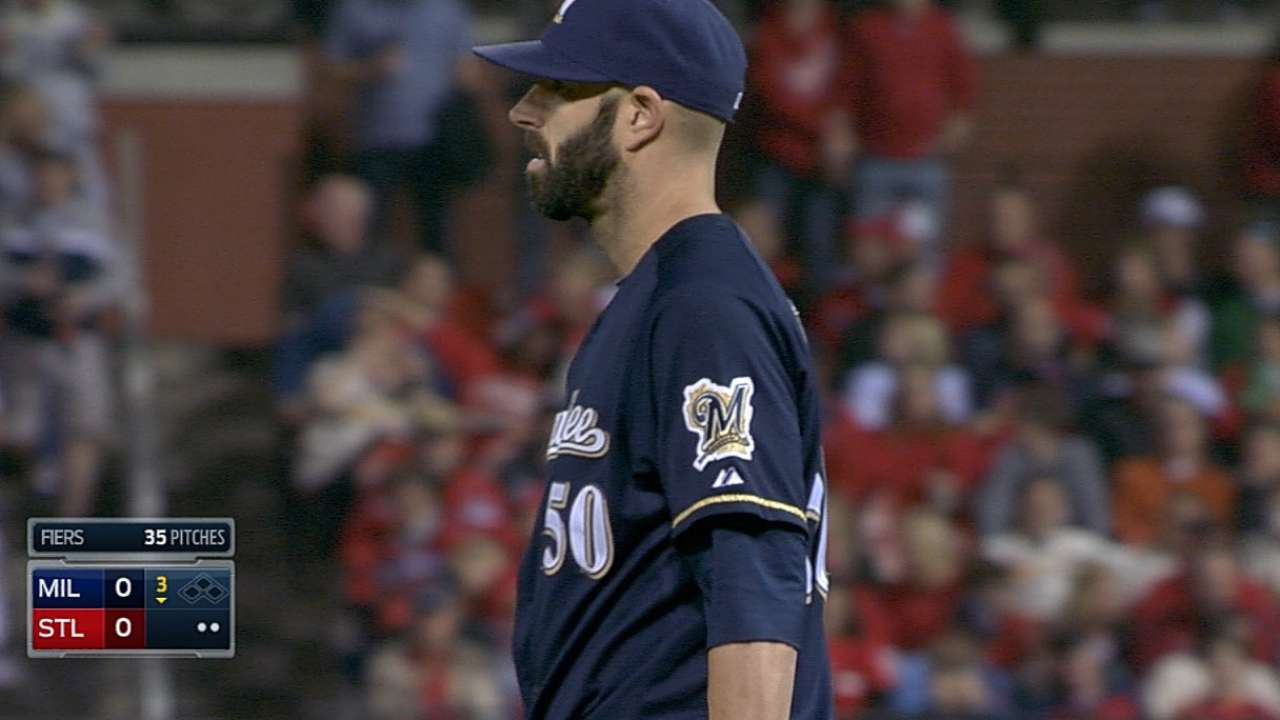 ST. LOUIS -- Mike Fiers was just fine in his return to the mound for the Brewers, but a slip-up behind him spoiled what was shaping into a special night.
In his first action since a misplaced pitch struck Marlins slugger Giancarlo Stanton in the face, Fiers carried a no-hitter into the sixth inning and a shutout bid into the seventh, only to see it get away after an error charged to Gold Glove center fielder Carlos Gomez. The Cardinals turned that stumble into the only scoring rally of the Brewers' 2-0 loss on Wednesday night at Busch Stadium.
The Cardinals stayed 2 1/2 games ahead of the surging Pirates in the National League Central race, while the Brewers fell 2 1/2 behind the Pirates in the chase for the second Wild Card.
"Obviously, everyone knows what happened," said Fiers, referring to the Stanton incident. "But we've got games in front of us, important games, and this was an important one. ... Sometimes you get beat by a guy that threw better."
That guy was Cardinals ace Adam Wainwright, who scattered seven hits for his third shutout of the season and his second complete-game win over the Brewers this month.
"We faced one of the toughest pitchers in the game and he got the victory," Gomez said, "but Fiers threw better than him, I think."
Considering the circumstances, for the team and for Fiers himself, holding the Cardinals to two runs (one earned) on three hits in seven solid innings was something of a triumph. It was Fiers' work start since a pair of inside fastballs struck Stanton and, after he was taken away on a gurney to receive treatment for multiple facial fractures and other injuries, pinch-hitter Reed Johnson. Both pitches were ruled swinging strikes, but a shaken Fiers was removed from the game and was near tears while discussing the incident later.
If there was any doubt about whether he would be able to move on, Fiers eliminated it with his very first pitch to Cardinals leadoff man Matt Carpenter. It was an 89-mph fastball that painted the bottom of the strike zone, the first of many pretty pitches in Fiers' relief-inducing outing.
"He kept the ball away mostly at the beginning, and then he started pitching like he usually does," Brewers manager Ron Roenicke said. "It was just trying to see where he was, and if he was going to be the same guy. And he was. 'Luc' [catcher Jonathan Lucroy] saw it right away."
Fiers faced the minimum through 5 2/3 innings, allowing only a third-inning walk to Daniel Descalso, who was promptly caught trying to steal second base on a pitch in the dirt. Fiers didn't allow a hit until Wainwright punched a single up the middle with two outs in the sixth inning, and he was still working a shutout with one out in the seventh when Matt Holliday coaxed a walk during a plate appearance that included a near-home run which drifted foul.
The next batter was left-handed slugger Matt Adams, who beat the Brewers' defensive shift with a single to center field. Gomez slipped and then bobbled the baseball, allowing Holliday to score and Adams to take second while the Brewers tried for an out at the plate.
"Before I could even catch the ball, I was on the ground," Gomez said. "Tough game. Tough loss. Fiers threw unbelievable today. Just one error right there, and it changed the game."
The Brewers nearly nabbed Holliday at the plate. Gomez threw from his knees to shortstop Jean Segura, whose relay home was just a moment too late.
"We were having trouble getting a hit, let alone a run, so we have to pull out all stops and have to be overaggressive there," Cardinals manager Mike Matheny said. "When we're not getting things going, we have to make something happen." When Jhonny Peralta followed with another single past second base, the Cardinals owned a 2-0 lead.
Even with that earned run on his ledger, Fiers has been one of the best pitchers in the league since joining the Brewers' rotation on Aug. 9, with a 1.68 ERA and 61 strikeouts in eight starts. Since that date, the only NL pitcher with more strikeouts is Dodgers ace Clayton Kershaw (62), and the only superior ERAs belong to the Giants' Jake Peavy (1.13), Kershaw (1.42) and the Marlins' Jarred Cosart (1.52).
"I felt like I could have done better," Fiers said. "It's baseball. Wainwright gave up more hits, but he was able to pitch out of jams and pretty much the only jam I got into, they got the hits when they needed to. I needed to be better that one inning. I wasn't and they capitalized. That's why they're one of the best teams."
Adam McCalvy is a reporter for MLB.com. Read his blog, Brew Beat, and follow him on Twitter at @AdamMcCalvy. This story was not subject to the approval of Major League Baseball or its clubs.