Twins' big sixth trips up Tigers again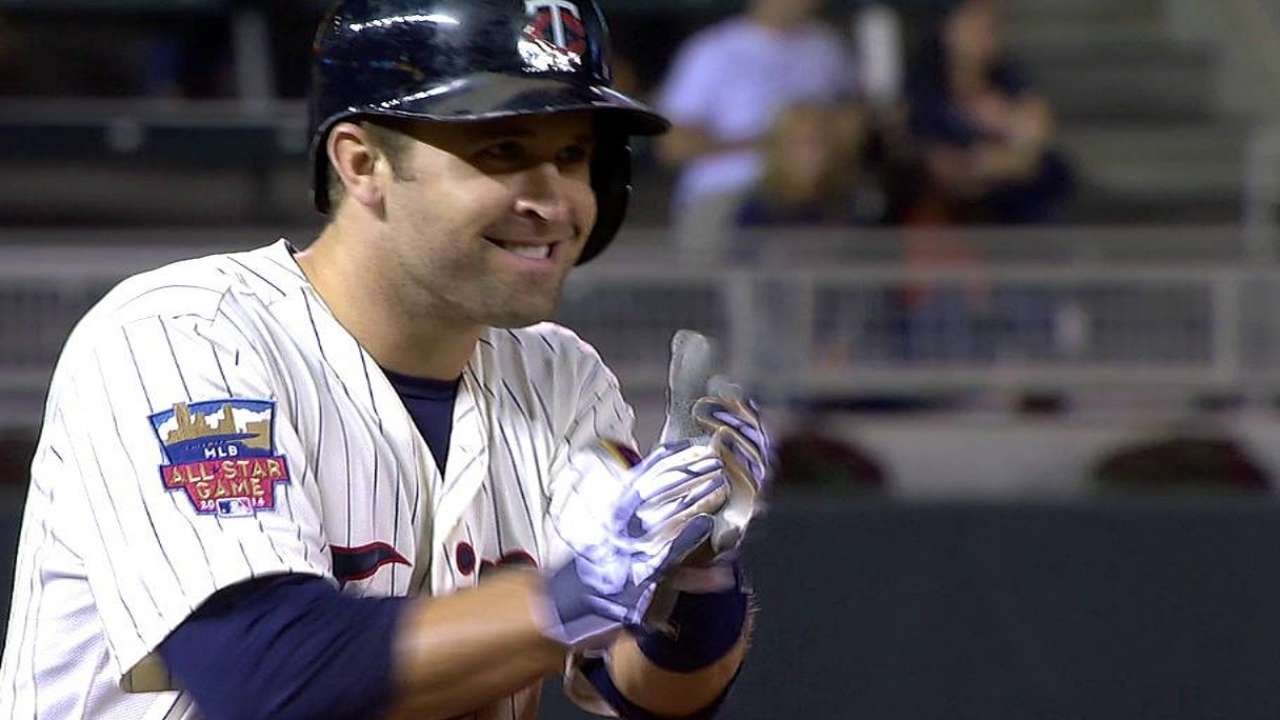 MINNEAPOLIS -- The Twins, struggling for a fourth straight season, are stuck playing the role of spoiler yet again this September. But they have been trying to make the most of it, and they did just that with an impressive series against the American League Central-leading Tigers.
The Twins battled from a six-run deficit only to lose a heartbreaker in the ninth on Monday, but bounced back with two straight victories to get their first series win since taking two of three from the Astros in August. In the finale on Wednesday, right-hander Kyle Gibson weathered some early struggles and the offense picked him up to lead the Twins to an 8-4 win at Target Field.
"We want to finish strong," Gibson said. "We're playing a lot of teams in the playoff race, and we want to be spoilers. That's kind of our mentality."
Gibson was shaky in his first two innings, giving up two runs in the first before allowing two more in the second. But he settled down from there, giving up four runs on seven hits and three walks over six innings to get his 12th win.
"That made my night," manager Ron Gardenhire said. "I was proud of Gibby for the way he hung in there."
Gibson outpitched left-hander David Price, who surrendered five runs on eight hits and three walks over 5 2/3 innings to fall to 3-4 since joining the Tigers.
The Tigers jumped all over Gibson early, scoring two runs in the first on a pair of RBI singles from J.D. Martinez and Nick Castellanos with two outs. Detroit scored two more times in the second, with Torii Hunter singling home a run and Miguel Cabrera doubling him home.
But Price also had trouble in the first inning, giving up three runs. After Danny Santana led off with a triple, Brian Dozier sent him home with an RBI single before scoring on a one-out single from Trevor Plouffe. Kurt Suzuki plated the third run with a double to left field.
The Twins didn't score again until the sixth, when they plated three to take the lead. Aaron Hicks started the rally with a one-out double before scoring on a two-out double by Santana that knocked Price from the game.
"I just didn't make enough good pitches, and that's a tough thing to swallow," Price said. "Especially getting two runs before I even take the mound and giving up two more in the second inning."
Right-hander Al Alburquerque was brought in to face Dozier, but he served up a triple off the top of the left-field wall that just missed being a home run. Lefty Kyle Ryan then went in to face Joe Mauer, who promptly gave the Twins an insurance run with an RBI double down the left-field line.
The Twins added two runs in the eighth on an RBI single by Santana, who finished a homer short of the cycle, and an RBI single from Mauer, who had two RBIs on the night.
"We're finding ways to score runs," Gardenhire said. "I think if our pitching staff can give us a chance, it's always a lot of fun. It doesn't matter who is out there now. We're swinging the bats really well."
After Gibson departed, right-hander Ryan Pressly tossed 1 1/3 scoreless innings. He got out of a big jam in the seventh, when the Tigers had runners at second and third with one out after Cabrera doubled for his fourth hit of the game. But Victor Martinez grounded out to Mauer at first base and Cabrera ran to third base even though Hunter held, causing Cabrera to get caught between second and third to end the inning.
"I'll take that blame," Hunter said. "I might have took a jump, took a couple quick steps and got Miggy off a little too far and got him in no-man's land."
The gaffe cost the Tigers, who saw their lead over the Royals fall to just a half-game after losing two of three to the Twins.
"It's a fun atmosphere," said Mauer, who had six RBIs in the series. "It's a good team over there. They're playing to get into the postseason. The kind of environment we played in the last three games facing a couple of former Cy Young Award winners, you can get gain some good experience."
Rhett Bollinger is a reporter for MLB.com. Read his blog, Bollinger Beat, and follow him on Twitter @RhettBollinger. This story was not subject to the approval of Major League Baseball or its clubs.