Tigers' lead down to half-game after loss to Twins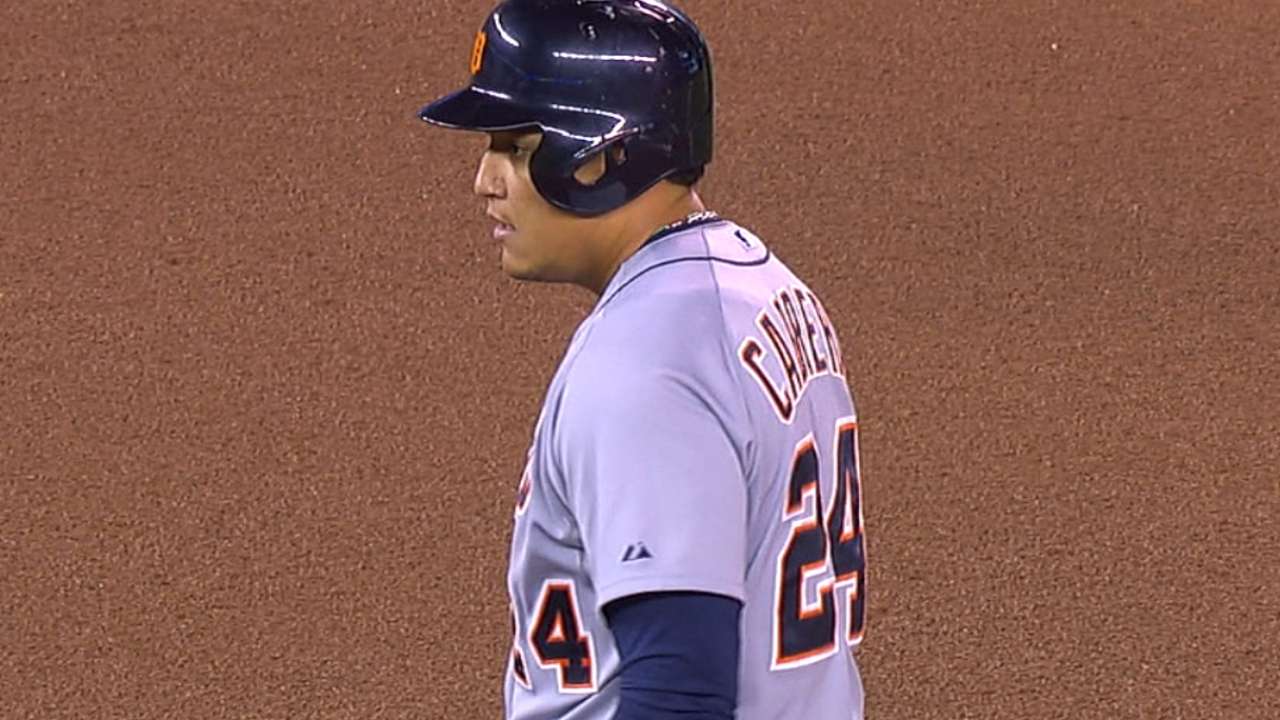 MINNEAPOLIS -- David Price has an All-Star resume and Cy Young stuff, but on Wednesday he couldn't get through the sixth inning in an 8-4 loss to the last-place Twins at Target Field.
After allowing five earned runs and 11 baserunners in just 5 2/3 innings, Price was frustrated at his inability to consistently show the form that made him the top prize on the trading block earlier this summer.
"I'm a better pitcher than this," Price said. "I had good stuff today. Those are the days you want to go out there and pitch well, and I didn't do that. But I'll keep working."
Handed a two-run lead before he set foot on the mound, Price gave it up immediately, as Minnesota scored three runs in the bottom of the first. He shut down the Twins for the next four innings, but his pitch count soared as batters consistently worked deep into counts.
That patience finally paid off for the Twins in the sixth, when they broke through against Price and two relievers for three runs to take the lead for good.
"Giving up two leads is not the way you want to go out there and pitch," said Price, who was lifted after 112 pitches. "I definitely didn't command the ball the way I can. They spoiled some good pitches. They put some good swings on what I thought were some pretty good pitches in the first inning. But that's just baseball. Sometimes you've got to tip your cap."
The loss, coupled with the Royals' win over the White Sox, leaves the Tigers just a half-game ahead of the Royals in the American League Central heading into the weekend series at Kauffman Stadium.
Price's record with the Tigers fell to 3-4 and his Detroit ERA rose to 4.09. But even more concerning, his innings count ran to a career-high 232 1/3 between Tampa Bay and Detroit this season. He downplayed the effects of his workload, but manager Brad Ausmus is keeping an eye on his ace left-hander.
"His innings are climbing as we get later in the season," Ausmus said. "We're hoping that with the importance of the next couple of starts that he has, the adrenaline helps and he's like he was earlier."
Miguel Cabrera had a four-hit night, but he was part of a blunder on the basepaths that short-circuited a potential rally in the seventh. With Cabrera on second and Torii Hunter on third, Victor Martinez hit a ground ball to the right side. Ausmus later said that he thought Twins first baseman Joe Mauer had been playing up to cut off the run, then backed off after a couple of pitches.
Mauer fielded the ball near the outfield grass, seemingly conceding the run. But Hunter didn't break for home; Cabrera, caught by surprise, was trapped between second and third for the third out.
"I might have [taken] a jump, took a couple quick steps and got Miggy off a little too far and got him in no-man's land, and he's not moving too well, so it's hard for him to get back," Hunter said. "You have to make sure you're safe at home -- I didn't want him to throw the ball and I'm out at home. That would have looked worse. But I accept that, full responsibility. I misled [Cabrera], and that's my fault."
Another rally fizzled in the eighth, when pinch-hitter Eugenio Suarez struck out looking and Rajai Davis grounded out to strand runners at the corners. And the Twins put away the game with two runs off the Tigers' bullpen in the eighth.
Now the focus turns to Kansas City and a massive three-game series with the Royals. The Tigers have won six of seven games at Kauffman Stadium this season, but no one in the clubhouse was taking anything for granted on Wednesday night.
"This is probably one of the most important series in the season," Hunter said. "When they said that in June, it wasn't. Now it is. What we've got to do is keep playing the game the way we know how to play, control what we can control, go out there and prepare [ourselves] and have good at-bats and play good defense and make good pitches. [If] we do that, I think we'll be fine."
Patrick Donnelly is a contributor to MLB.com. This story was not subject to the approval of Major League Baseball or its clubs.