A clean win: McCarthy leads Yankees in St. Pete
Immaculate inning caps starter's strong outing as tensions are eased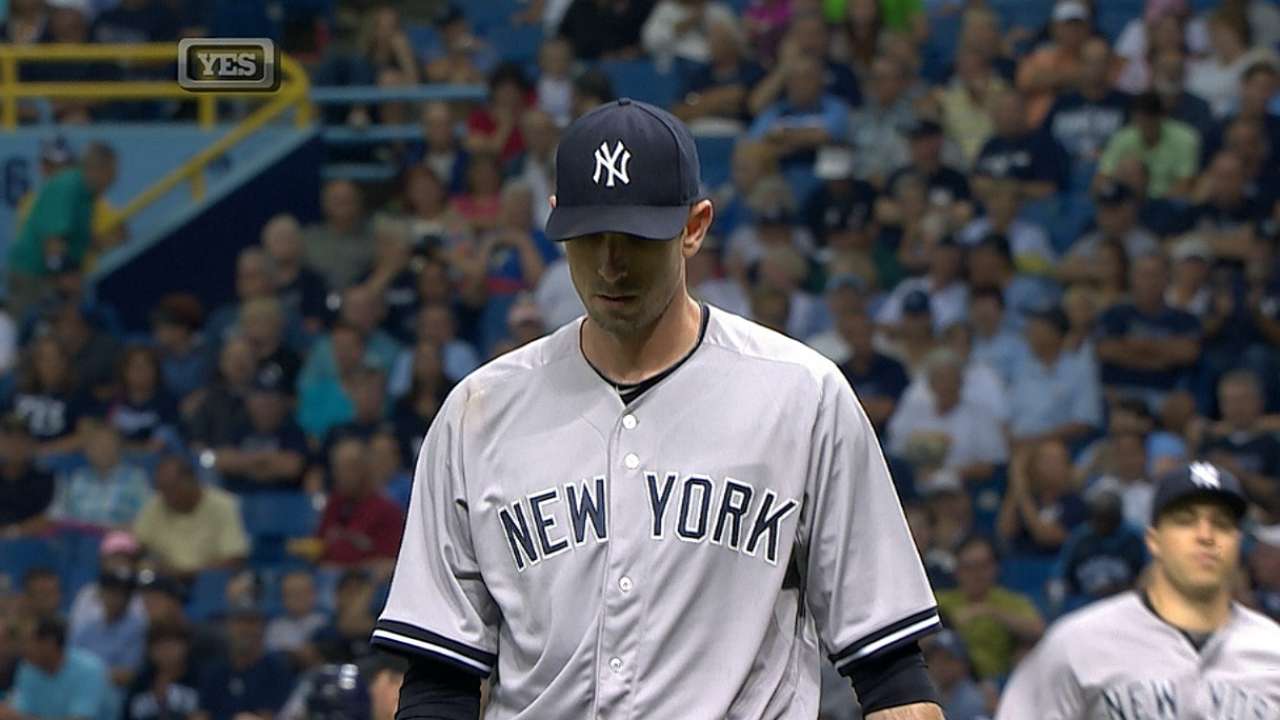 ST. PETERSBURG -- One night after both benches emptied into a frenzy of finger-pointing and shouting following an errant pitch that drilled Derek Jeter, the Yankees and Rays followed the leads of their respective managers on Wednesday as cooler tempers prevailed.
There was no spillover from the previous evening's incidents, just clean ball, and Brandon McCarthy wrapped up seven strong frames with an immaculate inning as the Yankees defeated Tampa Bay, 3-2, snapping a three-game losing streak. They remained six games back in the American League Wild Card race.
"I don't like when those things keep carrying over day after day," McCarthy said. "Most of it, it's the checks and balances of baseball. It's protect your teammates, and once that's done, then everybody knows the score and you move on from there and it's back to baseball."
There was a hit by pitch early in Wednesday's game, as Chris Young was plunked in the fifth inning by Rays starter Alex Cobb -- the sixth Yankee hit in the team's last six games against Tampa Bay -- but it was with an 80-mph breaking ball, so no warning was warranted.
"Great ballgame on both sides," Rays manager Joe Maddon said. "I'm glad it was a baseball game only, and I thought they deserved to win. They pitched really well."
Jeter, an area resident since 1994, walked off as a winner in his final game at Tropicana Field. With just 11 more regular-season games remaining, Jeter snapped an 0-for-28 skid with a sixth-inning single; it marked the second-longest drought of Jeter's career, trailing only a run of 32 hitless at-bats in 2004.
"I'm 1-for-my-last-2, guys. I'm hot," Jeter said. "It felt good, man. I'm well aware of what's going on. At the same time, you try to forget about anything that's happened up to that point. Those stretches aren't fun. Going through it, it's difficult because you're trying to get a hit but you can't control where it goes."
Evan Longoria hit a fourth-inning homer and knocked home the Rays' second run with a sixth-inning groundout, but McCarthy and the bullpen held the line to mark just Cobb's second loss to New York in 10 career starts.
Dellin Betances struck out two batters in a scoreless eighth inning, giving him 132 strikeouts this year to shatter Mariano Rivera's single-season franchise record of 130 strikeouts by a reliever, set in 1996.
"I just think about the whole year and how everything has gone," Betances said. "I definitely feel honored, especially to be part of this group and part of this organization."
Betances recorded the milestone punchout by getting Kevin Kiermaier to flail at a curveball, then froze David DeJesus looking at another hook to strand the potential tying run at third base. David Robertson pitched a scoreless ninth inning for his 37th save.
McCarthy permitted two runs and four hits in a 91-pitch performance -- including striking out the side on nine pitches in his final inning.
"I think his sinker's been really good, and I think his curveball has been really effective," manager Joe Girardi said. "I think that he gets some strikes with it, and he puts some guys away with it, and I think it's been really effective."
The Yankees produced three runs in six innings against Cobb, taking the lead in the fifth inning.
Chase Headley, who was sidelined last week by a Jake McGee fastball that hit his chin in the Bronx and sent him to a local hospital, got some measure of revenge by roping a double up the gap in left-center field to chase home Young with the first Yankees run.
"This guy is a gamer," Girardi said. "For him to be back the next day after all he went through, he showed his teammates a lot. Obviously he showed us a lot. Diving all over the place, a huge hit tonight. He's something else."
Brendan Ryan gave New York the lead with a ground-rule double to right field. The Yankees loaded the bases with none out in the sixth but managed just one run despite making Cobb throw 39 pitches in the inning, with three walks.
Brett Gardner made a bid for a grand slam, but his deep fly ball to right field was pulled in with a leaping grab by Wil Myers on the warning track, leaving the Yankees to settle for a sacrifice fly. Given their difficulties scoring runs lately, that wasn't so bad.
Now the Yankees return home to the Bronx, where the focus will be on Jeter's final homestand wearing pinstripes -- a reality that Jeter is not allowing to sink in.
"Not yet. Maybe when we get there," Jeter said. "Right now, I'm just happy we won a game and I got a hit. I'm trying to enjoy it. It feels good."
Bryan Hoch is a reporter for MLB.com. Follow him on Twitter @bryanhoch and read his MLBlog, Bombers Beat. This story was not subject to the approval of Major League Baseball or its clubs.