Command eludes Cobb as Rays miss out on sweep
Longoria goes deep, but starter sees end of stingy club-record run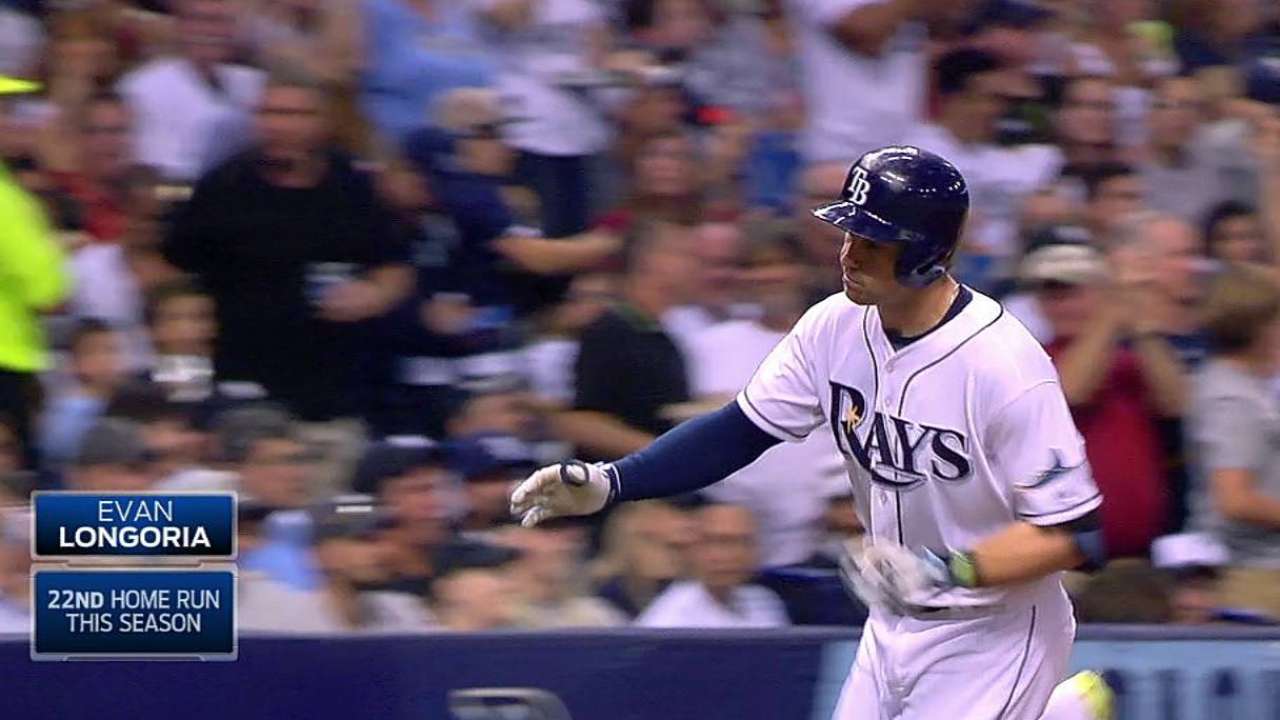 ST. PETERSBURG -- Alex Cobb didn't come close to a no-hitter this time around. He didn't continue his streak of allowing two runs or fewer, either, or carry the Rays to a series sweep of the Yankees in the clubs' final meeting of the season. No, Cobb's last start at Tropicana Field in 2014 was a pedestrian 3-2 loss to New York on Wednesday night.
Five days earlier, Cobb took a no-hit bid into the eighth inning at Yankee Stadium, but on Wednesday, the right-hander gave up three runs in six innings, ending his franchise-record run of 12 straight starts allowing no more than two. The loss means Tampa Bay would have to end the season 8-1 to finish above .500 for a seventh straight year.
Cobb lacked the command that has helped him dominate opponents for the last few months -- walking three, hitting a batter and striking out only three, his lowest total since July 18. Before Wednesday's loss, Cobb had compiled a Major League-best 1.10 ERA over his previous 10 starts.
"For some reason, the ball just kept sailing on me up and away," Cobb said. "I tried to make the proper adjustments, would end up yanking it. I don't have a clear answer for it right now, but it's obvious signs of your body just dragging a little bit and your arm dragging behind."
Things started off well enough -- perfectly, in fact -- as through three innings, Cobb had retired all nine Yankees he'd faced. But Jacoby Ellsbury broke up the no-no early with a single into center field leading off the fourth, and Cobb gave up a pair of RBI doubles to Chase Headley and Brendan Ryan in the fifth and a sacrifice fly to Brett Gardner in the sixth.
Cobb had hit Chris Young with a curveball that backed up on him to lead off the fifth, sparking the two-run inning that gave the Yankees the lead. Rays manager Joe Maddon said that was the point where he thought Cobb started to lose his mechanics.
"I think when the breaking ball hit Young, it kind of threw him off a little bit," Maddon said. "With his delivery, it's kind of freaky, it's different, and he's got to feel that whole thing coming together."
Maddon stressed, though, that he didn't think it had anything to do with the string of hit-by-pitches stretching back to last week's series at Yankee Stadium that culminated in a benches-clearing incident and Yankees manager Joe Girardi, bench coach Tony Pena and reliever David Phelps being ejected on Tuesday.
There was a smattering of "Oohs" from the crowd of 26,332 when Cobb hit Young, but it was clearly unintentional and neither team reacted.
"I heard the boos, but that's just unknowledgable baseball fans, if I dare go there," Cobb said. "Probably lost command before that, that's why I hit him. It was the beginning of that inning where I did lose command -- but it could be due to the fact that he's a pretty aggressive baserunner and I tried to speed up my delivery a little bit too much, my arm wasn't catching up, and then just kind of fell into a bad habit."
Evan Longoria hit his 22nd home run of the season for the Rays, a solo shot in the fourth that opened the scoring. After adding an RBI groundout in the sixth, Longoria has driven in 90 runs on the season and 46 since the All-Star break, tied for the most in the Majors during that span.
Longoria's homer came off Yankees starter Brandon McCarthy, who went seven innings, allowing two runs on four hits while striking out four -- three of which came during an immaculate seventh inning in which he struck out the side on nine pitches.
Derek Jeter, playing the final game of his career at The Trop, broke out of an 0-for-28 skid with a clean single through the middle off Cobb to open the sixth.
"Cobb's tough," Jeter said. "I don't care how you've been swinging the bat, when you face him, it's difficult."
Did Cobb "pipe" Jeter a meatball to help him out in his last game against the Rays, like Adam Wainwright joked he did for Jeter during the All-Star Game?
"He earned that hit," Cobb said.
Later in the inning, it was Jeter who scored on Gardner's sacrifice fly with the bases loaded. Wil Myers made a tremendous leaping catch at the wall to prevent more runs from scoring, but it was enough to make the Yankees' win hold up.
"I mean, he's had so many special moments in his career and we've seen quite a few of them over the course of my time playing against him, so I don't think that was too much of a heroic moment for him," Longoria said of Jeter. "But I'm sure he was happy to come out of the slump and be able to help them win."
Still, after the Rays honored Jeter with gifts and a pregame ceremony Tuesday, that was a little more of a send-off than they could have done with.
"That was totally unintended," Maddon said.
David Adler is an associate reporter for MLB.com. This story was not subject to the approval of Major League Baseball or its clubs.