Blue Jays' Stroman suspended for six games
Pitcher is appealing punishment for incident in Monday's contest vs. O's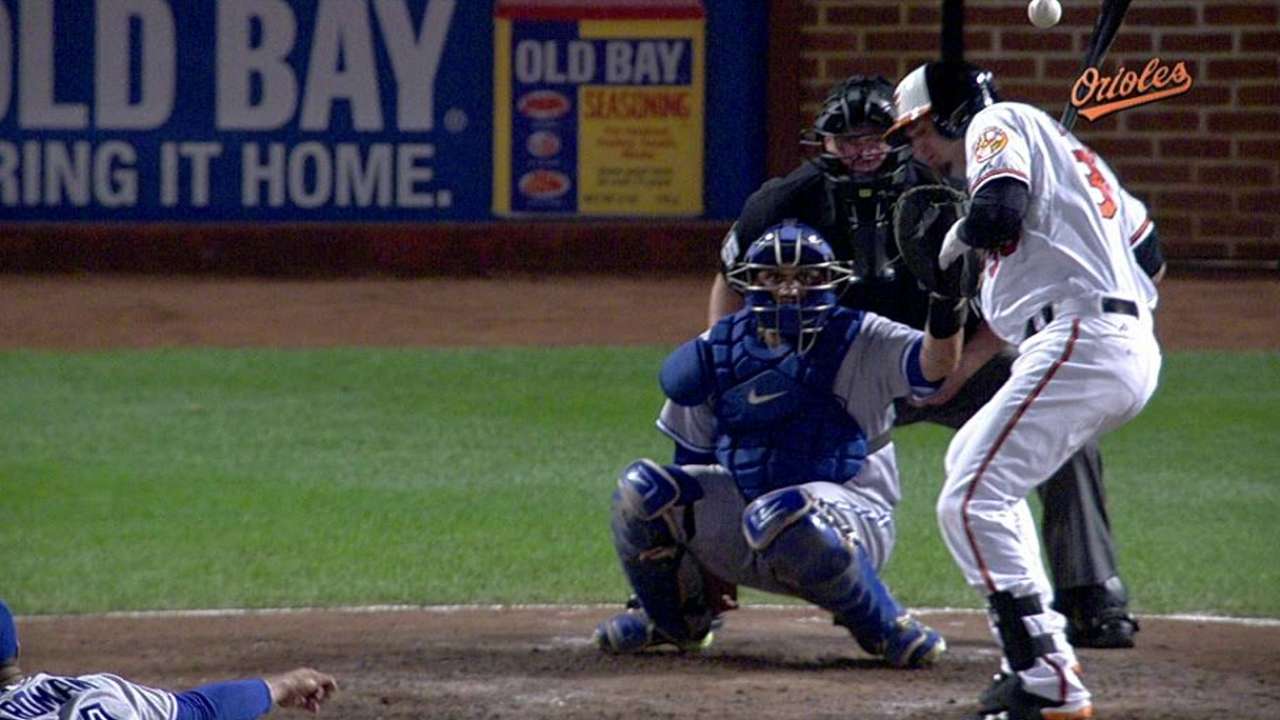 BALTIMORE -- Blue Jays right-hander Marcus Stroman has decided to appeal the six-game suspension that was handed down by Major League Baseball on Wednesday afternoon for throwing near the head of Baltimore catcher Caleb Joseph.
Stroman threw a pitch over the head of Joseph during Monday night's 5-2 loss to the Orioles. The fastball appeared to be in retaliation for an incident earlier in the game when Toronto shortstop Jose Reyes felt Joseph stepped on his hand while sliding into home.
The suspension was announced by Joe Garagiola Jr., MLB's senior vice president of standards and operations. The league's statement also said that Stroman received an undisclosed fine and the decision was handed down because the pitch was intentional. That's something Stroman took issue with.
"I'd never intentionally throw at anyone. I respect the game. I respect the players way too much to ever do anything like that," Stroman said. "Family, friends, teammates know the type of individual I am. But it's tough, it's tough to go about it. It's in the appeal process now, so that's pretty much all I can say."
Stroman also mentioned that he was in the process of reaching out to Joseph through a mutual friend. Stroman wasn't sure when his hearing with the league would take place, but it's possible that will happen at some point during Toronto's upcoming four-game series in New York which starts Thursday.
Orioles manager Buck Showalter was content with the league's disciplinary action.
"Like I said at the time, I had a lot of confidence MLB would look at it and do what needs to be done," Showalter said. "I have a lot of confidence that when something like that happens and emotions of players get in the way of good decisions, that the league office will remind them that certain things aren't tolerated."
The suspension was scheduled to begin Wednesday night but instead has been delayed until Stroman can make his case. The pitch sparked some angry words from Baltimore's dugout and likely played a role in O's right-hander Darren O'Day hitting Jose Bautista on his backside Tuesday night.
"I would never do that," Stroman said of trying to intentionally hit someone. "You guys see me around the clubhouse all the time. I don't have a bad intention bone in my body. That's the last thing I'd ever do. I respect this game way too much. I respect players, teammates, coaches way too much, and it's just something I have to deal with."
Gregor Chisholm is a reporter for MLB.com. Read his blog, North of the Border, and follow him on Twitter @gregorMLB. This story was not subject to the approval of Major League Baseball or its clubs.