MLB.com Columnist
Terence Moore
Walker not to blame for Braves' hitting woes
Lack of consistent contact has hurt club after great 2013 offensive season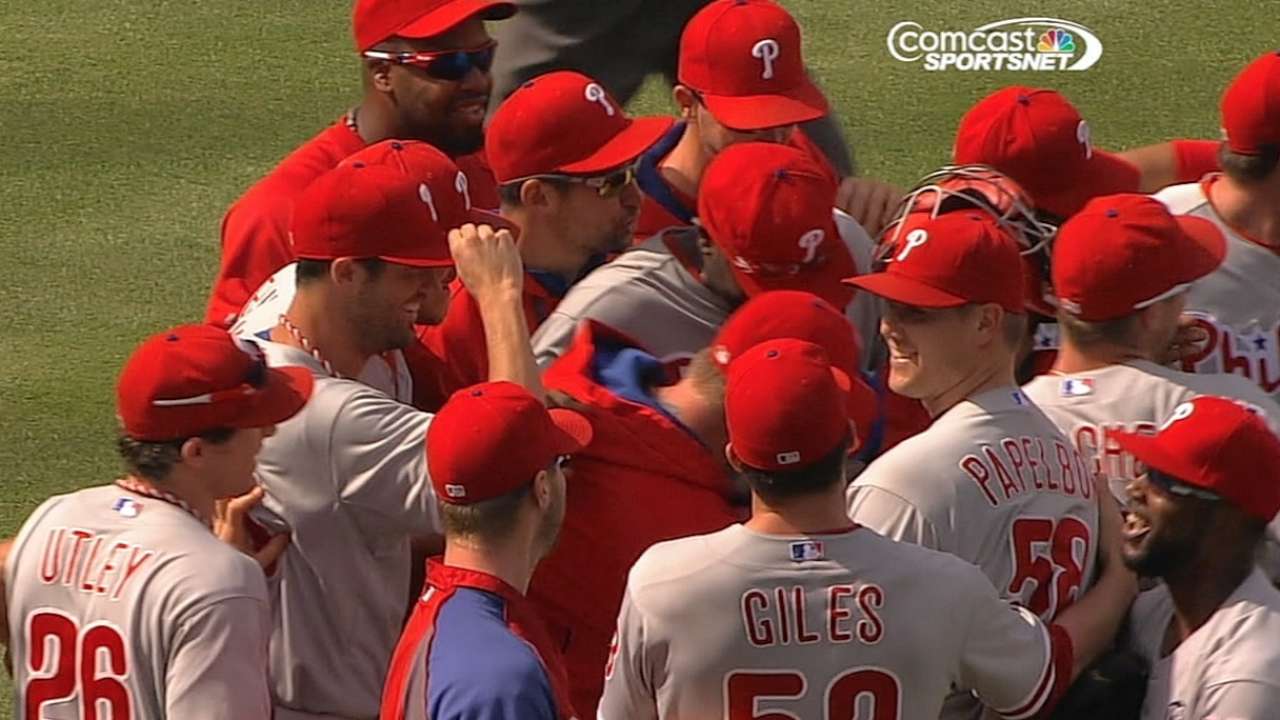 Except for the Padres and maybe the Mets, nobody has been as clueless at the plate this season as the Braves. All you need to know is that the only Major League teams with lower batting averages thus far in September than the hitting-challenged folks from Tomahawk Chop country are, well … I'm checking. I'm still checking, and I'm checking some more. The answer is nobody.
Courtesy of their offensive woes, the Braves are 12 1/2 games behind a Nationals team that just clinched the National League East at Turner Field on Tuesday. The Braves also are in the midst of an ugly freefall away from the NL's second Wild Card spot. They've lost eight of their past nine games and 15 of 22, which brings us back to their sickly bats. They've averaged fewer than three runs per game for more than a month. They've been shut out 14 times overall this season, including during five of their past 16 games. They were even held without a hit during a game by a quartet of Philadelphia pitchers.
You can blame all of the above on an Atlanta roster dominated by players with a history of swinging and missing more often than not. (Translated: the Braves have guys who traditionally strike out a lot).
Actually, you can blame the Braves' players, period.
In contrast, you can't blame the quality of the opposing pitchers, or the prospect of insects flying into the eyes of Braves hitters before they get ready to swing or the positioning of Jupiter with Mars. You also can't blame the usual whipping boy in these situations: the hitting coach.
Not that Greg Walker really cares.
"First, I grew up as a huge Braves fan [in Douglas, Ga.], and that was long before I got this job, which means nobody wants to see this team do well maybe better than me," said Walker, 54, who was a first baseman with the White Sox for most of his nine seasons in the Major Leagues.
Walker spent nearly a decade as the White Sox hitting coach, including during their World Series championship season of 2005, then he joined the Braves before '12.
"I've also never coached scared," said Walker. "It doesn't even enter my mind, because I'm too busy thinking of ways to get this thing done. We've been in the playoffs the last two years, so we've had success. Offensive baseball is just really challenging right now throughout the Major Leagues.
"Even so, you don't give into it. You don't coach careful. You don't want your players to play careful, but you can't coach careful either."
So Walker doesn't. Along with his assistant coach, Scott Fletcher, Walker is constantly doing something as soon as he arrives at the ballpark (which is early) and remains busy until he leaves (which is late). He studies video. He analyzes scouting reports. Mostly he listens, and then he listens some more to his hitters before he seeks ways to help them.
If this doesn't work, Walker tries that. If that doesn't work, he keeps trying, with much help from the hitters themselves.
"It's not like we've gotten frustrated and quit. That just hasn't happened," said Walker, referring not only to Braves' players, but to himself. "We've got a bunch of young guys on this team, and this game will frustrate you, but we have to try to avoid it. You've got to fight throughout. We haven't had much success up to this point [offensively], but that could change at any time."
Such optimism from the always positive Walker, it's just that he is only the Braves' hitting coach, which means he can't jump inside a batter's head at the plate to position the bat at the right angle for a pitch.
Now back to reality, where Walker won't have his own bobblehead doll anytime soon at Turner Field. Fans always blame the hitting coach, so Braves fans are blaming Walker for their team's offensive mess. This is despite the fact that he never failed during a game this season to do that Little League thing of swinging at anything close with two strikes. He also never botched (choose one or more) an attempt at a sacrifice bunt or fly, a chance to knock home a runner from second or third or a moment to become a hero instead of a goat at the plate when the game was on the line.
Guess who knows all of the above? Braves hitters.
"It seems like when fans look at it, they want someone to take the fall for it, but it's not Walk," Braves catcher Gerald Laird told the Atlanta-Journal Constitution last week. "We're doing the same things we did last year (when the Braves led the NL in home runs, ranked fourth in runs scored and sixth in on-base percentage). Guys are doing the same routines. … The thing is, last year we had a great year, and I think, like, five guys had career years. Obviously Freddie Freeman had a career year, Andrelton Simmons, Chris Johnson had a career year. And then you've got to try to repeat it. And if there's a few guys that don't do that, then your offense is going to take a hit."
Yeah, and there also is this ... all of those strikeouts. With the Uptons (BJ and Justin) and Johnson leading the way, the Braves likely will set a franchise record for most strikeouts in a season for a fourth straight year.
Walker shrugged, but not because he doesn't care.
"You just don't give in to it" Walker said. "You just don't look at these things and say, 'Oh, well. We're having problems (offensively). This is not our year.'
"We continue to do the work, because there are teams that are out of it, but we're not. We still have a chance to make the playoffs."
Barely.
Terence Moore is a columnist for MLB.com. This story was not subject to the approval of Major League Baseball or its clubs.