Morneau, Blackmon power record rout of LA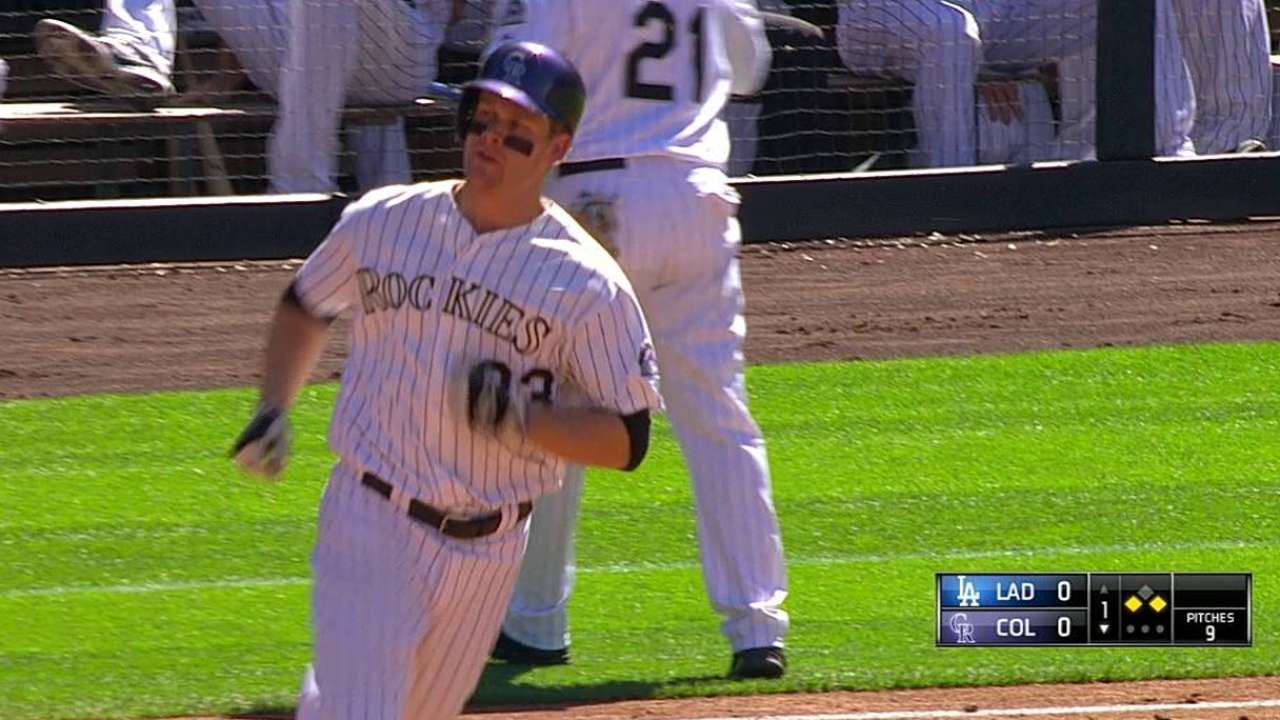 DENVER -- Jorge De La Rosa has overcome the challenge of pitching at Coors Field. He is the rare starting pitcher who has thrived there, a reason he opted not to become a free agent after the season and signed a two-year, $25 million contract with the Rockies earlier this month.
Thanks to a historic outburst by the Rockies and Justin Morneau in the first inning Wednesday, De La Rosa had the unusual pleasure of exhaling early at his home park. The Rockies overwhelmed the Los Angeles Dodgers, 16-2, piling on spot starter Carlos Frias in the first for eight runs, five of which were driven in by Morneau. He finished with six RBIs, one shy of his career high, in the Rockies' most lopsided win of the season.
He attributed the five RBIs in the first to "luck" and said, "It was one of those things. You play this game a long time, you see some things you haven't seen. Obviously, having guys on base was important to come up there with the opportunity."
The Rockies reached a season high in runs scored and tied their season high with 21 hits while winning by their largest margin of the season.
Charlie Blackmon went 5-for-5 with a home run, two RBIs and four runs scored. He joined Larry Walker as the only other player in franchise history to have multiple games of at least four hits and four runs in a season, something Walker accomplished in 1996.
After beating the Dodgers, 10-4, on Tuesday night, the Rockies savored another one-sided victory in the rubber game of the series and helped cut the Dodgers' lead in the National League West over San Francisco to two games. The Giants beat the D-backs, 4-2.
The eight-run first set a Rockies franchise record for runs in that inning and tied the season high for runs in any inning. Morneau started the scoring with a three-run homer and finished it with a two-run single on the first pitch from Scott Elbert, tying a franchise record for RBIs in an inning. Carlos Gonzalez had five RBIs against the Mets on April 27, 2012, in the fifth inning.
"It was one of those days where we got on a roll, and it was tough to stop," Rockies manager Walt Weiss said.
Frias (0-1) gave up 10 hits, including seven straight to start the game, and eight runs, while retiring only two of the 11 batters he faced. According to the Elias Sports Bureau, Frias became the the first Major League pitcher in the modern era, which dates from 1920, to allow 10 hits while getting less than three outs in a game. He is also just the third Dodgers starter since 1914 to allow eight runs in less than one inning. The last was Hideo Nomo in 1998.
"You never necessarily know when they're going to come, but it was a bad day all around," Frias said through an interpreter. "All I can do is put it behind me. I'm not going to allow Coors Field to be an excuse. Obviously there are other pitchers that are able to have success here at Coors Field. I'm just chalking it up to a bad outing."
For De La Rosa (14-11), it was another strong performance at Coors Field, where such things have become the norm. He gave up two hits over six scoreless innings, improving his home record this season to 10-2 with a 3.08 ERA. De La Rosa is 20-3 with a 2.92 ERA at Coors Field over the past two seasons and 45-14 with a 4.00 ERA there for his career.
After being staked to the large early lead, De La Rosa said, "All you have to do there is go out and attack the hitters, and that's all I did."
The first seven batters reached base in the memorable first, which began with singles from Blackmon and Josh Rutledge. After Morneau hit his 16th home run, Michael Cuddyer doubled and Corey Dickerson, Wilin Rosario and Rafael Ynoa singled before DJ LeMahieu grounded into a fielder's choice for the first out of the inning. The Rockies had two runners thrown out on the bases in the inning, when the first 12 batters reached base.
But it's not like the offense then cooled down; Colorado added eight more runs, scoring in four straight innings beginning with the third.
"Guys didn't give away any at-bats the rest of the day," Weiss said. "They kept playing. You score that many in the first -- we've some strange things happen in this park. There's a lot of game left, but Jorge did a good job keeping them down."
The Dodgers sidestepped a shutout when second baseman Darwin Barney homered in the eighth off Rob Scahill, and added another run in the ninth, also off Scahill.
Morneau went 3-for-4 to raise his average to .320, giving him the National League lead in batting going into Wednesday night's games. After his homer and single in the first, Morneau doubled to lead off the fourth. He lined a ball into the gap in right-center and thought momentarily about trying for a triple, the toughest part of hitting for the cycle.
"With my speed or lack thereof, it's pretty rare that I'll have an opportunity to go for a cycle or think about a cycle," he said. "I was thinking about it, but at the same time you want to play the game the right way and getting thrown out by 20 feet in a 9-0 game can look kind of selfish. So you don't really want to do that."
Jack Etkin is a contributor to MLB.com. This story was not subject to the approval of Major League Baseball or its clubs.