Dodgers' playoff push hits bump in Colorado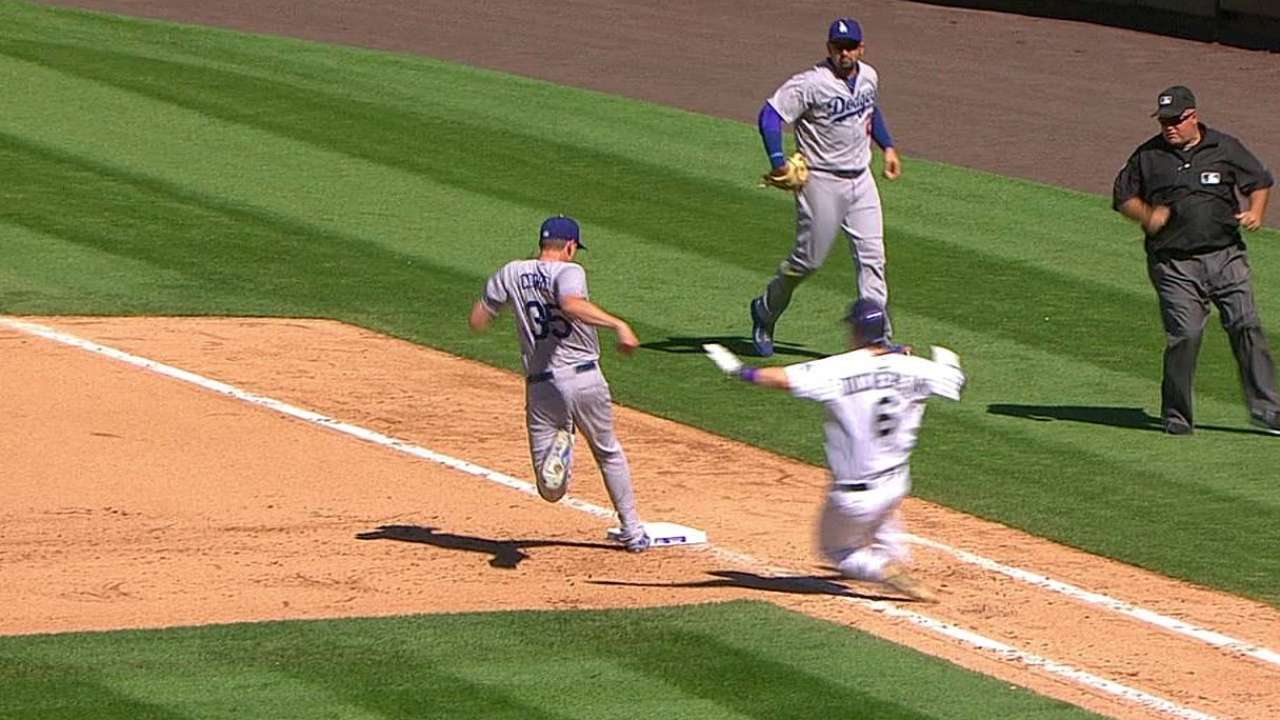 DENVER -- The Dodgers won't miss Colorado. Carlos Frias, on the other hand, won't ever forget it -- for all the wrong reasons.
The Dodgers were sent packing by the Rockies, 16-2, on a historically bad Wednesday to drop the rubber match of the three-game series at Coors Field.
Making a spot start in place of the injured Hyun-Jin Ryu, Frias was rocked for eight runs in the first, becoming the first pitcher -- starter or reliever -- in the modern era to allow 10 hits and not record three outs.
"It was a bad day," Frias said through a translator. "I'm not going to allow Coors Field to be an excuse. Obviously there are other pitchers that are able to have success here at Coors Field. I'm just chalking it up to a bad outing."
After outscoring the Giants, 21-2, in the final two games of their series in San Francisco, the Dodgers seemed determined not to come out flat in Colorado, taking Monday's opener, 11-3.
But the final two games were an entirely different story as the Dodgers were throttled by a combined score of 26-6 at the hands of the last-place Rockies. Worst of all, the Giants fully took advantage of the Dodgers' back-to-back blunders, cutting Los Angeles' National League West lead to two games.
And with Frias serving up a hit to 10 of 11 batters he faced in the first, the Dodgers never stood a chance.
Frias held the Nationals scoreless over six innings in his only other career Major League start earlier this month. But on Wednesday, he couldn't get his sinker working in the Denver altitude, hanging almost every offering up in the zone.
"When they put up five runs on the board, I basically said, 'Well, today is not my day,'" Frias said. "I wanted to finish the inning, but I wasn't able to."
Justin Morneau brought his first-inning RBI total to five when left-hander Scott Elbert took over, tacking on a two-run single to his previous three-run homer off Frias from earlier in the frame.
"You wouldn't expect to come out like that against a guy who's got really good stuff," Morneau said. "Watching the video, we were expecting a tough matchup."
By the time the bleeding had stopped, the Rockies had set a new franchise record for the most runs scored in the first inning with eight.
Right-hander Kevin Correia came on to attempt to eat some innings for the Dodgers, but he proved to be just as hittable.
In three innings of work, Correia was touched for six runs (five earned) on seven hits, including a solo shot from Charlie Blackmon.
"It's frustrating," catcher Tim Federowicz said. "Everything you call gets hit. … You start to second guess your pitch-calling, but at the same time, we have to execute pitches."
The Dodgers avoided a shutout thanks to Darwin Barney, who hit his third homer of the season off Rockies reliever Rob Scahill with one out in the eighth.
Cody Ulm is an associate reporter for MLB.com. This story was not subject to the approval of Major League Baseball or its clubs.