MLB.com Columnist
Anthony Castrovince
Ten things we'll need for a DC-Baltimore Fall Classic
Nationals, Orioles could make it a Battle of the Beltways World Series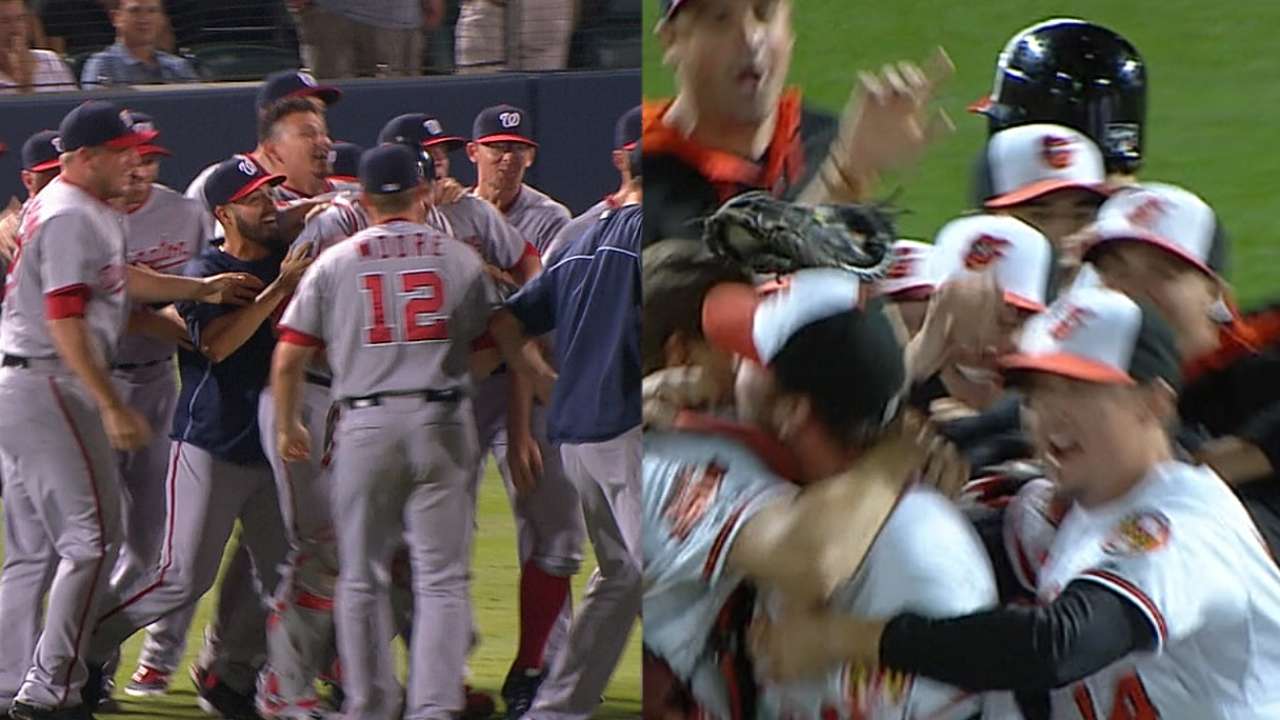 They clinched coincidentally but cohesively on Tuesday night, these 2014 Nationals and Orioles. And while they are just two years removed from a similar concurrence of baseball brilliance, this one feels a little more real, a little more sustainable.
Both clubs, after all, are playoff-tested after their respective Division Series Game 5 dramas of 2012, and each club won its variation of the East Division by a landslide, providing ample opportunity to prepare for October.
So, yes, it seems fair to at least entertain dreams of a D.C.-Baltimore World Series. A Battle of the Beltways matchup wouldn't have quite the physical proximity (38 miles driving distance) of a Subway Series (9.3 miles) or a Freeway Series (30.3 miles) or a Bay Bridge Series (16.1 miles) or a Red Line Series (9.8 miles), but it would still be all kinds of cool. Capitol Hill and Federal Hill, Congress and crabcakes, the Washington Monument and, uh, that other Washington Monument. What a possibility.
Of course, a Nats-O's Fall Classic is not a given. Here are 10 keys to making it happen:
1. Home runs from Nelson Cruz and Adam Jones: It's pretty simple: The Orioles are 75-31 (.708) when they hit a home run and 16-30 (.349) when they don't. The home run, in fact, has accounted for an MLB-high 14.6 percent of the O's hits and 48.9 percent of their runs scored. Cruz, Jones and Chris Davis have accounted for 45.9 percent of the Orioles' homers, so while losing the suspended Davis' .196 average and .300 OBP for the first two rounds of the playoffs is no big thing, that's one less long-ball threat in a lineup that generally relies on it. All of this points to increased pressure on Cruz and Jones (who has gone deep just once since Aug. 22) to overcome the increased scouting and strategic scrutiny they're going to face on the October stage.
2. Ryan Zimmerman, utility man: This guy was (maybe still is) the heart and soul of the Nationals for the longest time. And when healthy, he might still be their best pure hitter. In part because of the July acquisition of Asdrubal Cabrera to play second base, the Nats have carried on quite well in Zimmerman's nearly two-month absence with a torn right hamstring, scoring more runs than any National League team during that time. But Zimmerman did have a .987 OPS in July before getting hurt, and if he can reclaim that swing and confidence in an ongoing rehab assignment and during the last week of the regular season, he can be a huge asset at first base, third base or left field. Washington manager Matt Williams would have to make some difficult lineup choices, but Zimmerman's bat should be in there if he's healthy.
3. Baltimore bullpen brilliance: In terms of innings pitched and ERA, the O's don't have quite as effective a starting unit as the Nats do (though Chris Tillman, with a 1.70 ERA over his past nine starts, seems to have addressed their perceived lack of an established "ace"). What the Orioles do have, however, is a deep and effective bullpen managed by a master manipulator in skipper Buck Showalter. Much like the other American League club lapping the field in its division -- the Angels -- the O's have the ability to make every game essentially a five-inning affair. Closer Zach Britton (a ground-ball machine), Tommy Hunter, Darren O'Day and Brian Matusz are all excellent weapons, but the real key could be Trade Deadline acquisition Andrew Miller, who has struck out 30 of the 61 batters he's faced since coming over from the Red Sox.
4. A Rafael Soriano surge: Clearly, Drew Storen has supplanted Soriano as the Nats' closer, and for good reason. In his past 15 innings, Storen has allowed zero runs with a .176 average against. Soriano, meanwhile, has an ERA of 8.00 dating back to July 28, having blown three saves in that span. It's great that Storen has a deeper arsenal and is defending the running game better than he did in 2012, and that he's recovered from Game 5 NLDS blown save he had against the Cardinals and all that followed. It's also great that in Storen, Matt Thornton and Tyler Clippard, Williams is awash in late-inning options. But the Nats still need to get Soriano straightened out, and perhaps this relaxed end to the regular season will give him an opportunity to find himself.
5. J.J. Hardy's health: If it wasn't already a necessity when Manny Machado and Davis were still around, it's even more essential now. Hardy has been dealing with a lower back issue for some time now, and the Orioles' early clinch affords him the opportunity to get ample rest. But this is obviously an issue the O's are going to have to stay on top of, because a team that leans so heavily on its sturdy defense can't afford another injury to the left side of the infield.
6. Home cookin' for Stephen Strasburg: It's hard to align a rotation around a single split. But something the Nats do have to keep in mind is that, for whatever reason, Strasburg -- both in his career and particularly this season -- has been a far superior pitcher at Nationals Park than elsewhere. In 17 home starts this season, Strasburg has a 2.70 ERA with a .237/.273/.361 opponents' slash line. In 15 road starts, it's a 4.11 ERA and a .269/.314/.438 slash. In his career, it's a 2.61 ERA in 57 home starts vs. a 3.64 ERA in 50 road starts. Five games better than the Cardinals in the loss column, the Nats have almost assured themselves home-field advantage in the NLDS and are currently in the lead for the NL's No. 1 seed, so Strasburg might be their best bet as a No. 1 starter.
7. Pinch-hit pop from Delmon Young: The late-season acquisition of Alejandro De Aza, as well as the presence of David Lough, gives Showalter the option of going with a better defensive alignment by DH-ing Cruz and relegating Young to pinch-hit duty. The latter proposition could give the Orioles a nice weapon in the late innings. As it stands, no team in baseball other than the Royals has had fewer pinch-hit at-bats than Showalter's O's, but their pinch-hit situations have, per Baseball-Reference.com, ranked first in MLB in terms of their importance in the context of the game. The playoffs, of course, are a different animal altogether, and Young's bench bat could loom large.
8. Tanner Roark, ace in the hole: Roark (14-10, 2.85 ERA in 30 starts) has been as vital to the Nationals' run as anybody, as evidenced by his seven brilliant innings in Tuesday's division clincher. But he's in unchartered-innings territory, having worked 192 1/3 of them thus far after just 159 1/3 in 2013. Though he's 27 years old, the Nats will likely protect Roark and use Gio Gonzalez as their fourth starter. That makes perfect sense, as a left-handed presence in the rotation will be important in the playoffs, especially if the Nationals face the Dodgers or Pirates (two teams who have fared better, in terms of OPS, against righties than lefties). Roark can be a sort of piggyback option if there is a night when a Nats starter simply doesn't have it. He was effective out of the 'pen last year.
9. K's from the O's rotation: Yes, the Orioles have one of the best defenses in baseball, but so much of today's game (and so much of October ball) revolves around the ability to keep the ball out of play altogether. That's why the O's have to be encouraged by the progress of their starters on the K front as this season has progressed. These were the first-half strikeouts-per-nine-innings rates of their four likely playoff starters: Tillman, 5.63; Bud Norris, 6.13; Wei-Yin Chen, 6.49; Kevin Gausman, 6.10. And these are their K/9 rates in the second half: Tillman, 7.70; Norris, 9.14; Chen, 6.98; Gausman, 7.48. This trend needs to continue.
10. The Nationals' situational hitting: Per Baseball-Reference.com, the Nats have had 304 plate appearances in which a runner was on third and less than two out, which is higher than the league average. That runner scored roughly 50 percent of the time, which is slightly below the league average. Additionally, the Nationals have had 235 plate appearances with a runner on second and none out, which is the third-highest total in the NL. But that runner was brought home just 48 percent of the time -- the worst such percentage in the league. The Nats likely have to improve in these situations if they're going to do their part to make a Battle of the Beltways World Series dream a reality.
Anthony Castrovince is a reporter for MLB.com. Read his columns and follow him on Twitter at @Castrovince. This story was not subject to the approval of Major League Baseball or its clubs.