Close friends Pujols, Aybar share brotherly bond
Angels duo draws motivation from one another on diamond, in clubhouse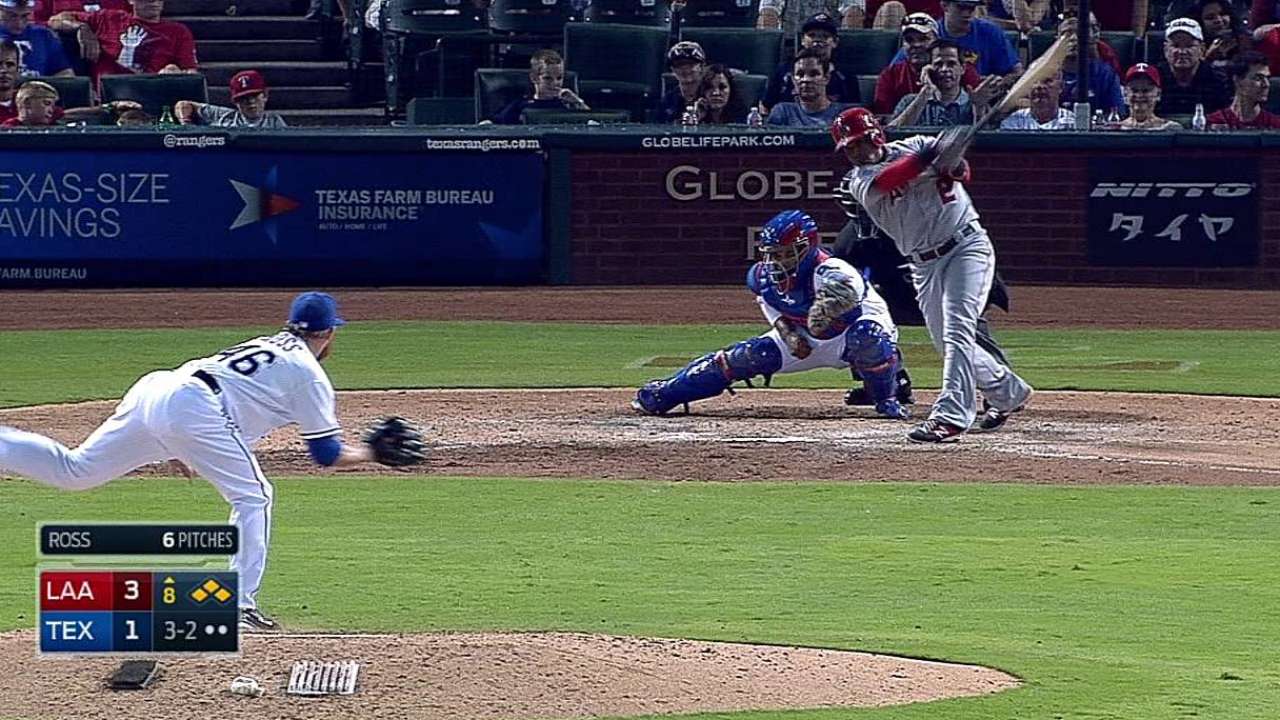 ANAHEIM -- It's 3:45 p.m., and Erick Aybar is getting anxious. Albert Pujols, sitting two lockers down in the home clubhouse at Angel Stadium, is staring into his smart tablet and has lost track of time. So Aybar, his batting gloves on and Pujols' custom-made bat by his side, springs up from his chair, forces eye contact with the Angels' first baseman and gestures at the clock on the other side of the room.
"Let's go!" the scrappy shortstop hollers in Spanish. "It's time to hit."
And off they go -- into the cage for their daily regimen of tee work and soft toss and into another work day in their 30s, united by their Dominican culture and an incessant desire to prolong the peak of their careers.
"We're more than teammates," Aybar said. "We're brothers."
Pujols agrees, and specifies: "He's my little brother."
Pujols -- four years older, five inches taller, 50 pounds heavier, appreciably more decorated -- is simply paying it forward. He's taking Aybar under his wing in a way Placido Polanco once did with him in St. Louis, and guiding him to a higher level at an age when shortstops don't necessarily get better.
Asked in what ways Pujols has helped his career, Aybar looks down and shakes his head.
"With everything," Aybar said. "With everything."
Pujols brought discipline. He engrained a pregame routine in Aybar, so prevalent that the 30-year-old switch-hitter gets antsy if they're a minute late to the indoor batting cage on a given afternoon. Pujols preached staying up the middle with runners on base, helping Aybar notch a career-high 67 RBIs while batting mostly fifth or sixth in manager Mike Scioscia's lineup. And Pujols helped Aybar slow the game down defensively, a mentality that -- along with good health -- has made him a Gold Glove Award-caliber defender once again.
How has Aybar helped Pujols?
"Having fun," Pujols said. "I wish I was like that early in my career. I think sometimes I take this game really, really serious."
Pujols is stern and regimented; Aybar is hyperactive and mischievous, always trying to get a rise out of Pujols and, at the same time, taking some of the edge off.
"They couldn't be more different," Angels infield coach Alfredo Griffin said. "It's beautiful."
Aybar splashes water on Pujols as they wait for their group to take batting practice, or slaps him in the wrist during postgame high fives, or throws a rosin bag at him as he conducts on-field interviews, or teases the future Hall of Famer about striking out against a pitcher he just got a hit against.
"Erick is a guy who always has fun," Pujols said. "He wants to win, but every time he's on the field, he loves to have fun. It doesn't matter if he's 0-for-4 or if he made an error. He wants to win, but at the same time have fun."
The Angels' turnaround -- from playing below .500 every day after April 3 in 2013 to being the first team to clinch a playoff berth in '14 -- is a product of many elements, but the impact of Pujols and Aybar shouldn't be lost among them.
Their renewed health has helped the Angels make vast improvements defensively, their production has helped make them the highest-scoring offense in the game, and their grit has helped them overcome crippling injuries to their starting rotation.
Pujols is no longer the same, of course. His 34-year-old body requires a daily massage, which has him showing up to the ballpark 5 1/2 hours before game time just so he can play that night. And his right knee, a product of offseason surgery two winters ago, still doesn't allow him to do the weight-bearing exercises that once helped make him a force to the opposite field.
But Pujols' numbers -- a .274/.328/.468 slash line, with 26 homers and 98 RBIs -- are still impressive. His defense is rock solid once again. And Pujols has found a way to start 149 of 151 games for the first-place Angels, spending more than 70 percent of them at first base.
"When you have so many injuries, you're no longer the same guy from before," Aybar said. "But everyone knows who Albert is, what he brings. Sometimes people say, 'Oh, he's not driving in as many runs or hitting as many home runs.' But as a teammate, you know what kind of person you have beside you. It's not only about him hitting 30 homers; it's that he's always around you, helping you."
Pujols will have seven years remaining on his contract after 2014, but he's at a point in his career when he's starting to realize the importance of imparting wisdom.
"At the end of the day," he said, "we all hang our uniforms -- but the relationships always stay the same."
To that end, Pujols has been on top of Aybar about his defense, getting him to slow down on some of his throws while also eliminating wasted movement. Pujols compared Aybar to former Cardinals shortstop Edgar Renteria, marveling at how he "makes things look so simple and so easy."
"But," Pujols added, "I keep telling him he has more room to improve himself and get better."
Aybar can be brash, but he's also receptive, particularly when the message comes from someone as prominent as his tight-knit teammate. Little by little, he's been listening more intently, applying the concepts Pujols continually preaches.
And last week, on the first bus to Globe Life Park in Arlington, Aybar finally vocalized that.
"He was like, 'Man, I wish I would've learned the game when I was younger, the way that I know the game now,'" Pujols said. "I learned the game pretty young, and it helped me gain what I have accomplished. But to hear that, man, to hear him say that -- I looked at him and kind of smirked. It was good to hear."
Alden Gonzalez is a reporter for MLB.com. Read his blog, Gonzo and "The Show", and follow him on Twitter @Alden_Gonzalez. This story was not subject to the approval of Major League Baseball or its clubs.