MLB.com Columnist
Barry M. Bloom
Peavy everything Bochy expected him to be
Reunited with former manager, veteran shining in Giants' playoff chase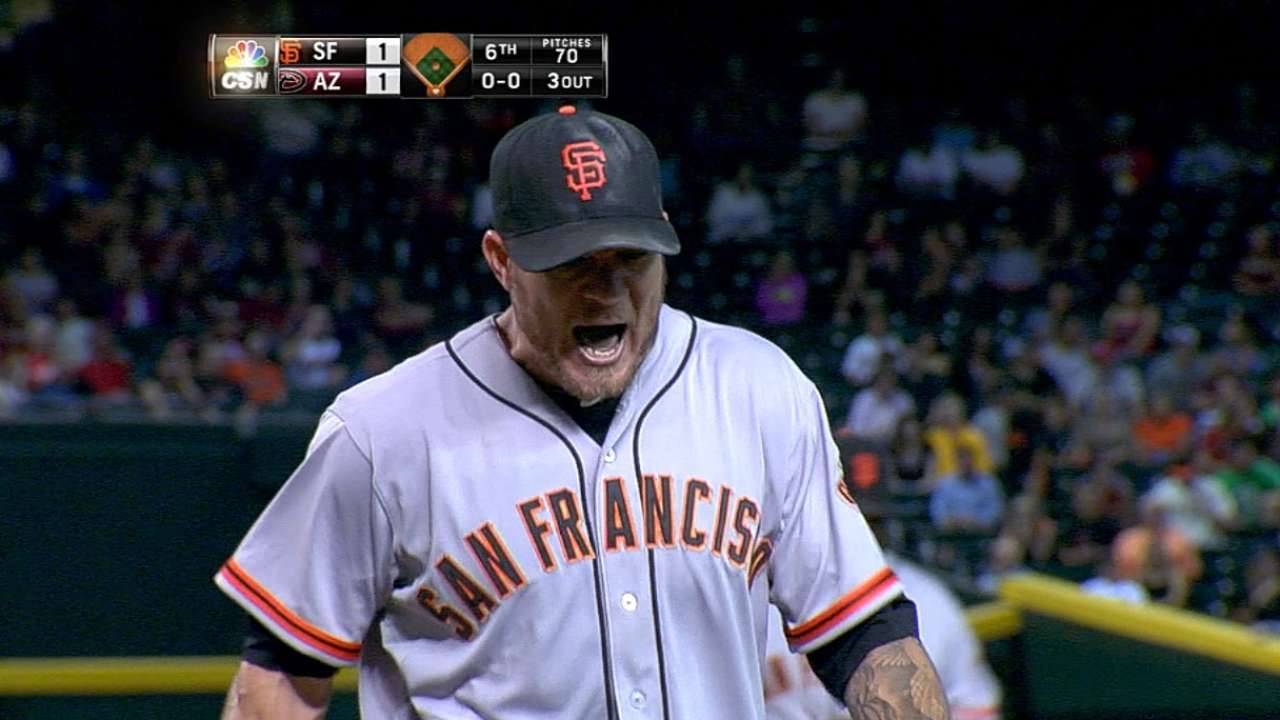 PHOENIX -- When the Giants' braintrust sat down in July to discuss the possible acquisition of Jake Peavy from the Red Sox, Bruce Bochy was asked about his previous experience managing the right-hander as a youngster when the two were together with the Padres.
"We had a roundtable about our need, and Jake was available," Bochy said Tuesday night. "They knew I was all in on it, based on my experience with Jake."
The July 26 trade has paid dividends, particularly after the way Peavy handled the D-backs on Tuesday, the first time he'd pitched at Chase Field in more than five years. Just when the Giants needed a gutty performance, Peavy threw 7 2/3 innings of five-hit, one-run ball. Sergio Romo and Santiago Casilla combined to set down the final four batters in a 2-1 win, snapping a three-game club losing streak.
With the Dodgers losing big to the Rockies in Colorado and the Pirates and Brewers winning, the Giants pulled back within three games of first-place Los Angeles in the National League West, and they maintained their four-game Wild Card lead on Milwaukee with only 11 games left to play.
Peavy earned his sixth victory and fourth in a row in 10 starts since the trade with Boston. Already, with Tuesday night's game just freshly in the books, he was thinking about his next start Monday night in Los Angeles.
"It excites me," said Peavy, who is so intense he doesn't need much help to give him a boost. "L.A. is a really good team, a really good team at home, so I have to go in there with my 'A' game. I'm going to have to come up with a good game plan. I'm not going to lie to you. I was just in the shower and my mind -- I was thinking about Dee Gordon, to be honest with you. Isn't that crazy? Isn't that unbelievable? I was. I was taking a shower thinking, 'How do we get Dee Gordon out?'"
Peavy has been an ace in the hole before. He was brought over at the Trade Deadline last year to help the Red Sox get to the playoffs. They did that and won the World Series over the Cardinals in six games. Peavy was the projected Game 7 starter at Fenway Park if Boston hadn't wrapped it up that night. They won and he didn't have to pitch.
Similarly, the last time Bochy and Peavy were together on the Padres in 2006, they were looking down the gullet at a loss to the same Cards in an NL Division Series. Kevin Towers was the general manager, and he asked Bochy to replace veteran Woody Williams with Peavy to start a crucial Game 4 in St. Louis.
Bochy demurred and called a meeting among the three in his Busch Stadium office. Peavy was nursing a sore right shoulder and said he needed the extra days to prepare to pitch a possible Game 5 back at Petco Park. Both Bochy and Peavy believed the start belonged to Williams. Of course, that Game 5 never happened. Williams lost and it turned out to be Bochy's last game as Padres manager. He left after that postseason for San Francisco.
"That was as tough of a spot as I've ever been in professionally because of us having to win two games," Peavy recalled Tuesday night. "As you know, K.T. was on one side of the ball and Boch was on the other side of the ball. Woody had beaten Chris Carpenter, had beaten Brandon Webb down the stretch here. We had to win."
Roll the video forward almost eight seasons and the pair are back together as the Giants are making another run at a World Series title. They have won twice in the past four years, and right now Peavy is their second-best starter behind Madison Bumgarner, who is scheduled to take the ball in the series closer against Arizona on Wednesday.
It's those kinds of things that bind a player to a manager. Bochy knows that Peavy will think of the team over his own self-interest.
"Oh, he'll be honest," Bochy said.
It made it easy for Bochy to go to the mound with a runner on base and two out in the eighth inning Tuesday night, look Peavy in the eye and leave him in the game.
At that point, Peavy had thrown an uncharacteristic and efficient 92 pitches. Peavy slipped two quick strikes to Chris Owings and then hit him with a pitch. Bochy quickly went back to the mound and brought Romo into the game.
"I felt that I had enough left to get Owings out," Peavy said. "Unfortunate. I hate that I put the team in that situation there. I just didn't want to miss over the plate. We were going in. I thought that was the right pitch. I just let it get away from me."
Bochy hardly cared. For one night, anyway, it all worked out. Plus, he has the incredible joy of working again with one of his favorite players. Peavy was only 21 years old when he was brought up to the Padres in 2002. They've known each other for a long time.
"Oh, it's great to be reunited with Jake," Bochy said. "I've always thought so much of Jake, how he competes. I enjoy watching him out there. It's been quite a few years, but to get him back and help us out in this race here, it's been a treat for me just to get a chance to spend more time with him."
Barry M. Bloom is a national reporter for MLB.com and writes an MLBlog, Boomskie on Baseball. Follow @boomskie on Twitter. This story was not subject to the approval of Major League Baseball or its clubs.