Mariners break out to inch closer in WC race
Seattle sits one game back of KC; Smith wins in relief of Elias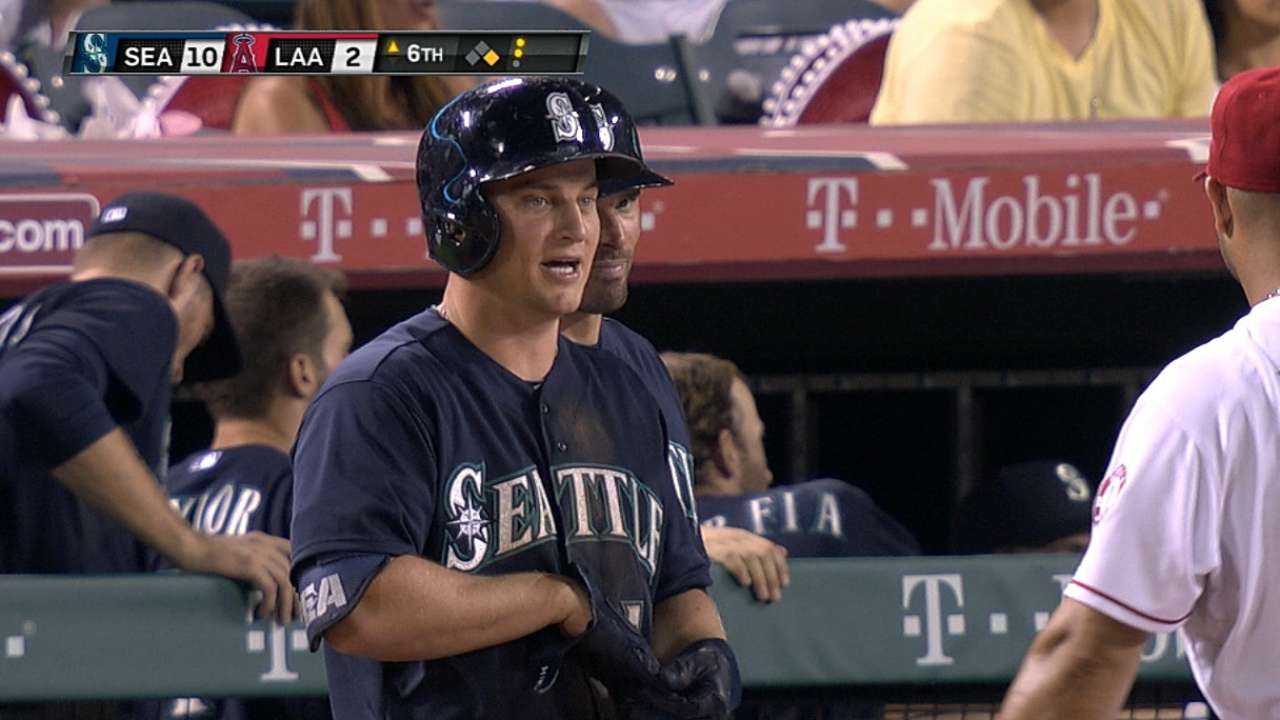 ANAHEIM -- Two games into a rugged 11-game road trip, the journey suddenly got a lot smoother for the Mariners on Tuesday night as they steamrolled the Angels, 13-2, and pulled within a game of an American League Wild Card berth.
Although the Mariners lost starting pitcher Roenis Elias, who was pulled in the fourth inning with stiffness in his left elbow, they snapped a three-game skid and broke out of a prolonged offensive slump while improving to 81-69.
"The one thing I impressed upon my club is we were not going to let three days define what our season would be all about," said manager Lloyd McClendon. "I think this club has been remarkable all year. They've been very resilient. We had three tough losses in a row and we turned a page. It was nice to see them break out tonight."
The 81 wins guarantee Seattle a non-losing season for just the third time in the past 11 years, and the Mariners improved their AL-best road record to 43-29, tied for the fifth-most road victories in franchise history with nine left on this trip.
Seattle's previously struggling lineup was handcuffed by Angels spot starter Cory Rasmus for four innings but jumped on relievers Jason Grilli and Mike Morin for four runs in the fifth to take a 4-2 lead on doubles by Mike Zunino, Chris Taylor and Dustin Ackley.
Zunino's two-run shot to center sailed over the head of Mike Trout, who didn't track the ball well as it tailed behind him. That hit snapped an 0-for-18 streak with runners in scoring position for Seattle and Taylor followed with a drive to left that scored Zunino with the go-ahead run as Grilli quickly coughed up Rasmus' lead.
"[Trout] came up the next at-bat and said it was knuckling like crazy," Zunino said. "I squared it up, but it must have hit right on the laces or something."
Ackley added another RBI double off Morin as a Seattle squad that hadn't scored more than four runs in any of its previous nine games matched that total in the fifth inning alone. The Mariners totaled just three runs in the previous three games combined.
"That was huge," Ackley said of Zunino's breakthrough double. "The way we've been barreling the ball the last two days and not have anything to show for it, to have that one kind of fall in our favor was big, and it was able to spark a huge inning and ultimately a couple big innings.
"A game like this is really what we needed, just for our confidence level and to know we can put up these types of runs against a team that has some good pitching. Going forward, I think it's going to be huge for us."
Seattle cranked out six more runs on seven hits and a hit batter in the sixth as the Halos' bullpen day blew up. Angels manager Mike Scioscia went with an all-relief crew again while patching things together in Garrett Richards' absence.
Combined with the Royals' 7-5 loss to the White Sox, Seattle trails Kansas City by one game in the chase for the AL's second Wild Card spot and is just two games back of the A's for the first Wild Card position after Oakland lost, 6-3, to Texas.
The Angels jumped on Elias for two runs in the first with RBI singles by Albert Pujols and David Freese after the rookie hit leadoff batter Kole Calhoun and gave up a base hit to Trout. That frame could have been worse, but Elias induced an inning-ending double play from Josh Hamilton, who was making his first appearance in 12 days due to a sore shoulder.
Elias got through the next two innings unscathed but was removed following a leadoff single by Hamilton in the fourth after feeling some stiffness in his left elbow. With the no-decision, the youngster from Cuba remains 10-12 with a 3.85 ERA in 29 starts.
Rookie right-hander Carson Smith picked up his first career victory in relief as he replaced Elias and threw two scoreless innings with just one walk. Smith has yet to allow a run in 6 2/3 innings over five appearances since being called up at the start of September.
"It was great," Smith said of his first career win coming in such a critical situation. "The team really needed this one. Fortunately I was able to do my part, but more importantly our offense got going tonight. Big credit to those guys, putting up 13 runs tonight. That was impressive."
Kyle Seager, Kendrys Morales, Zunino and Taylor each wound up with two hits as Seattle totaled 14 for the game. Zunino also was hit by pitches twice, raising his season total to an AL-leading 17. The 13 runs equaled a season high and was the 10th time this season Seattle has scored 10 or more in a game, their most-double digit outings since 12 in 2007.
"That was a lot of fun," said Taylor. "We were down 2-0 and it felt really bad, and then Zunino got the huge hit and that kind of got stuff going for us. We can just relax a little now that we've done it. We know what we're capable of, I think if we stick to not worrying about all the other factors going on and just focus on what we can control, then I think things will take care of themselves in the end."
Greg Johns is a reporter for MLB.com. Follow him on Twitter @GregJohnsMLB as well as his Mariners Musings blog. This story was not subject to the approval of Major League Baseball or its clubs.