Collmenter strong in losing duel to Giants
D-backs right-hander allows two runs in eight innings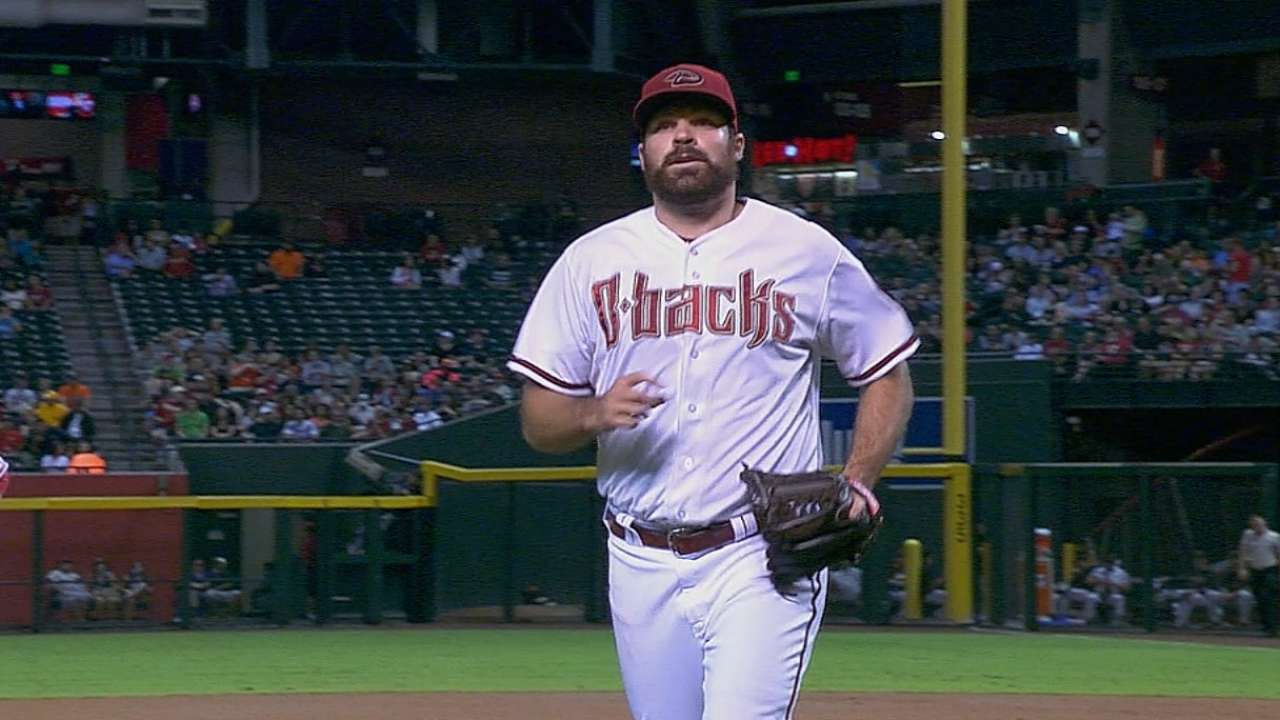 PHOENIX -- Josh Collmenter put together his fifth straight outstanding start, but the right-hander did not come away with a win to show for it as the D-backs fell to the Giants, 2-1, on Tuesday night at Chase Field.
The loss snapped the D-backs' three-game winning streak and sets up Wednesday afternoon's rubber game of the series.
"It was a well-pitched game, a well-played game," D-backs manager Kirk Gibson said. "We didn't have many opportunities. We had a couple more opportunities than they did and we didn't get them in."
Collmenter (10-8) allowed two runs on seven hits over eight innings.
"He was dominating, you know, he made good pitches," D-backs catcher Miguel Montero said.
Collmenter's exaggerated over-the-top throwing motion makes him a challenge for opposing teams.
Said Giants manager Bruce Bochy, "From him, 84 or 85 [mph] looks like 94 or 95, the way he throws."
Over his last five starts, Collmenter has given up just four earned runs in 35 2/3 innings.
"I've been able to move the ball in and out, mixing up changeup, curveball," Collmenter said. "Miggy has been great behind the plate."
The Giants struck the decisive blow against Collmenter in the seventh. With the game tied at 1, Hunter Pence led off the inning with a single to center, moved to third on Travis Ishikawa's single and scored on Brandon Crawford's sacrifice fly.
"I missed a spot with Pence," Collmenter said. "That's probably what I was most upset about. I [was trying to go] in, but I left it out over the plate. Single, then a bloop, and all of a sudden, it was first and third."
That made a winner of Giants starter Jake Peavy (6-4). The right-hander allowed a run on five hits and a walk and departed with two outs in the eighth after hitting Chris Owings with a pitch.
"Tonight, he was nails," Gibson said. "He did really good. He was really spotting the ball, locating it well, finished right at the top of the zone."
The Giants gave Peavy a lead in the fourth when Buster Posey hit a one-out homer to left, his 21st of the year. The pitch was a changeup that was down, exactly where Collmenter wanted it.
"Not many guys could hit that ball," Gibson said. "Buster's one of the better hitters in the game. So not a bad pitch -- a home run by a very good hitter. Quality."
Posey was 9-for-14 in his career against Collmenter coming into the game and he went 2-for-4 against him Tuesday.
"I don't know," Collmenter said when asked why Posey had so much success against him. "Maybe the ball looks like a beach ball to him. I'm not sure. In and out, up and down, soft, hard, it doesn't matter, he seems to get the bat on it. Had some success running some fastballs in. The changeup was in and off the plate. He did a heck of a job to get to it and to even hit it out. I'll tip my cap to him on that one."
In fact, the hit prompted Montero to ask Posey a question in the bottom half of that inning.
"When I came up to hit, I said, 'What kind of [golf] club did you use there?'" Montero said.
The D-backs tied the game in the sixth thanks to a one-out triple by Owings and an RBI single by A.J. Pollock.
That was as close as they would come as they stranded a pair of runners in the eighth.
Steve Gilbert is a reporter for MLB.com. Read his blog, Inside the D-backs, and follow him on Twitter @SteveGilbertMLB. This story was not subject to the approval of Major League Baseball or its clubs.