Gillaspie, White Sox solve Royals' bullpen
Infielder's three-run triple ends Herrera, Davis streaks, lifts Chicago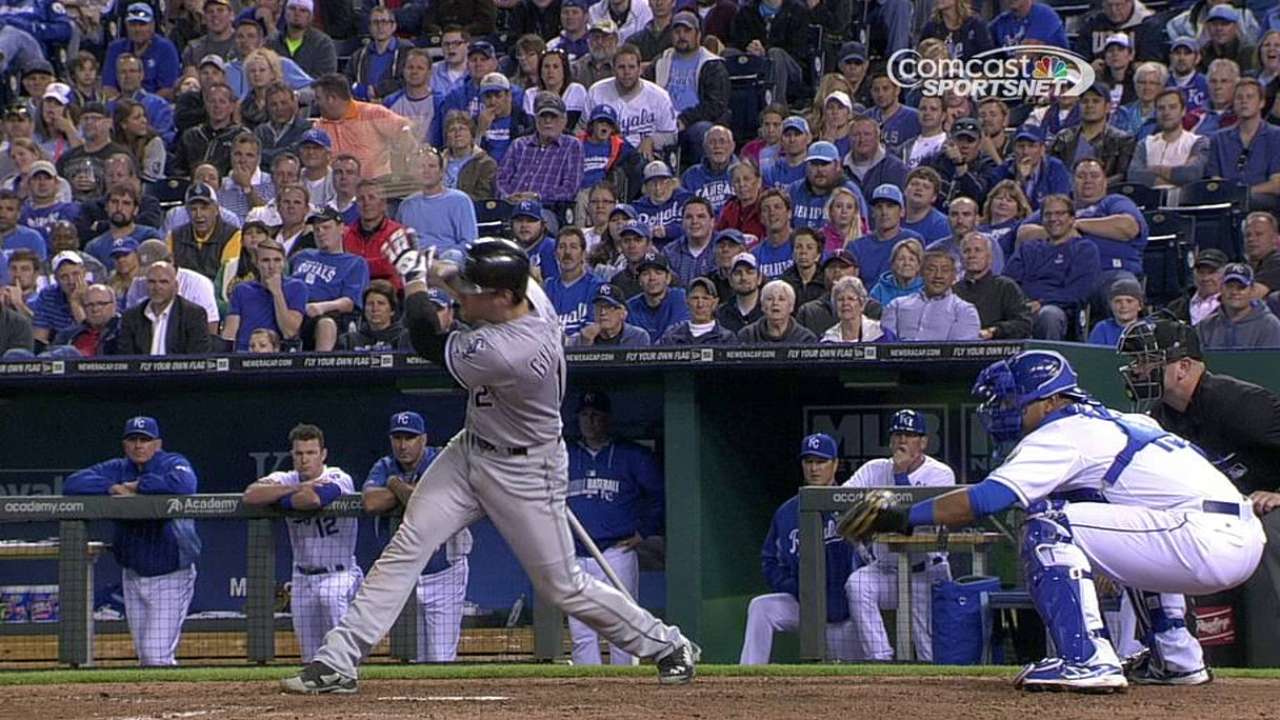 KANSAS CITY -- Just call Conor Gillaspie the streak buster.
With one timely swing on Tuesday night, Gillaspie ended the two longest reliever scoreless streaks in the Major Leagues. Gillaspie's three-run triple off Wade Davis in the seventh inning lifted the White Sox to a 7-5 victory over the Royals and put the first serious dent in the back end of the Kansas City bullpen in quite some time.
Kelvin Herrera started the seventh inning with a 5-4 lead and a scoreless streak of 30 2/3 innings. The only reliever with a longer streak was Davis, who started the evening having gone 31 2/3 innings without giving up a run.
So, excuse the Royals' fans for feeling pretty confident after hot-hitting Nori Aoki put Kansas City up 5-4 with an RBI single in the sixth. Getting to the seventh with a lead has been the constant comfort zone for the Royals in their second-half playoff push.
Not this time, however. There was a string of quality at-bats from Chicago hitters in the seventh, with Gillaspie getting the decisive blow.
Herrera surrendered a leadoff single to Josh Phegley, and Adam Eaton added a single en route to a four-hit night. After Alexei Ramirez bounced into a forceout, Kansas City manager Ned Yost assessed the first-and-third situation and decided Davis was his best bet to maintain the lead.
Jose Abreu put forth a disciplined at-bat, refusing to extend his zone with two strikes. Abreu wound up drawing a walk to load the bases, and that brought up Gillaspie. After absorbing a two-strike count, Gillaspie maintained his focus and wound up delivering a liner to right-center that cleared the bases and ended the two longest reliever scoreless streaks going.
"The [triple] was a good pitch to hit," Gillaspie said. "The other ones, I had no chance at even touching them. Guys make mistakes and you have to take advantage of it. [Davis] has the best reliever stuff of anybody in the game, in my opinion.
"It worked out, felt good. We aren't going to be moving on after the [regular] season, but it's nice to keep competing and grinding out at-bats. These guys have some incredible arms."
The four-hour, 16-minute game featured a parade of pitchers. Kansas City used nine pitchers and the White Sox used six. It was the longest nine-inning game for the White Sox since May 2, 2009, versus Texas. But the long night was worth it for the Sox, as they atoned for what had been a frustrating loss on Monday.
White Sox manager Robin Ventura thoroughly enjoyed watching his hitters compete against Herrera and Davis in the seventh.
"When those guys come in and they've got a lead, they usually lock it down," Ventura said. "The big one was Conor's at-bat and shooting one through the gap. It's tough, because you know there's a possibility they are going to pitch around Abreu, so you have to have somebody behind him who can come through."
The White Sox (69-82) will try to win the series Wednesday with ace left-hander Chris Sale on the mound. Chicago will then have a lot more to say about who wins the American League Central with three games against Detroit and four more with the Royals to end the season.
If the Royals or Tigers want to work around Abreu in key situations, the thought of Gillaspie waiting in the on-deck circle won't be appealing.
"I'm not a four-hole hitter, but right now it is important to have a left-handed hitter behind Abreu," Gillaspie said. "I wouldn't say I'm nearly the threat that he is. But I'm going to battle and fight. The reality is that every at-bat matters. When you face pitchers like [Kansas City] has, you can't take a pitch off. If you take one pitch off, you're out. If you aren't ready to focus on every single pitch, you might as well walk back to the dugout."
Davis was scored on for the first time since June 25, while Herrera allowed a run for the first time since June 24. They could see a lot more of the White Sox before the season ends.
"We're comfortable with where we are at," Davis said. "We're going to come out [Wednesday] and be ready."
Robert Falkoff is a contributor to MLB.com. This story was not subject to the approval of Major League Baseball or its clubs.