Royals miss chance despite plethora of pitchers
Two of nine, Herrera, Davis falter in team's longest nine-inning game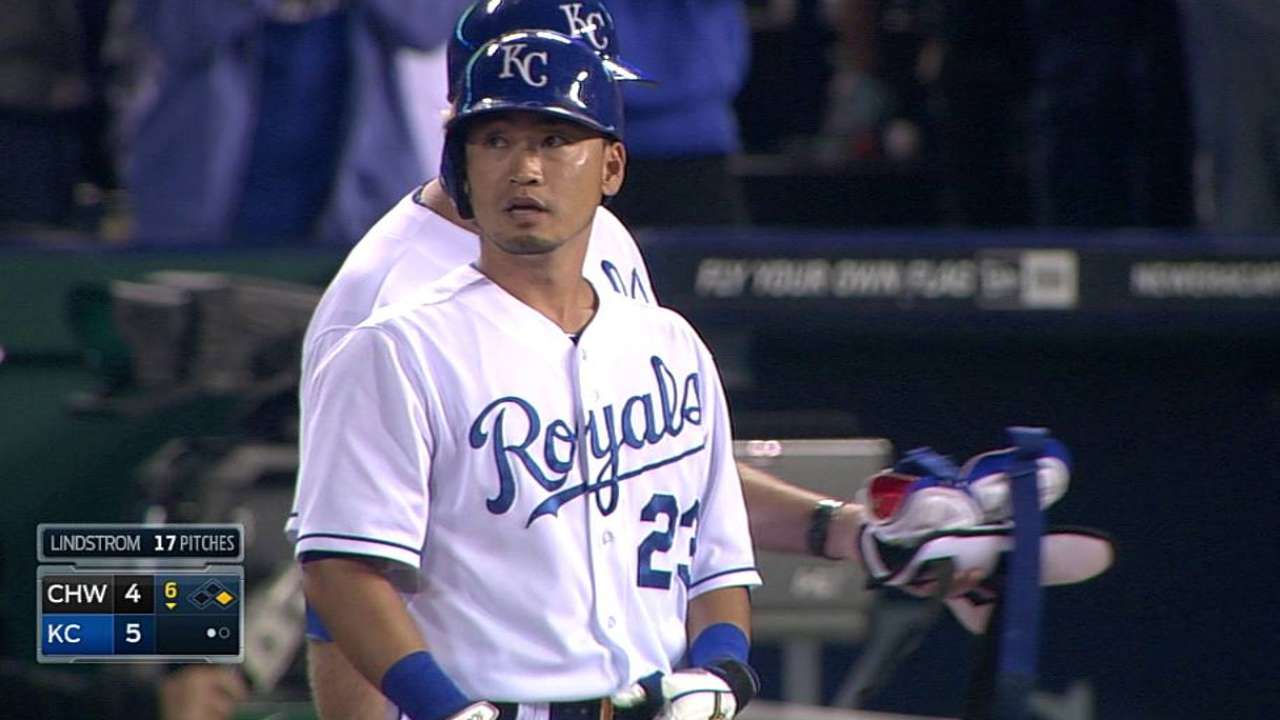 KANSAS CITY -- Long game? No problem if you win. Long game? Agonizingly slow and painful if you lose. That was the Royals' fate Tuesday night, as they lost the longest nine-inning game in their history.
It took them 4 hours and 16 minutes to lose, 7-5, to the Chicago White Sox, with 28,904 fans streaming into Kauffman Stadium in hopes of seeing more pennant race drama. There was no magical comeback this time.
"Oh, man. What a long game. Way too long," said Royals shortstop Alcides Escobar.
Way too long if you lose. Especially when first-place Detroit had lost at Minnesota and there was a chance to close the gap in the American League Central to a half-game. Instead, the Royals remained 1 1/2 behind the Tigers.
In the AL Wild Card race, the Royals are the leading team for the second spot -- one game behind Oakland and one game ahead of Seattle.
With just 12 games left (including a suspended game), Royals manager Ned Yost departed from his usual bullpen formula, using Kelvin Herrera and Wade Davis earlier than normal. It didn't work, and both relievers had their long scoreless streaks end in the White Sox's decisive three-run seventh inning.
"Just trying to find a way to win a ballgame," Yost said. "The days are countin' down, and we're just trying to find a way to win a game."
The successful formula has been: Herrera in the seventh inning, Davis in the eighth inning and Greg Holland (when he's been healthy) in the ninth. Usually, too, they come in at the top of the inning. But on Tuesday night, Yost altered it a bit.
The score was 4-4 in the sixth inning when rookie Brandon Finnegan had two outs with one runner on base. Yost opted to bring in Herrera, who walked a batter and then got the third out.
The Royals scored a run in the sixth -- Escobar singled, stole second base and raced home on Nori Aoki's single -- one of his four hits -- for a 5-4 lead.
But then Herrera gave up two singles, to Josh Phegley and Adam Eaton (one of his four hits), to start the seventh. Yost was asked if perhaps the unaccustomed long wait between innings affected Herrera.
"It quite possibly could have," Yost said. "I couldn't believe it. I looked up in the eighth inning or ninth inning and saw it was 11 [o'clock]."
Herrera got a force for the first out, and with runners at the corners, Davis was waved into the fray. No problem on his part.
"I was perfectly OK with that," Davis said. "I was comfortable, confident the whole time. I just didn't make the pitches I needed to make to keep the game where it was, and it ended up costing us some runs."
Facing dangerous Jose Abreu, Davis walked the slugger on a 3-2 pitch to load the bases.
"We just wanted to make pitches that were very competitive and nothing he could get extended on and hit a ball out of the ballpark," Davis said. "So I was OK with the walk right there."
But he wasn't OK with what happened next. Conor Gillaspie lined a three-run triple into the right-center-field gap.
"The [triple] was a good pitch to hit. The other ones, I had no chance at even touching them," Gillaspie said. "Guys make mistakes and you have to take advantage of it. He's got the best reliever stuff of anybody in the game, in my opinion."
Davis wasn't happy with his pitches, though.
"That whole at-bat, I just didn't make the pitches I needed to make to get out of that inning, and that put us in a bad spot," he said.
Yes, because this time the Royals couldn't generate anything like the footloose magic that gave them a walk-off victory in Monday night's series opener.
Two of the runs were charged to Herrera and one to Davis, so the two longest scoreless streaks going in the Major Leagues were ended. Davis had gone 31 2/3 innings without giving up a run, and Herrera was right behind at 30 2/3. Both streaks started on June 27.
Davis said both of them were prepared for a change in their routine down the stretch.
"We knew that situation could occur," Davis said. "I knew when Kel went back out that there could be a chance I would be in that inning, and I was fully ready to go in."
As it happened, the Royals never did get to Holland, now recovered from a tight triceps and ready to go. But they did use nine pitchers, a club record for a nine-inning game.
Right-hander Liam Hendriks started for the Royals in place of Danny Duffy and was pulled with the bases loaded and nobody out in the fourth inning. He was charged with four runs and seven hits.
"I needed to throw my pitches with a little more authority. I was tentative with some of those pitches, and it showed," Hendriks said. "I mean, they took some good pitches and they swung at my bad ones and hit them well."
That was just the start of what would be a historically long evening for the Royals.
Dick Kaegel is a reporter for MLB.com. This story was not subject to the approval of Major League Baseball or its clubs.