Home field throughout postseason in play for O's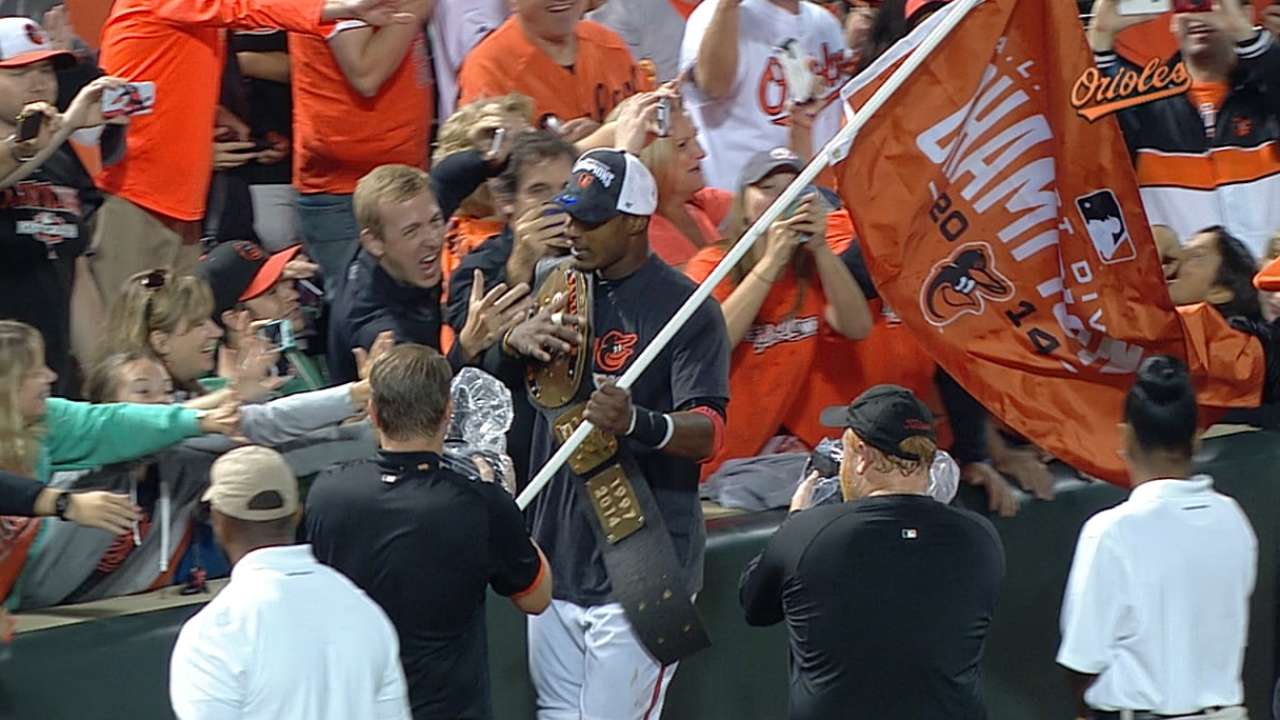 BALTIMORE -- The most superstitious of Orioles fans can begin planning for the postseason. Baltimore clinched the American League East with an 8-2 win over the second-place Blue Jays on Tuesday. In all likelihood, the O's will be hosting one of the AL Division Series.
The Orioles currently sit three games back of the Angels for the best record in the AL with 11 games to play. If Baltimore overtakes Los Angeles, the O's would get home-field advantage throughout the postseason and host the winner of the AL Wild Card Game in the first round.
More likely, the Orioles will open the postseason against the winner of the AL Central. The Tigers lead the Royals by 1 1/2 games and trail Baltimore by seven games for the second seed. If everything holds, the O's would welcome Detroit to Oriole Park at Camden Yards on Oct. 2 and 3 for Games 1 and 2, and again on Oct. 8 for a potential Game 5. If they snag the top seed, the dates will be the same and the opponent could be anyone from the Tigers or Kansas City to the Mariners or Athletics.
The Orioles will have a handful of options to start Game 1, and have plenty of time to set that rotation. The most likely choices are Chris Tillman -- who has held opponents to three runs or fewer in 19 straight starts -- or Wei-Yin Chen, if Baltimore faces a team that struggles against lefties.
Manager Buck Showalter's last remaining challenge is how to balance competing with preparing. The O's aren't mathematically locked into their spot, but ultimately it's more important to avoid yet another injury for a team that's already lost Manny Machado and Matt Wieters for the season.
Adam Jones has played in all but one game this year. Nick Markakis has only sat twice. J.J. Hardy has dealt with back spasms on a handful of occasions. Those three are logical options to get a handful of days off down the stretch as the Orioles gear up for their second postseason appearance in three years.
David Wilson is an associate reporter for MLB.com. This story was not subject to the approval of Major League Baseball or its clubs.