Turn back the clock: O's return to perch atop AL East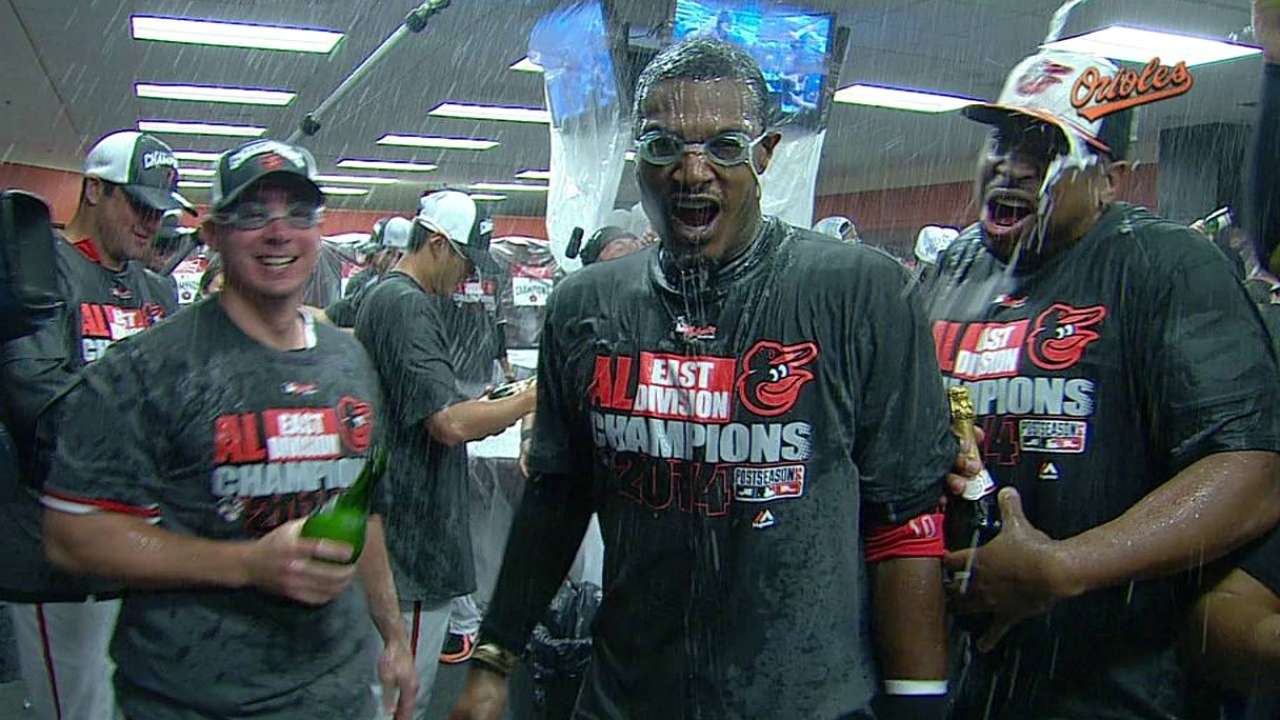 BALTIMORE -- "Happy Days Are Here Again" pumped through the speakers at Camden Yards as thousands of rabid fans stayed on hand to celebrate from the seats and watch Orioles players and front-office staff spill out onto the field in a haze of celebratory champagne and drenched embraces.
The Orioles have clinched the American League East for the first time since 1997, and they have their sights set on bringing a World Series championship back to Baltimore.
The O's, who beat Toronto 8-2 on Tuesday night, celebrated their ninth division title and clinched at home for the third time -- and the first time with a win since 1969. It's the 11th trip to the postseason for Baltimore, which moved to a season-high 31 games over .500 and turned in the second-earliest clinch date in franchise history. This after pulling into June with a 27-27 record.
"I'm happy for the guys, I'm happy for the [owner Peter] Angelos family, I'm happy for the fans in Baltimore that they got to see a division championship," executive vice president of baseball operations Dan Duquette said moments after wringing out his sweatshirt in a last-chance effort to get dry. "And now we are going to do our best to go out and bring them another couple titles."
Once the gem of the baseball world, the O's didn't have much to celebrate until they snapped a stretch of 14 consecutive losing seasons before they made the playoffs in 2012. They went on to win the AL Wild Card Game in Texas and lost to the Yankees in five games in the AL Division Series. This time around, they're hoping for a much longer stay.
"We worked hard all season long to get to where we are now and we got step one out of the way," Nick Markakis, who suffered a season-ending injury in 2012, said of his first trip to the playoffs. "Now we've got a couple more steps to go."
Manager Buck Showalter -- who passed mentor Billy Martin with his 1,254th career win Tuesday night -- will have some tough decisions to make moving forward, and has already said he wants to give his rotation a little extra rest following Thursday's off-day.
Chris Tillman, who figures to be a lock for the playoff rotation, will likely get an extra day, and lefty Wei-Yin Chen -- who also looks likely to get a postseason start -- has always benefited from additional rest. Miguel Gonzalez, Bud Norris and Kevin Gausman have all pitched well this season, with the team's rotation stepping up since late June and turning in quality starts in 11 of its last 14 games. Showalter could rely on matchups moving forward and put the other starters in the bullpen, although any final decisions won't come until much closer to the end of the regular season.
"I've already looked at backing things up, how you want to rest guys and have them ready," Showalter said.
"We're still going to try and win every game we play and we're going to try to situate ourselves for every advantage we can get without jeopardizing the long-term goal. There will be some things, things that I want to see and find out. There'll probably be another player [up here] from Sarasota in the next day or two, to continue to try and make good decisions this season and in the offseason."
Baltimore's main injuries, to Matt Wieters and Manny Machado, were both season-ending, but they could potentially get Chris Davis -- suspended for 25 games -- to return sometime during a potential AL Championship Series. Davis, who will miss eight postseason games, would force the O's to play a man down if he were added to the roster, but the infielder could provide a potential power threat.
Shortstop J.J. Hardy, who has dealt with some low back soreness, could get a few days off down the stretch to keep him fresh, along with Markakis and Adam Jones. The O's end the season with a week-long road trip to New York and Toronto and -- as it stands now -- would have home-field advantage in the ALDS and return home to Baltimore after that.
With the Nationals winning the National League East on Tuesday, this is the third time since 1969 that two MLB teams from the same metro area clinched a division title on the same day, according to ESPN. The last time it happened was in 2004, when the Angels and Dodgers clinched.
Brittany Ghiroli is a reporter for MLB.com. Read her blog, Britt's Bird Watch, and follow her on Facebook and Twitter @britt_ghiroli. This story was not subject to the approval of Major League Baseball or its clubs.