MLB.com Columnist
Richard Justice
O's East title built on belief in each other
From top to bottom, division champions just seem to 'get it'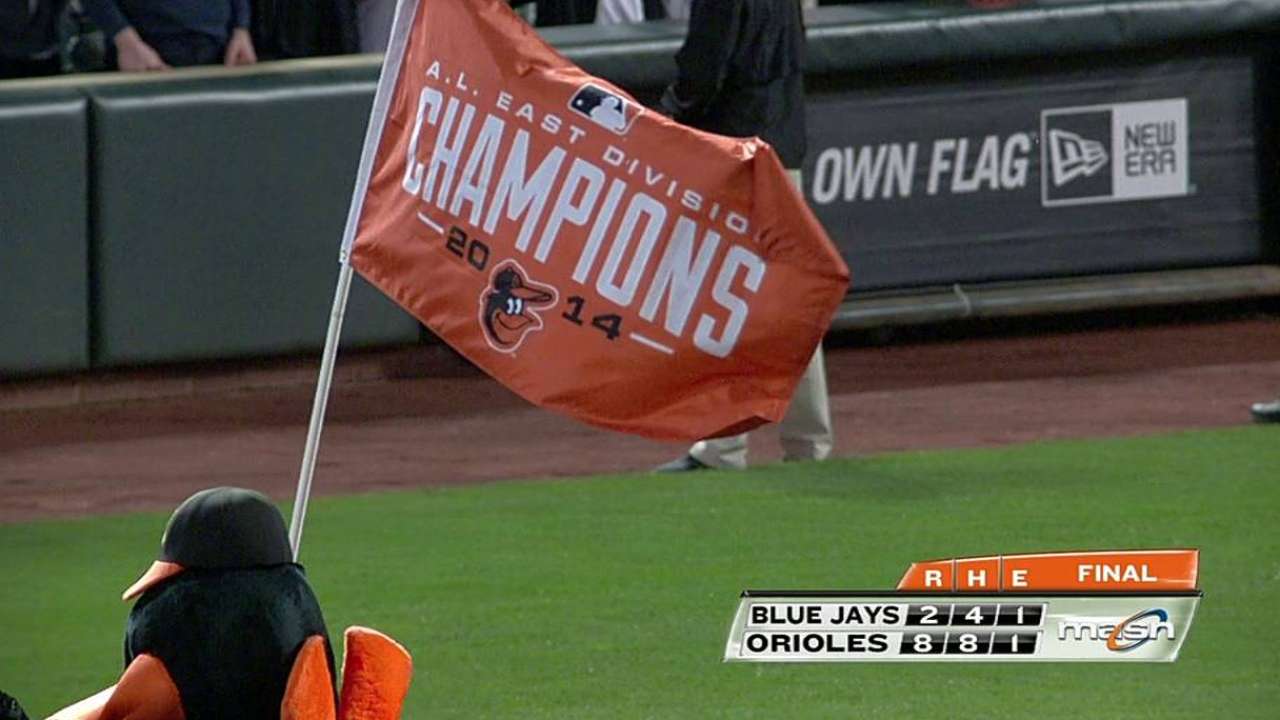 Right there in the bottom of the first inning Tuesday night at Camden Yards, the 2014 American League East champions made a statement. It was about as basic as it gets.
The Baltimore Orioles get it. In every way.
That they do is a tribute to their great manager, Buck Showalter. And to their best player, center fielder Adam Jones.
It's also a statement about the kind of players Orioles executive vice president of baseball operations Dan Duquette has brought in.
Their roster is deep and versatile. This isn't to discount their talent. They have plenty of it up and down their roster.
Sometimes, though, one game can be a microcosm of an entire season and of an organization's core beliefs, and that was the case on Tuesday.
It was significant because the 8-2 victory over the Blue Jays gave the O's their first division championship in 17 years and set off a wild celebration in the Charm City.
It was also more than that. It was a reflection of who these Birds are. Designated hitter Nelson Cruz stepped to home plate with two outs and a runner on base.
Here's a moment that says it all. On a night when Camden Yards was rocking with anticipation, with the Orioles selling more than 10,000 tickets in less than 24 hours, Cruz could have gotten caught up in the moment.
Cruz leads the Majors with 39 home runs, but when Blue Jays starter Drew Hutchison threw him a 93-mph fastball, he didn't even attempt to pull it. Rather, he fought it off and grounded a single the opposite way into right field to keep the inning alive.
In other words, Cruz trusted the next guy. And it gets better.
First baseman Steve Pearce stepped in against Hutchison.
Perhaps more than any other player on the roster, Pearce reflects what these 2014 O's are about. He was claimed off waivers. Pearce has spent nine seasons in the Minors and has been in four big league organizations.
Pearce is with the Orioles because Duquette urges his scouts to focus on what players can do rather than what they can't.
Duquette empowers scouts to sell players to him. He promises to listen.
When Baltimore signs a Steve Pearce, the organzation turns him over to a manager who is relentlessly fair about giving guys opportunities.
In Spring Training, Showalter posts a sign in the clubhouse detailing every player's playing time. And when a guy gets sent to the Minors, Showalter tells them to take care of business and there almost certainly will be another big league opportunity.
Sometimes, it works out the way it's supposed to. In the bottom of the first, Hutchison left a fastball in a good part of the plate, and Pearce launched it over the center-field wall for a 3-1 O's lead.
There surely have been times over the years when Pearce must have wondered if he'd ever get the kind of opportunity he's getting right now. He's even more important in the wake of season-ending injuries to Manny Machado and Matt Wieters and Chris Davis' 25-game suspension.
The Orioles were hit hard last week upon learning Davis would miss the rest of the regular season, but they were also resolute.
They believe in one another. They also believe that Duquette has given Showalter all kinds of roster flexibility and that Showalter will put players in position to succeed.
There was another statement moment in the bottom of the seventh when one of Duquette's Trade Deadline pickups, outfielder Alejandro De Aza, broke the game open with a bases-loaded triple.
While we focused on the bigger trades, no general manager helped his team more than Duquette did with the acquisitions of De Aza and left-handed reliever Andrew Miller.
The O's will be back in the postseason for the second time in three years. In that way, Duquette and Showalter have changed everything about baseball in Baltimore.
The Orioles are a complete team. They lead the Majors in home runs. Their starting rotation has been dominant down the stretch.
They're an easy team to trust in October. Their manager manages a roster, motivates a clubhouse and works a game and a bullpen as well as anyone.
With Jones, shortstop J.J. Hardy and others, their clubhouse leadership and toughness and resilience is as good as anyone's.
Chris Tillman has emerged as a bona fide No. 1 starter, and Zach Britton has done great work as the closer.
That farm system has produced talented young kids like right-hander Kevin Gausman and catcher Caleb Joseph, but thanks to Duquette, there's an assortment of veterans available.
The Orioles and Angels will fight it out these last two weeks for home-field advantage in a potential AL Championship Series matchup, but the O's would surprise no one by winning their first pennant in 31 years.
In returning to the postseason, they've stirred the passions of a great baseball city and fans who measure every player against Frank Robinson and Brooks Robinson, Cal Ripken and Eddie Murray.
Showalter set about getting his players to embrace Baltimore's rich baseball history the moment he arrived in 2010. He has succeeded in doing that. Showalter has also helped build a team those Orioles of past years can appreciate.
Richard Justice is a columnist for MLB.com. Read his blog, Justice4U. This story was not subject to the approval of Major League Baseball or its clubs.