Rays successfully challenge out call at third
Ruled safe after review, Franklin races home on next play to snap tie in sixth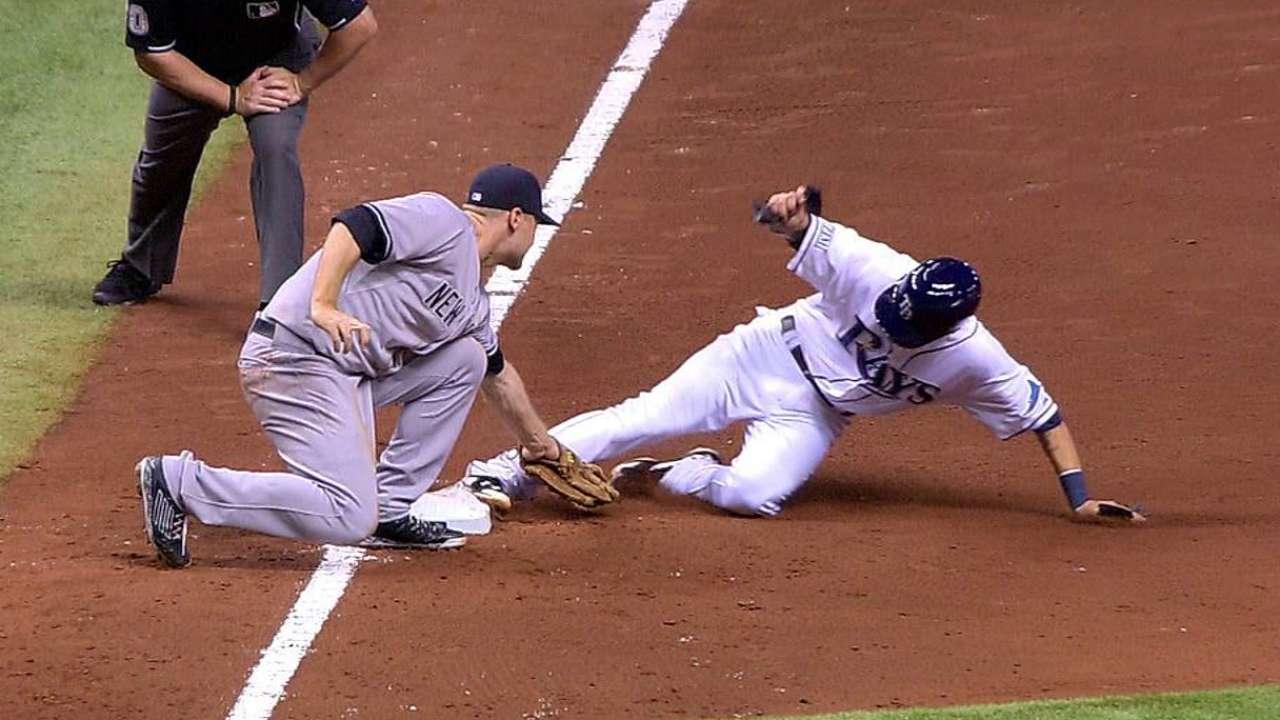 ST. PETERSBURG -- Making his Rays debut against the Yankees at Tropicana Field on Tuesday night, Nick Franklin took third base on a wild pitch from Michael Pineda with one out in the sixth inning, and his baserunning aggressiveness led to a run -- but only after a replay review. Tampa Bay manager Joe Maddon successfully challenged what was originally ruled an out, setting up Franklin's dash home on the next play.
With the game tied at 1, Franklin recorded his first hit in a Tampa Bay uniform off Pineda, driving a double into the left-field corner. Facing a full count on the next hitter, Matt Joyce, Pineda bounced ball four in the dirt and off catcher Francisco Cervelli, with the pitch kicking out in front of the plate.
As Joyce trotted to first, Franklin broke for third. Cervelli's throw beat Franklin to the bag, but Franklin came up from his slide vehemently gesticulating that he was safe. That didn't stop third-base umpire Marty Foster from calling Franklin out.
"I mean, I knew I got in before he tagged me -- I knew instantly that I was safe," Franklin said. "I almost didn't get away with it -- I almost got caught, being out at third, which I would've been a little upset about. But it turned out for the better, I guess."
The call, and Franklin's reaction, brought Maddon out of the Rays' dugout to challenge the call. Replays showed that Franklin's foot hit the bag well ahead of third baseman Chase Headley's tag, and after a one-minute, 11-second review, the call was overturned and Franklin was safe.
With runners on first and third, Yunel Escobar dropped down a perfect squeeze bunt along the first-base line. Franklin scored easily, the Yankees had no play on Escobar at first and the Rays took a 2-1 lead en route to a 6-1 victory.
Franklin had a successful debut overall, adding an RBI single in the seventh inning to finish 2-for-4.
"Yeah, it's nice, but more than anything, I want to win," Franklin said. "I was excited to be in there, but it was just about that we got a 'W' at the end of it."
David Adler is an associate reporter for MLB.com. This story was not subject to the approval of Major League Baseball or its clubs.