Ranaudo allows two homers on quiet night for offense
Prospect has served up 10 home runs over first six starts in Majors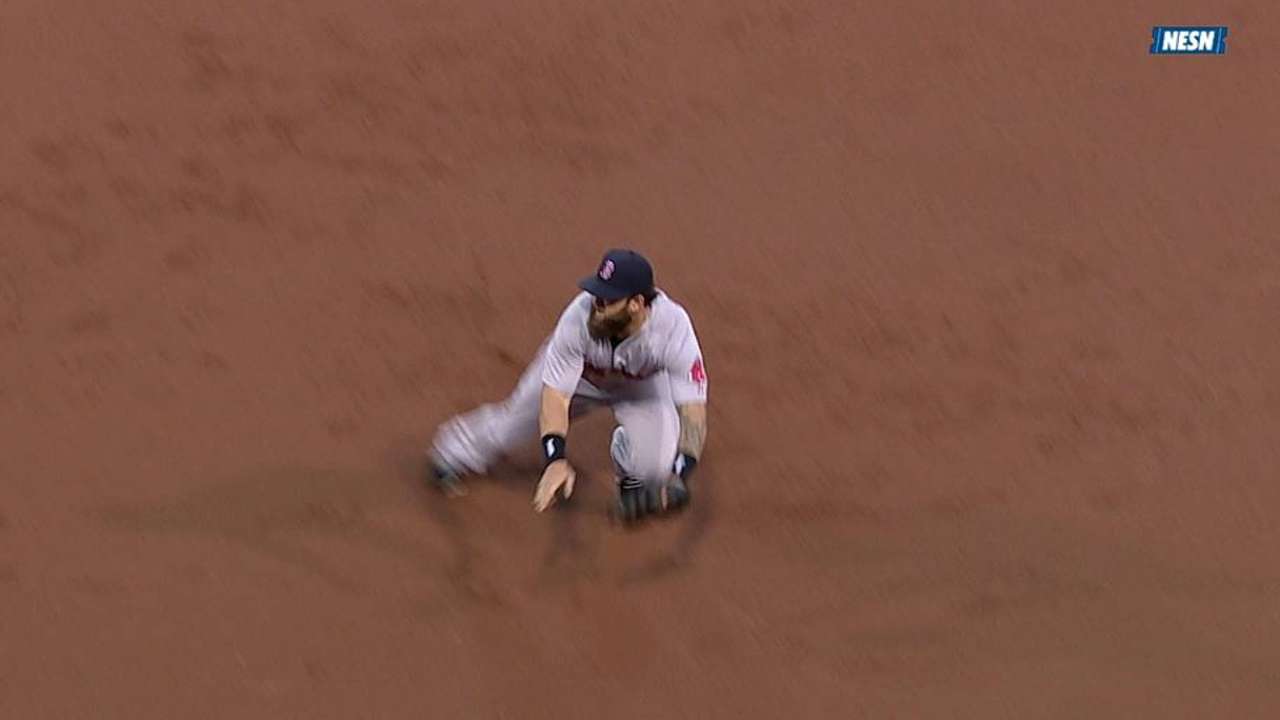 PITTSBURGH -- Anthony Ranaudo is doing a pretty nice job for the Red Sox when he keeps the ball in the ballpark. The problem is that the long balls are occurring too often.
The right-handed prospect gave up two more homers on Tuesday night, accounting for all of the runs he allowed in a 4-0 loss to the Pirates at PNC Park. Over his first six Major League starts and 32 1/3 innings, Ranaudo has been taken deep 10 times.
Of the 19 runs he's allowed, 14 of them have come on home runs.
"If you look back at all my starts, the common theme is the home runs," said Ranaudo. "I obviously have to do a better job. That falls on me. Yeah, there were times I threw the ball well tonight. Ultimately we didn't score any runs and they did, and they wound up with the win."
Why do the home runs keep happening against Ranaudo?
"I think it's continuously mixing my pitches better and understanding the strike zone and just being more consistent with my pitches and understanding what some of these hitters' approaches are and things like that," said Ranaudo. "I think that's all going to come with experience, and obviously I'd like to be making the adjustments a little quicker, but it's something that's part of the learning process that I just have to do a better job of."
Meanwhile, after an eight-run outburst against the Royals on Sunday, the Boston bats went back into a familiar funk.
The Sox were 0-for-10 with runners in scoring position.
"A number of opportunities," said manager John Farrell. "We had a big opportunity in the fifth and another in the eighth, and they were able to get key strikeouts with runners in scoring position. We created opportunities for ourselves throughout the ballgame tonight. We just couldn't cash in."
And the Pirates, in the thick of the National League postseason race, made the most of their opportunities.
Ranaudo put Neil Walker on with a walk to start the second, and Russell Martin followed by launching a two-run homer to right-center to snap the scoreless tie.
In the sixth, it was Starling Marte who took Ranaudo deep with a solo shot to left-center.
"Marte was a 2-2 changeup," said Ranaudo. "I thought it was a pretty good pitch out of my hand, too. I don't know if he was ready for it or he adjusted well to it. He put a really good swing on it."
The Red Sox produced perhaps their best threat of the night in the eighth, when Xander Bogaerts singled and pinch-hitter Allen Craig came through with a double to left, bringing the dangerous Yoenis Cespedes to the plate with two outs. But Tony Watson struck out the slugger on a 2-2 fastball in the dirt.
As for Ranaudo, he'll go back to the drawing board and try to keep the ball in the yard next time out.
"The young man actually pitched well," said Pirates manager Clint Hurdle. "The breaking ball played well, and the fastball command showed up. Big swing from Russell -- that's close to a left-handed pull hitter driving the ball to right-center field, and obviously, Marte, when he hits them like that, they're fun to watch. It was enough for us to get out in front a little bit and create some separation."
Ian Browne is a reporter for MLB.com. Read his blog, Brownie Points, and follow him on Twitter @IanMBrowne. This story was not subject to the approval of Major League Baseball or its clubs.