Shrewd moves main reason why O's won AL East
Showalter's resilient ballclub didn't let injuries, suspensions slow it down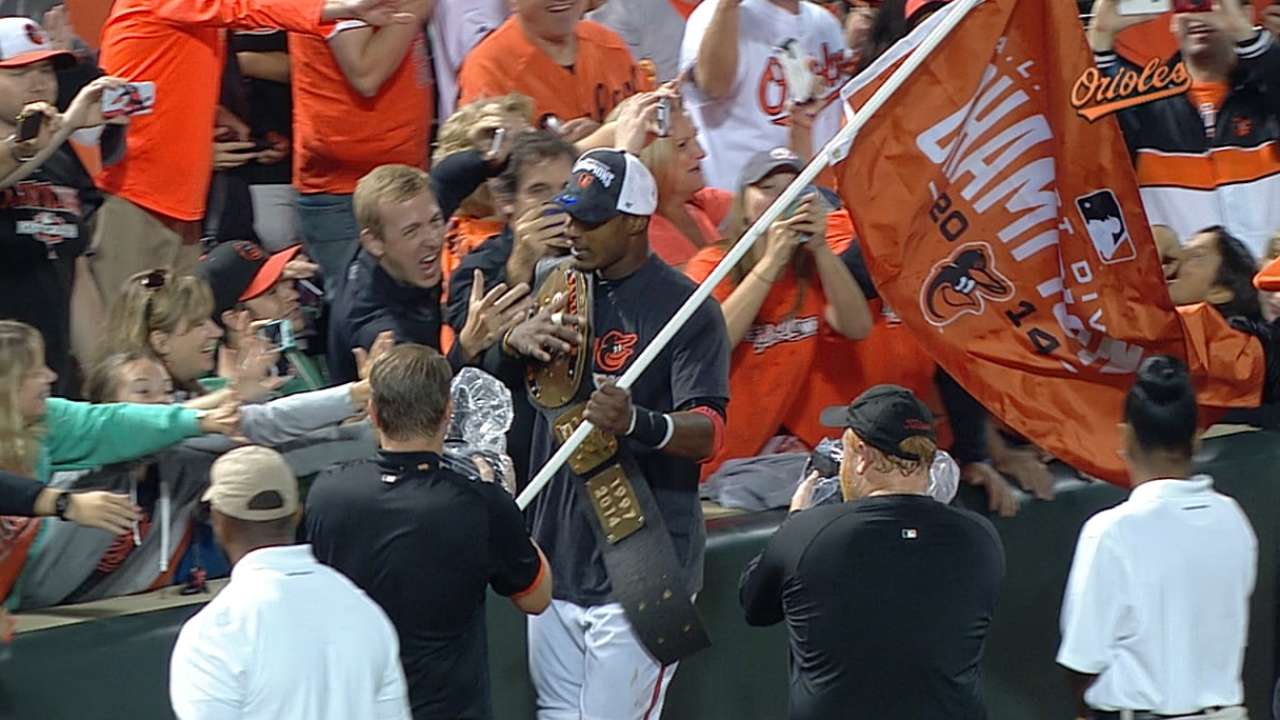 BALTIMORE -- Perhaps no playoff team looks as different heading into October than they did at the start of February than the Orioles.
Through free-agent acquisitions, trades, suspensions, injuries and role changes, the O's have managed to control the American League East for the better part of the past three months and win its first division title since 1997.
The fact that they managed to clinch their division Tuesday is a testament to manager Buck Showalter and the resiliency that characterizes his teams. That, and the shrewd acquisitions of vice president of baseball operations Dan Duquette, beginning with …
Signing Nelson Cruz
At the end of February, two-time All-Star Nelson Cruz was still on the market. His 2013 All-Star campaign was cut short by a 50-game performance-enhancing drug suspension. The outfielder could have been a major bargain for an AL team in need of a designated hitter, or it could have been a massive flop. These are exactly the kind of deals Duquette seeks out.
The O's signed Cruz to a one-year, $8 million deal. All he's done is start in the All-Star Game, lead the Majors in home runs and collect more than 100 RBIs. That falls squarely in the "bargain" category and has helped them overcome a rash injuries that started with …
Matt Wieters' Tommy John surgery
When the Orioles placed Wieters on the 15-day disabled list on May 11 with a right elbow strain, they were optimistic that their All-Star catcher would be a factor for a team with playoff aspirations. There were weeks of throwing sessions and updates on that elbow while backup catchers Caleb Joseph and Nick Hundley kept Baltimore afloat.
And then Wieters' rehab started hitting some bumps. Potential return dates kept getting pushed back until the O's announced on June 16 that Wieters would need season-ending Tommy John surgery. Since that point, Joseph and Hundley have gone from simply being adequate to being valuable pieces.
Joseph leads the AL in caught-stealing percentage and homered in five straight games in August. Hundley has built a relationship with Chris Tillman that's coincided with the starting pitcher's spectacular second half. Even without Wieters, the Orioles are often winning because of their catchers, and that's good, because the lineup took another hit with …
Manny Machado's latest season-ending injury
Until mid-August, the Orioles had actually managed to stay remarkably healthy. Machado missed the start of the season because he was coming off surgery on his left knee last September and Chris Davis was sidelined for a bit with a left oblique strain, but the starting rotation avoided any serious injuries and Wieters' elbow ailment seemed like the only potentially devastating blow.
But when Machado tore a ligament in his right knee against the Yankees on Aug. 11, that changed. Baltimore was now without two All-Stars. Its defense, now short a pair of Gold Glovers, took arguably the biggest hit as Davis had to move to third, Steve Pearce went to first and Cruz and Delmon Young had to take the bulk of the time in left field. This group of fill-ins made due, and even excelled, until …
Davis' suspension
Everything had gone wrong for the Orioles already. What more would losing another player be?
On Friday, the latest -- and possibly final -- blow landed in Baltimore. Davis, who finished third in AL Most Valuable Player Award voting in 2013 and ranked second on the team with 26 home runs in '14, was suspended for 25 games for taking Adderall. Eight of those games will carry over into the postseason, which means Davis won't be back until the AL Championship Series at the earliest.
Davis' loss isn't as devastating as it would have been a year ago -- he only accounted for 1.8 wins above replacement this season -- and fill-ins Ryan Flaherty, Kelly Johnson and Jimmy Paredes have performed adequately at times, be it through timely hitting for quality defense. The offense hasn't been quite what Baltimore expected, yet here it is thanks to pitching, and particularly a bullpen that has taken off since …
Zach Britton took over as closer
A hallmark of the Orioles' 2012 playoff team was its stingy bullpen, anchored by All-Star closer Jim Johnson. Despite Johnson leading the Majors in saves each of the past two seasons, though, Baltimore dealt him to the Athletics this offseason to let Tommy Hunter assume the closer's role.
That didn't last long. Hunter was as shaky as Johnson was in the spot and after blowing a save to the Tigers on May 13, the O's permanently removed him from the role. In stepped Britton, who has become one of the best pitchers in baseball.
Leaning on a devastating sinker, Britton has converted 34-of-38 save opportunities this season and inducing ground balls at an absurd 75 percent rate. With Darren O'Day, Andrew Miller and Hunter in front of him, the Orioles have developed one of the best late-inning bullpens in the Majors.
David Wilson is an associate reporter for MLB.com. This story was not subject to the approval of Major League Baseball or its clubs.