Yanks' frustrations boil over in loss to Rays
Girardi among three ejections; bats silenced after early run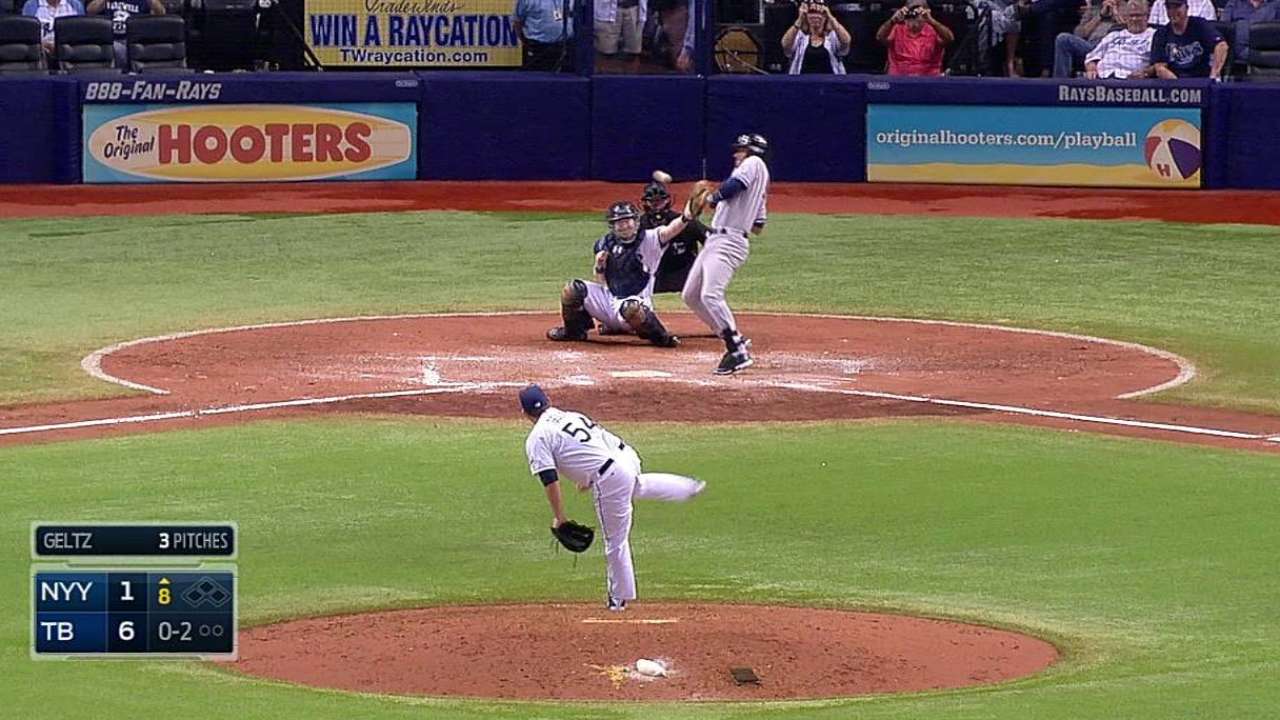 ST. PETERSBURG -- It would have taken a historic charge for the Yankees to keep their playoff dreams alive late into the month, a surge that never seemed close to materializing. All that is left now is the frustration of a fading season.
That realization boiled over in the form of a benches-clearing incident on Tuesday. Manager Joe Girardi, pitcher David Phelps and bench coach Tony Pena were all ejected as the Yankees dropped a 6-1 decision to the Rays at Tropicana Field, their fifth loss in the last six games.
"I think our team as a whole is frustrated about a whole lot of stuff right now," said Phelps, who was tossed after firing a fastball high and tight in the eighth inning. "You guys have been watching the last two, three weeks, what we've been doing. It's a frustrating game."
The Yankees seemed most incensed by an eighth-inning Steve Geltz fastball that drilled Derek Jeter's left hand, marking the fifth time that a Yankees hitter has been hit in the club's last five meetings with Tampa Bay.
Girardi was tossed by home-plate umpire Rob Drake after storming out of the dugout and pointing toward Geltz, holding up five fingers before returning to the dugout and firing a clipboard in anger down the dugout runway.
"I'm tired of my guys getting hit, and where they're getting hit -- I'm tired of it," Girardi said. "You're going to pitch inside, learn to pitch inside. You pitch down in the zone. You don't pitch up. This is not practice. This is guys' livelihood."
The Rays, under manager Joe Maddon, have stressed the importance of pitching up in the strike zone this season. Last week in New York, Chase Headley was hit twice -- including once in the chin by a 97-mph fastball -- while Jeter and Brian McCann were also plunked.
"You shouldn't be in the big leagues if you keep doing that consistently," Headley said. "Guys are throwing too hard, with too good of stuff. Granted, I know balls get away every now and then. I get it. But it can't keep happening."
Maddon insisted that none of the five hit-by-pitches has been intentional.
"We don't want to hit Derek," Maddon said. "I'm so happy Headley's fine after getting grazed in the chin. I was very happy that he was back and playing again. I understand the frustration. I get it totally."
Jeter, who was honored by the Rays in a pregame ceremony that he called "very, very nice," stayed in the game and said that his left hand was fine. He finished 0-for-2 and is hitless in his last 26 at-bats.
"Ask any team in baseball, ask any player in baseball -- no one likes to get hit," Jeter said. "If it happens a lot, yeah, you get frustrated. Hopefully this is over with and done with, and let's play the games."
Phelps' second pitch of the next half-inning was up and in on Kevin Kiermaier. That prompted Drake to toss the right-hander as well as Pena, the acting manager, before both benches and bullpens cleared.
"There was a lot of commotion," Phelps said. "The next thing I know, their guys start coming out. It's part of baseball. It happens. I'm sure we'll come out and play nine innings tomorrow. The day is going to turn over."
In the ninth inning, the Yankees also noted an inside Kirby Yates pitch that forced John Ryan Murphy to jump out of the way. Even though both clubs had been warned, the game continued without further incident.
"What's the difference in the ball that Yates threw that almost hit Murph?" Girardi said. "You're playing judge and jury and God in talking about intent."
The Yankees were also irked by a controversial call in Tampa Bay's four-run seventh. With the bases loaded and one out, pinch-hitter Wil Myers hit a deep drive to center field that Jacoby Ellsbury reeled in with a terrific diving grab near the warning track.
Evan Longoria and James Loney both raced home on the play, but Girardi contended that Loney left early from second base. Tag-ups are not reviewable according to replay rules, but second-base umpire Alan Porter said Loney waited long enough, leaving the play as a two-run sacrifice fly.
"I'll ask Major League Baseball why it's not reviewable, because it's hard to watch both [the catch and the tag]," Girardi said. "[Porter] said he clearly saw it. I don't know how you can clearly see both. I really don't."
Michael Pineda started for the Yankees and held Tampa Bay to two runs (one earned) over 5 1/3 innings, too much for a New York lineup that has produced only seven runs in the last six games. Two errors led to an unearned run in the fifth; Brendan Ryan bounced a throw and Pineda bobbled a flip from McCann, the first baseman.
In the sixth, an overturned call at third base placed runners at the corners, setting up Yunel Escobar's safety squeeze to push home Nick Franklin with the go-ahead run off Pineda, who permitted four hits with two walks and five strikeouts.
Chris Young knocked a second-inning double and scored on an Ichiro Suzuki single for the only Yankees run off Jake Odorizzi, who held New York to five hits over six innings with a walk and three strikeouts. It marked the 12th start this season in which Odorizzi has permitted one run or fewer.
The Yankees and Rays conclude their season series on Wednesday with a game that will have little effect on the standings, but it would be wise for both benches -- and the umpiring crew -- to be on high alert for any possible spillover.
"I know that emotions are high, so I can't say whether something's going to happen or not," Headley said.
Bryan Hoch is a reporter for MLB.com. Follow him on Twitter @bryanhoch and read his MLBlog, Bombers Beat. This story was not subject to the approval of Major League Baseball or its clubs.