Shoemaker to miss start with oblique strain
Scioscia says Angels will again use bullpen arms to fill rotation vacancy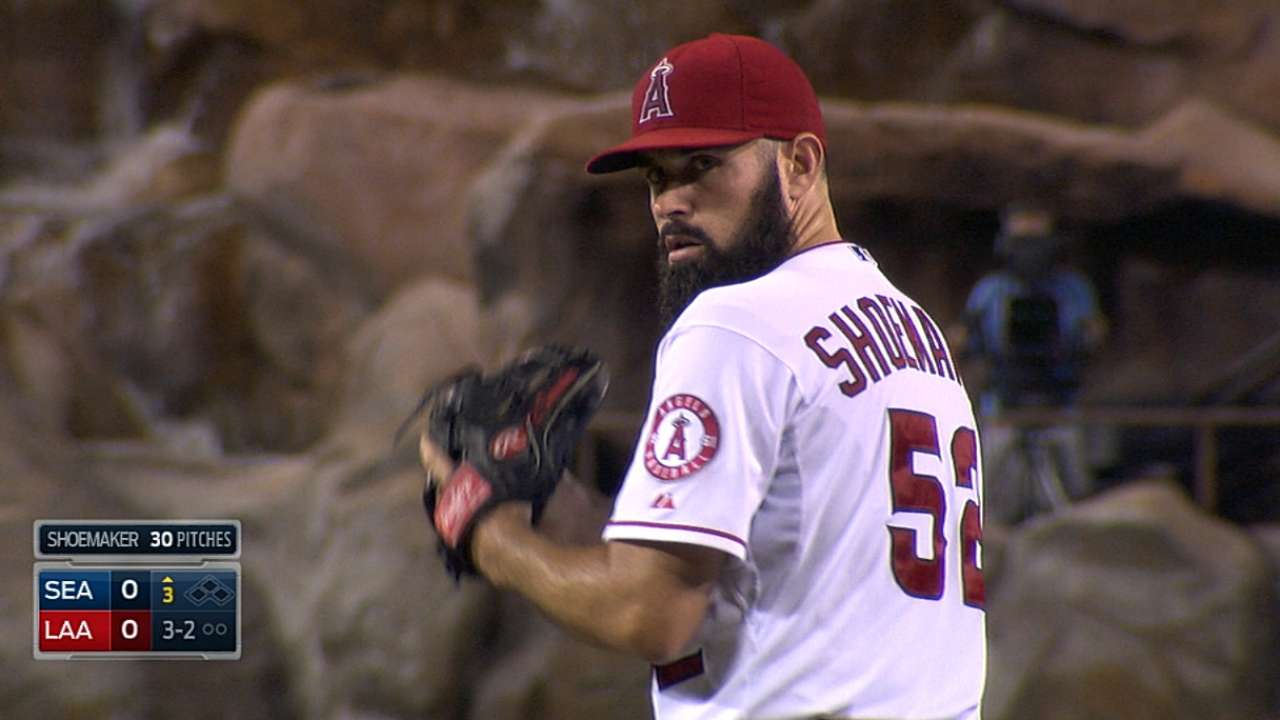 ANAHEIM -- Matt Shoemaker was diagnosed with a strained left oblique on Tuesday and will miss his next start, Angels manager Mike Scioscia said.
Shoemaker left in the eighth inning of Monday's win over Seattle with left side discomfort, which an MRI on Tuesday deemed a very mild strain. The 27-year-old rookie said he felt better than he did on Monday, with some lingering soreness that was "to be expected."
"The news," Scioscia said, "could have been a lot worse."
Though Shoemaker will miss his next start (and potentially the next one, too), he was optimistic about returning in time for the postseason -- the Angels clinched a spot Monday.
"There's not been one thing set in stone saying you're going to be ready in one week, you're going to be ready to two weeks," Shoemaker said.
Shoemaker has been one of the biggest surprises for the Angels this season, going 16-4 with a 3.04 ERA despite not earning his first start until May 13.
But Shoemaker's injury is the Angels' third to a starting pitcher in the past month-and-a-half, following Tyler Skaggs (Tommy John surgery) and Garrett Richards (patellar tendon tear).
"Unfortunately, right now, you're talking about three-fifths of your rotation you were depending a lot on are out," Scioscia said. "You have to move forward, you have to keep pitching and you have to keep getting outs. We're confident we will, just might be a little bit unconventional."
To fill Richards' vacated spot, the Angels have deployed a plethora of relievers every five days to piece together games. Without any pitchers with significant length, the Angels will have to turn to another bullpen game to replace Shoemaker, Scioscia said.
"When you're considering length, you're talking about a guy that's going to be able to go 80-90 pitches, and those guys aren't capable of that," Scioscia said. "It will be a bullpen day, it just depends on how we're going to line it up, who's going to start and where we need to go."
Cory Rasmus has already been plucked from the bullpen to start in Richards' place, and the options to fill in for Shoemaker are slim. Wade LeBlanc and Michael Roth seem like the most probable options but neither has pitched at least seven innings in the last three weeks.
LeBlanc started one game for the Angels on Aug. 25, giving up six runs in just 3 1/3 innings. Since being recalled in September, LeBlanc has settled into the bullpen, posting a 1.42 ERA in five games.
The Angels' large division lead, which was 10 1/2 games entering Tuesday, allows the club to be patient on Shoemaker instead of rushing him back in the heat of a pennant race.
"Matt's progress is not going to be tied to any schedule, where our season is or what's happening," Scioscia said. "It's going to be tied to this oblique healing and him getting back on the mound."
Still, Scioscia left Shoemaker's return open-ended and cautioned that oblique injuries can be very unpredictable.
"[Monday] night, I think it was a very elevated level of concern; today, maybe not quite as high," Scioscia said. "But you never know where these go with pitchers, much like hamstring injuries, they have a life of their own, they can go a lot of different ways."
Matthew DeFranks is an associate reporter for MLB.com. This story was not subject to the approval of Major League Baseball or its clubs.