Ubaldo digs deep to earn win in O's clincher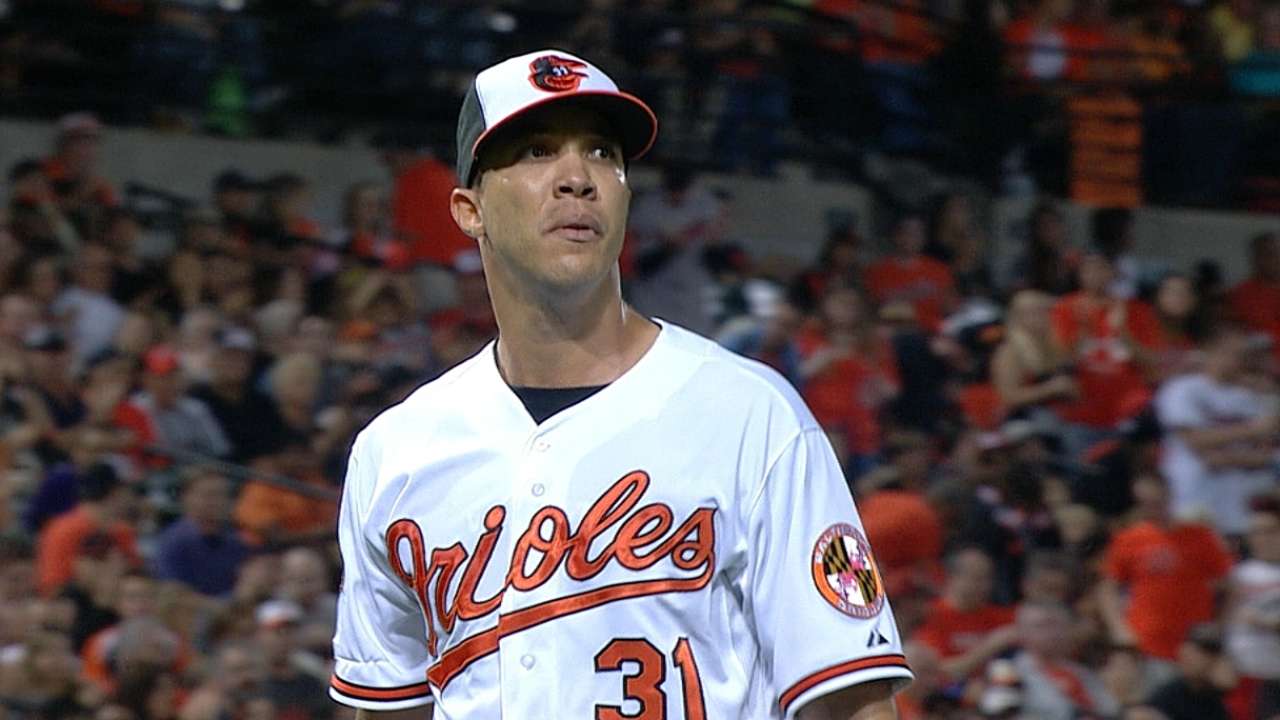 BALTIMORE -- When the Orioles acquired Ubaldo Jimenez in a late-spring signing, the move -- which netted the right-hander the largest contract (four years, $50 million) in organizational history for a free-agent pitcher -- was for big games like this.
Still, the struggling Jimenez, who was removed from the rotation last month after going 4-9 with a 4.83 ERA, was seen as the least likely candidate for Tuesday's spot start. But he was able to reward manager Buck Showalter's faith and pick up the win in the O's 8-2 American League East-clinching victory over the Blue Jays.
Jimenez rebounded from a rocky start to go five innings and hold the Blue Jays to two runs, retiring the final 10 batters to a loud chorus of cheers from the crowd of 35,297 at Camden Yards. It was a clean slate of sorts for the righty -- bathed in a champagne -- as he grinned ear-to-ear in the home clubhouse and said: "This erases everything."
"We needed him tonight," center fielder Adam Jones said of Jimenez. "And he needed it tonight. The first couple innings he struggled, but he then he got through it was and able to give us five innings and a chance to win."
"Ubaldo, we were going to pitch him about 80 pitches, tops," Showalter said of Jimenez, who hadn't started a game since Aug. 16. "I went down there with all intentions of taking him out of the game [after the fourth inning], and I made the mistake of looking in his eyes. He wasn't pleading, it was like, 'Let me take a shot at one more inning. I feel OK.' And that's one of those times I thought with my heart and not my head. I was real happy for him. And his mom and dad were here.
"That was big. That was big for him. I thought that was bigger for him than for us. Who knows what it may mean down the road in the next 3 1/2 years."
"Having such a bad year, definitely you don't think you are going to be that guy on the mound in a game like tonight," Jimenez said. "But I was able to be there, I was able to do my job, so it feels really good."
Jimenez, who walked four, allowed single runs in the first and second innings and needed 60 pitches to record the first six outs, saw that Showalter had bullpen activity going in the second. But Jimenez was able to find a rhythm after that and didn't allow another baserunner in the 97-pitch outing.
Brittany Ghiroli is a reporter for MLB.com. Read her blog, Britt's Bird Watch, and follow her on Facebook and Twitter @britt_ghiroli. This story was not subject to the approval of Major League Baseball or its clubs.