Flores makes everyday case with six RBIs in rout
Infielder, playing for regular shortstop job in 2015, goes yard twice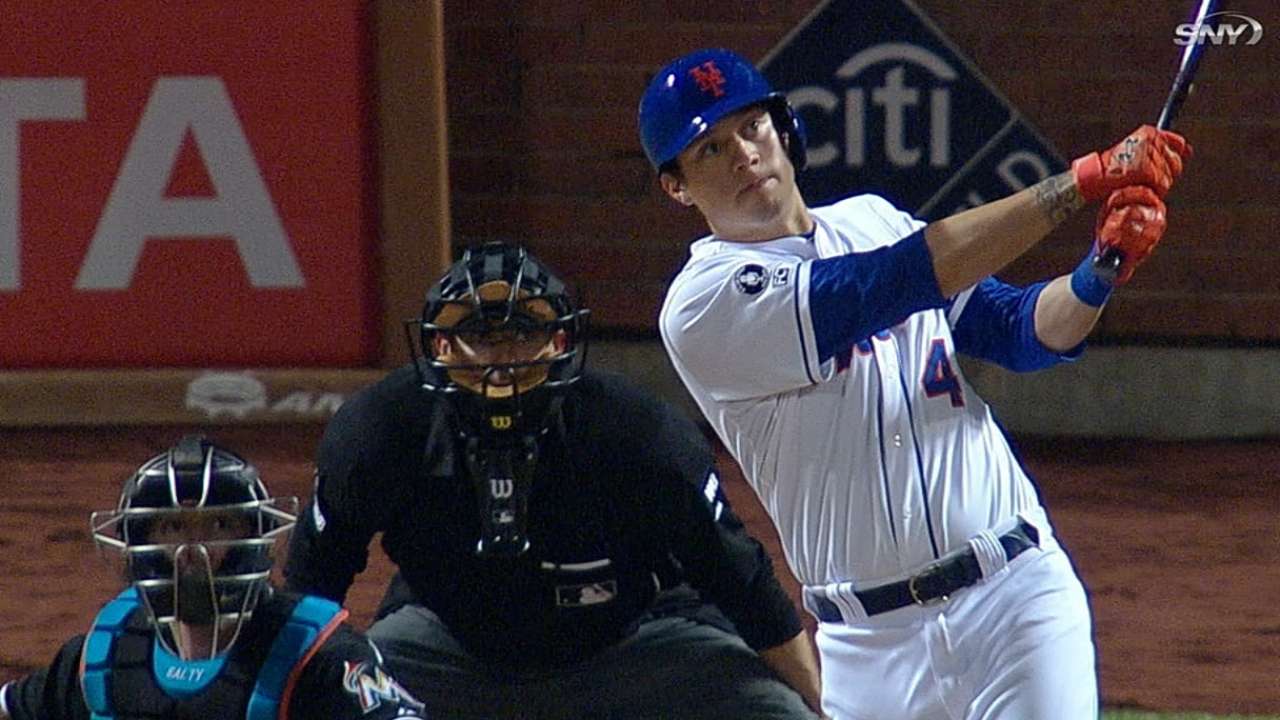 NEW YORK -- It will be months, maybe even years, before the Mets know for sure how genuine Wilmer Flores' September has been. From his early days in player development, manager Terry Collins learned to be staunchly distrustful of statistics garnered in March or September. But he may find these numbers difficult to ignore.
Flores' two-homer, six-RBI performance on Tuesday lifted the Mets to a 9-1 win over the Marlins at Citi Field, moving him that much closer to the Mets' everyday shortstop job in 2015. Circumstances could certainly change over the winter. But for now, Flores is giving the Mets every reason to consider him first at short.
"That's out of my hands," said Flores, who has recently taken to using one of Minor League catcher Kevin Plawecki's bats. "I'm just trying to do my job and I can't control what happens there."
Temporarily moving to the other side of the second-base bag for Tuesday's game, Flores broke things open against the Marlins with a three-run homer off reliever Brad Penny in the fifth. Two innings later, he piled on with a two-run homer against Penny to finish with a career-high three hits. Combined with his RBI double against starting pitcher Nathan Eovaldi in the fourth, the homers gave Flores 10 RBIs and six extra-base hits in his last four games.
"It can take a while," Collins said of the 23-year-old's power development. "I've seen it a lot of times where a guy comes up here and doesn't show you some of the things that they talked about -- that he's got extra-base power -- because he's got to get used to the league. Then he gets a little bit more comfortable and starts to realize he can hit the pitching here, and you start to see more aggressive swings."
Those swings on Tuesday translated into one of the Mets' finest offensive attacks of the season. In addition to Flores' contributions, the team received run-scoring hits from Curtis Granderson and Ruben Tejada, relying on the bottom half of their lineup for the vast majority of their nine-run assault.
It was more than enough support for Mets starter Bartolo Colon, who effectively pitched into and out of trouble throughout his 7 2/3 innings of one-run ball. Only once did Colon retire the side in order, stranding eight Marlins runners in total.
"We had a lot of hits, but we didn't get any big hits," Marlins manager Mike Redmond said. "They made their big hits count. They put some balls in the seats with guys in scoring position, and put up big numbers."
Colon's antics were essentially a sideshow to those of Flores, who remains one of the more polarizing players in the Mets' organization. Though Flores has handled shortstop adequately this season, some scouts remain skeptical that he can man the position on a full-time basis next year. Others are unsure of his bat, considering the .571 OPS he posted over his first 64 big league games in 2014.
Yet Flores has needed just four games to increase that number to its highest point of the season (.667), giving the Mets hope that he can indeed develop into a long-term answer at short.
From a front-office standpoint, he is certainly the simplest solution. Heading into the offseason, the Mets know they can no longer rely on Tejada at short. They have a star Minor League prospect in Matt Reynolds, but the 23-year-old's relative inexperience -- just 127 career games above Class A ball -- makes the Mets wary of committing to him on a full-time basis just yet.
Shortstops should actually stand out in a weak free-agent class this winter, with Baltimore's J.J. Hardy, Oakland's Jed Lowrie and Washington's Asdrubal Cabrera all hitting the open market. But none of those players figure to come cheap, while all possess one or more significant red flags -- age and injuries for Hardy and Lowrie, inconsistency for Cabrera.
Flores, meanwhile, will cost the Major League minimum, while perhaps boasting greater upside than all three free agents. With Reynolds waiting at Triple-A Las Vegas, it may make the most sense for the Mets to open the year with Flores at shortstop, knowing they can fall back on Reynolds if things go south. Doing so would also allow the Mets to allocate the bulk of their limited resources to left field, a problem area with fewer obvious solutions.
Understanding that blueprint, Collins recently told both Flores and Tejada that they are playing for jobs heading into the winter. Flores has received most of the opportunities since that time, and is finally starting to make them count.
"One of the big things about Wilmer's game is his bat," Collins said. "That's what qualifies him as a real good Major League player, is because everyone thinks he's going to hit."
Anthony DiComo is a reporter for MLB.com. Follow him on Twitter @AnthonyDicomo. This story was not subject to the approval of Major League Baseball or its clubs.