Orioles rout Toronto for first AL East crown since '97
Ubaldo retires final 10 after bumpy start; Pearce hits key three-run shot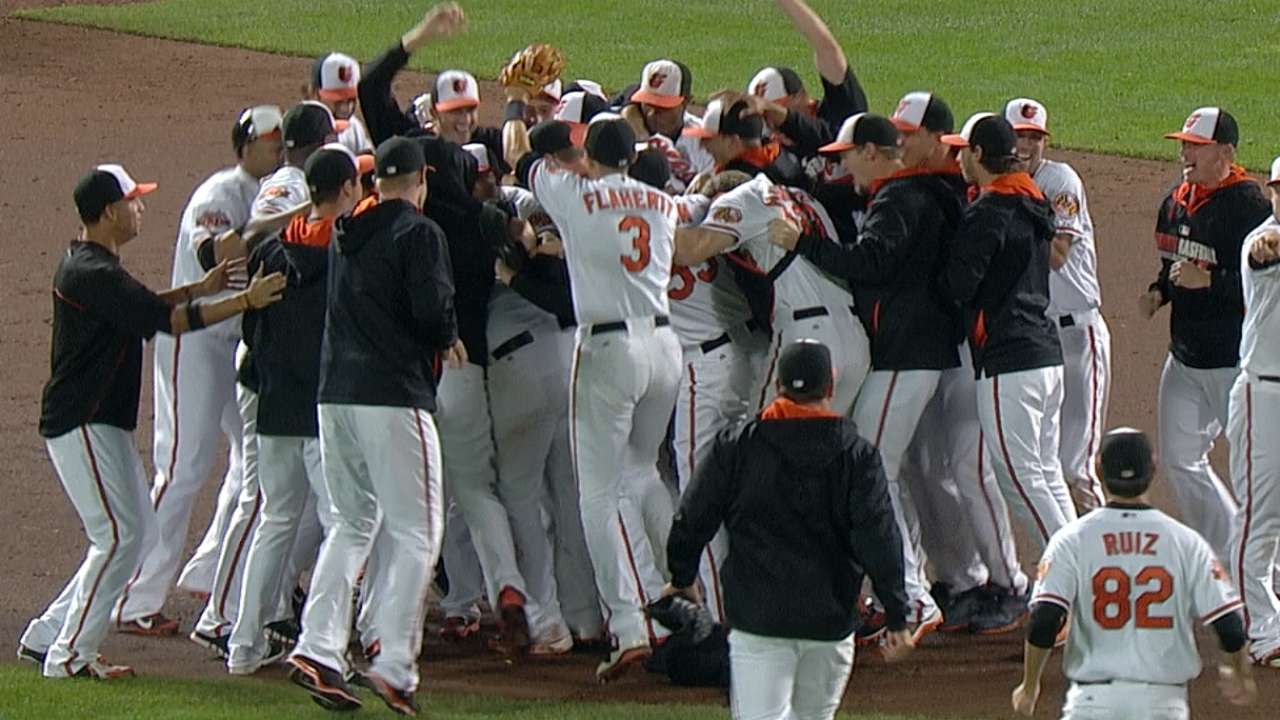 BALTIMORE -- It was the ninth inning and Orioles manager Buck Showalter wanted a good seat. So the skipper made his way to the corner of the home dugout, resting just so up against the plaque for legendary manager Earl Weaver to give him a good angle of the field.
"That's why they put Earl's number there," Showalter said. "I sat there and thought he could see this too from here."
Together, two of the bigger fixtures in Baltimore's baseball history took in the final moments of Tuesday's 8-2 win over the Blue Jays, watching as right-hander Tommy Hunter -- who was visibly shaking warming up -- recorded the final three outs to seal the O's first American League East title since 1997.
"It's been a long time coming for the city of Baltimore," center fielder Adam Jones said of the O's first home win to clinch the division since 1969.
With the Nationals winning the National League East on Tuesday, this is the third time since 1969 that two MLB teams from the same metro area clinched a division title on the same day, according to ESPN. The last time it happened was in 2004, when the Angels and Dodgers clinched.
"This team grinds out everything," Jones said. "Everybody has each other's back, there's never an 'I' with anybody here. And that's why we're celebrating right now."
Alejandro De Aza, Steve Pearce, Jimmy Paredes. Yes, these are your AL East champions.
Ravaged by season-ending injuries to Matt Wieters and Manny Machado -- and further depleted by Chris Davis' suspension -- the Orioles' bench guys and Plan B's continued to soar, each putting their own mark on an historic night in Baltimore baseball.
"Not just tonight, it's been all year. That's why we have such a great team, it's been coming from everybody all year." said Pearce, who extended a career high with his 18th homer, a three-run shot to give the O's a first-inning lead. "It took a lot of pressure off the core guys. Pitching has been awesome, we played so well as a team. After the All-Star break, we kind of jelled together and now we are AL East champs."
The O's, who got a solo homer from Paredes and a three-run triple from De Aza, also got an unexpected contribution from Ubaldo Jimenez. The struggling starter, removed from the rotation last month, rebounded from a rocky first two innings to make it through five and pick up the win in the pivotal spot start.
"You find out a lot about people when times are tough," catcher Nick Hundley said, "so for us to go out and win and to have him on the mound in this win is huge."
Jimenez, who struck out six in the 97-pitch outing, turned the ball over to T.J. McFarland, who tossed a scoreless inning before handing the ball off to Darren O'Day for four outs. Lefty Andrew Miller went two-thirds of an inning before Hunter put the finishing touches on the win, which caused the home dugout to empty and sent the crowd of 35,297 at Camden Yards into a thunderous ovation.
"Every player on this team has been through some [stuff] at some point this season, and to come together like all these guys have, all these guys stepped up when they had to step up," Hunter said. "Guys coming over via trades, guys coming up from the Minor Leagues -- everybody's contributed throughout the year."
And perhaps no player deserved the celebration more than Nick Markakis, the longest-tenured Oriole who missed the 2012 postseason because of a broken thumb on a hit-by-pitch. Markakis, who was hit under his shoulder blade on Tuesday night, remained in the game and was finally pied in the face by walk-off king Jones, a celebration that brought loud cheers from his teammates and the crowd.
"It's just a good feeling. Just taking it all in and the experience itself is something I'll never forget," Markakis said. "To do it with these guys, it's on a different level. It's awesome, and it's one of the reasons why I wanted to be part of this team and this organization, but we did this for the fans. Ultimately we want to win, but we're doing this for the fans, that's the main reason why we play this game."
Added Showalter: "This is a proud moment for all of us. But I hope that chapter is yet to be determined. There's only going to be one completely happy team at the end of the year. And now we get a chance. Winning the American League East is hard, really hard. Winning Major League games is hard -- all the late nights, all the stuff that goes into it.
"I'm just so proud of everybody, the way our ownership has been there through thick and thin with us. And the fans, you really want to repay that trust and that confidence. And so we'll see. Our curiosity will be satisfied."
Brittany Ghiroli is a reporter for MLB.com. Read her blog, Britt's Bird Watch, and follow her on Facebook and Twitter @britt_ghiroli. This story was not subject to the approval of Major League Baseball or its clubs.