Hutchison roughed up as Blue Jays fall to Orioles
Right-hander stung by early homers; Baltimore clinches AL East title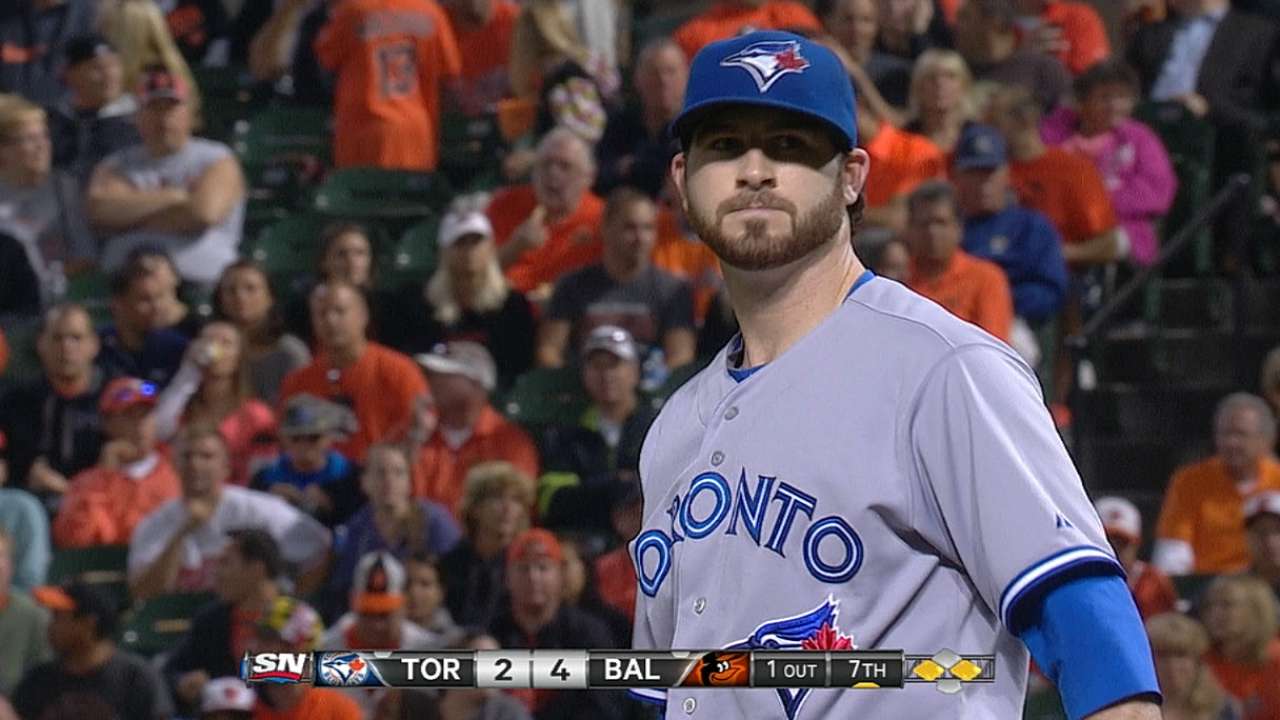 BALTIMORE -- The Blue Jays entered each of the past two seasons with grand aspirations of winning the American League East but instead spent their Septembers watching other teams celebrate just a few feet away.
For the second consecutive year, Toronto had to watch another team run onto the field as fireworks exploded in the sky and streamers came down from the upper deck. Last season it was Boston, and this year it was Baltimore after the Blue Jays' 8-2 loss to the Orioles on Tuesday at Camden Yards.
The Blue Jays slumped away into the night after right-hander Drew Hutchison allowed six runs and his offense struggled for the second consecutive game. The loss is yet another serious blow to Toronto's chances for a Wild Card spot, and this time it might be impossible to overcome.
"You never know who's going to win, but I think you'd be crazy to think they didn't have a good ballclub," Blue Jays manager John Gibbons said when asked if the Orioles as division champs would have surprised him earlier this season. "They were in it two years ago. ... When you look at their team, it's a solid ballclub. Solid pitching, all-around players, they have gritty hard-nosed type players."
The loss meant the Blue Jays remained five games back of the Royals for the second AL Wild Card spot. The win for Baltimore meant the club clinched its ninth AL East title, and first since 1997.
Hutchison entered play having allowed six earned runs over his previous 31 1/3 innings, but he wasn't nearly as effective in this one. Steve Pearce's three-run homer in the first and a solo shot by Jimmy Paredes to lead off the second were the difference-makers in a game Toronto wasn't in for very long.
Hutchison did eventually settle down and at one point retired 15 of 17, but by then it was too late. Baltimore had a lead it would not relinquish and then put the game away in the seventh when Alejandro De Aza hit a bases-loaded triple off reliever Aaron Loup.
In 12 games from Aug. 27-Sept. 9, the Blue Jays' pitching staff allowed four homers over 108 1/3 innings. Since then, it has allowed 12 homers over 53 innings. Despite the disappointing result, Toronto starters have pitched at least six innings in 22 consecutive games, which is the most in franchise history.
"You have to be better," said Hutchison, who struck out 11. "Obviously, I was good at times, but you can't come out flat like that. It's just not acceptable. First inning, I made some good pitches and then I made a bad pitch."
Toronto struck first for the second consecutive night when Jose Bautista walked and came around to score on an RBI double by Edwin Encarnacion in the first inning. The Blue Jays added another in the second after Munenori Kawasaki and Kevin Pillar earned back-to-back walks and Jose Reyes hit an RBI single.
There was hope for a lot more with inconsistent right-hander Ubaldo Jimenez on the mound, but that was all the Blue Jays could muster. Jimenez got into a groove and retired the final 10 batters he faced before turning things over to the bullpen in the sixth inning.
The Blue Jays have now lost four of their past five games to fall even further behind the Royals and Mariners. Toronto has dropped consecutive series for the first time since Aug. 22-27 and lost three straight games for the first time since Aug. 24-26.
"They beat us the last couple of nights, our guys are out there trying, they're busting like they've been doing all year," Gibbons said. "I don't expect that to change."
When Ryan Goins grounded out to end the game, a large celebration ensued at Camden Yards. Orioles players rushed onto the field, and even an hour after the last pitch there were still fans milling about the stadium and music blaring over the loud speakers.
It was an electric environment, and one that the Blue Jays originally hoped to be a part of when they had a six-game lead over Baltimore on June 6. A lot went wrong since that time, and while it's not over yet, the Blue Jays still have to be wondering what could have been.
"That's what you want," Hutchison said of pitching in that environment. "Obviously the result isn't, and watching what we had to watch is probably the worst thing you can experience as a player. And it's something you never want to have to experience again. We still have some games left here and we know what the odds are and all that, but we just have to win as much we can and see what happens."
Gregor Chisholm is a reporter for MLB.com. Read his blog, North of the Border, and follow him on Twitter @gregorMLB. This story was not subject to the approval of Major League Baseball or its clubs.