Goldschmidt nominated for Clemente Award
D-backs first baseman honored for achievements on and off field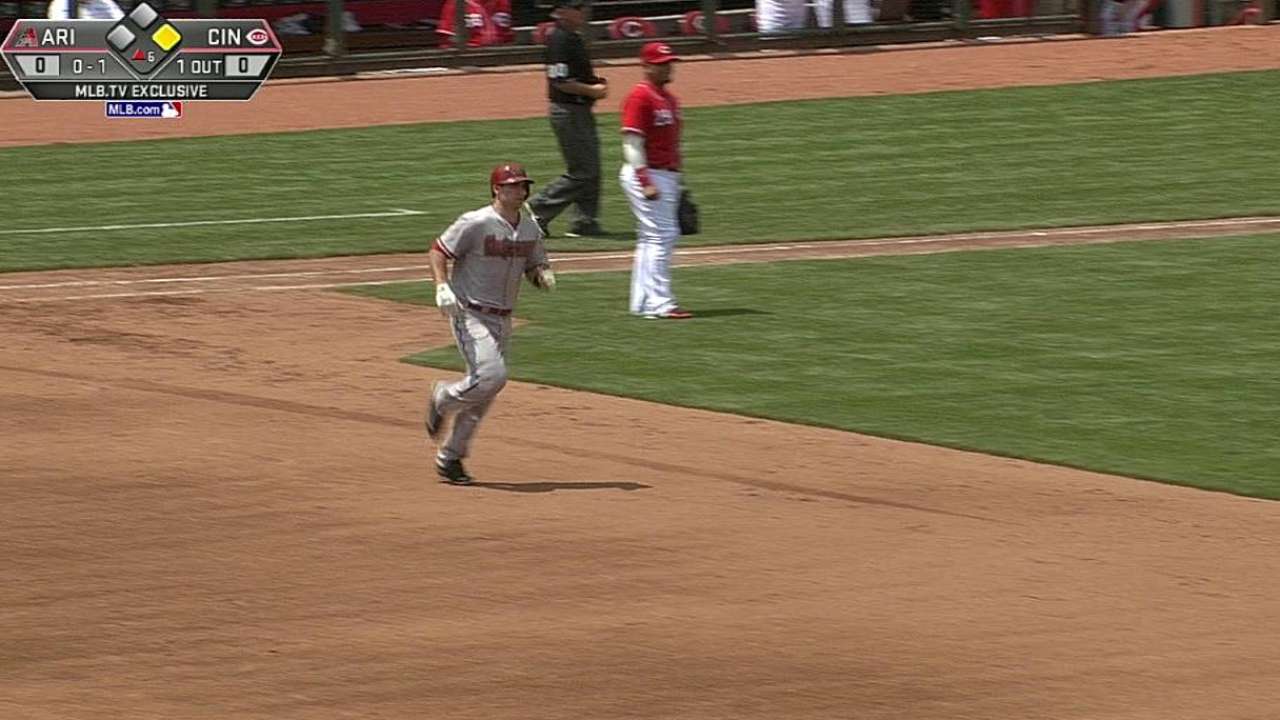 PHOENIX -- First baseman Paul Goldschmidt was named Major League Baseball and Chevrolet's D-backs nominee for the 2014 Roberto Clemente Award on Tuesday.
Each team has a nominee for the award, which recognizes a player who best represents baseball through positive acts on and off the field, including sportsmanship and community involvement.
"I am honored to be named the D-backs' Roberto Clemente nominee," Goldschmidt said in a release. "Roberto was a tremendous community ambassador on and off the field, and I am grateful to be considered for the award named in his honor."
Goldschmidt will be honored before the D-backs' game against the Giants on Wednesday, which is Roberto Clemente Day around Major League Baseball. Fans can vote for Goldschmidt starting the same day at ChevyBaseball.com. Voting ends Oct. 6, and the winner will be honored during the World Series.
Previous winners of the award include Hall of Famers Willie Mays, who was inaugural winner in 1971, Brooks Robinson, Al Kaline, Willie Stargell, Rod Carew and Gary Carter. More recently, players like Albert Pujols, Derek Jeter, Clayton Kershaw and last year's winner, Carlos Beltran, have been honored.
Goldschmidt, who has been a member of the National League All-Star team the last two seasons, launched Goldy's Fund 4 Kids in partnership with the Arizona Diamondbacks Foundation to help families at Phoenix Children's Hospital. The program has raised $25,000 this year, according to the release.
In addition, Goldschmidt granted three full-tuition scholarships to students who wished to continue their education at University of Phoenix, which Goldschmidt graduated from last year.
"Paul is a great role model in every way and continues to be a leader both on the field and off the field," D-backs president and CEO Derrick Hall said in the release. "His selfless attitude and genuine passion to help others is admirable. He represents what it means to be a D-back in every aspect."
Goldschmidt has been on the disabled list since Aug. 2 with a fractured left hand, suffered when Pirates reliever Ernesto Frieri hit him in the hand with a pitch. There are no plans for him to return by the end of this season.
Prior to that, the All-Star led the D-backs in nearly every offensive category, including batting average (.300), home runs (19), doubles (39) and on-base-plus-slugging percentage (.938).
Adam Lichtenstein is an associate reporter for MLB.com. This story was not subject to the approval of Major League Baseball or its clubs.