MLB.TV reduced to $3.99 for stretch run
For first time, fans will be able to stream World Series on supported devices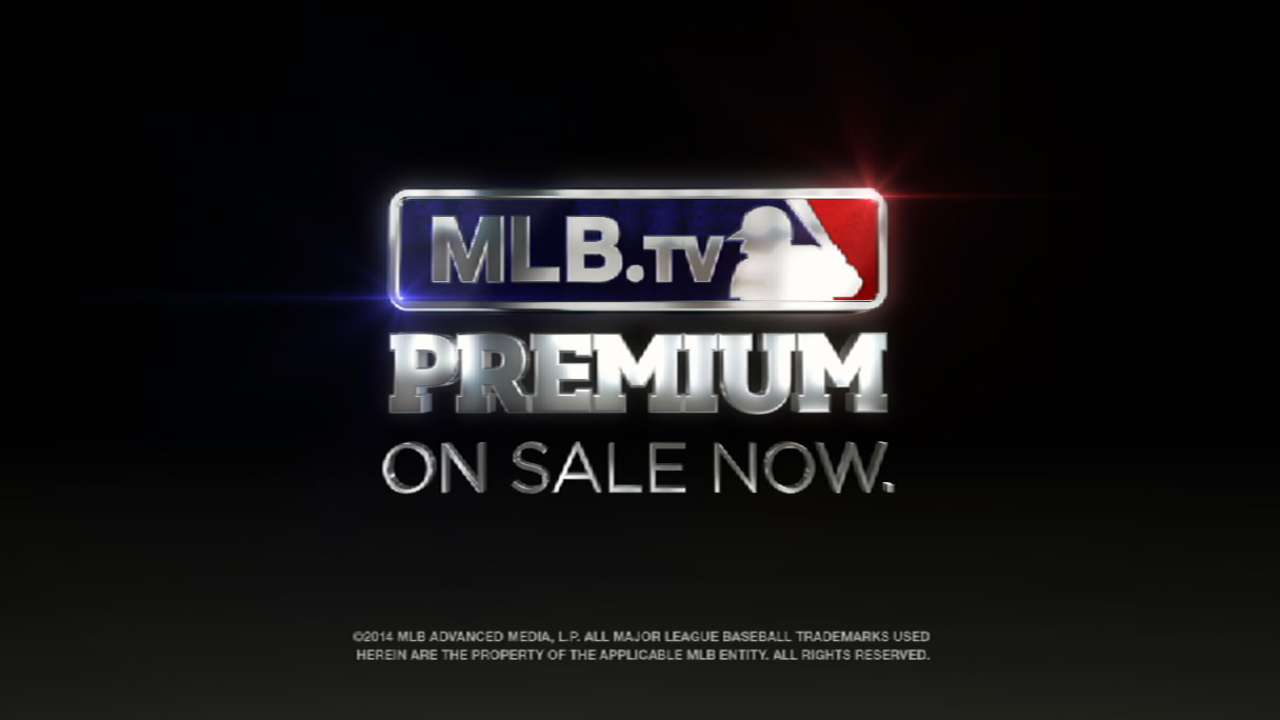 There are 12 days remaining in this Major League Baseball regular season, with a good chance of bonus tiebreaker baseball, and you can watch any of the remaining live out-of-market action plus the first-ever live World Series streams by ordering an MLB.TV Premium yearly subscription for the just-lowered price of only $3.99.
We've been giving you MLB.TV testimonials here ever since the start of Spring Training -- from fans, active players and legends, entertainers and other athletes who are all among the millions who have watched live games this way from the Internet's longest-running and No. 1 sports streaming product. But Tuesday night was as good as any evidence you'll find, as this reporter found in moving from one broadcast to another in rapid succession.
You could toggle from the Orioles' "orange-out" home game against Toronto to the Nationals' game in Atlanta, watching both Beltway clubs clinch a division title. Then with one click you could go to St. Petersburg and watch Derek Jeter bat, moving a runner to third with a sacrifice bunt, and then to PNC Park in Pittsburgh at the very moment that cameras were showing the action on the concourse at the "BRGR" concession stand and hear Bob Walk talking about the "long lines" while the Pirates were up 2-0 on Boston. Then it was off to Kansas City just as the White Sox scored the game's first run on a Jose Abreu chopper, and then a pitch later to Minnesota and watch Miguel Cabrera chase Ricky Nolasco breaking balls.
The much-anticipated Brewers vs. Cardinals series opener was in warmups at that point, and the Giants and Dodgers and Angels and Mariners and A's were just waiting to take over the screen in the minutes and hours to come. This was the kind of scoreboard-watching that MLB.TV really was made perfectly for, and Wednesday it will just get more intense as clinch season is here.
As Matt Carpenter took the plate for the Cardinals' first at-bat of the night at Busch Stadium, Dan McLaughlin, the play-by-play man for the club's broadcasts on Fox Sports Midwest, told MLB.TV viewers: "I was just told that tonight the Cardinals will go over 3.5 million in attendance. Apparently that will happen. And the Cardinals will not have a crowd this year under 40,000. That is incredible." Then Carpenter singled, and so did Jon Jay and Matt Holliday in succession, bases loaded right away and Wily Peralta walked Matt Adams.
I was on my laptop watching that game, and I had Nationals-Braves (then scoreless) on the TV monitor on my desk at the office. I then looked over at my iPhone, and Baltimore was ahead, 4-2, halfway through their possible clincher. I texted my son to make sure he was doing the same thing I was. This was baseball's night, drama everywhere you look.
It's not just what you see in the games, either. It's the flavor you get from the broadcast crew that you prefer, choosing the home or away feed. In that Tigers-Twins game, my default was the voice of Bert Blyleven, and it was nice to have a Hall of Famer's perspective for a while before I switched over to the Fox Sports Detroit feed to get a better feel for the frenzy in Michigan. This is the 30th anniversary of the Tigers' last World Series title, and maybe with that Cy Young Award-studded rotation and with new manager Brad Ausmus this is their year.
At this time of year, you might be looking for your favorite team with MLB.TV. But if you are like a massive chunk of our crowd here, you are just wanting to immerse yourself in the best time of year for a baseball fan. No other medium provides this experience, and no other sport comes close to the technology that keeps pushing the envelope for fans.
MLB.com also has just reduced the price of the No. 1 app in sports history, MLB.com At Bat, to $3.99 for the rest of the year. If you order MLB.TV Premium, that app download will be free, for use on iPhone, iPod Touch, iPad, supported Android smartphones and tablets, Amazon Kindle Fire and Windows Phone 8. With At Bat and MLB.TV Premium, you are all set to watch every remaining live out-of-market game this regular season, plus the World Series.
No matter who shows up for that 110th Fall Classic late next month, you could be among the first ever to watch it streamed live in the U.S. through FOX's participating video providers. First-time subscribers in the U.S. and Canada can watch at that time. You will be asked to complete a one-time authentication with your participating cable TV provider, and you will be able to watch the World Series on more than 400 supported mobile and connected devices.
MLB.TV just celebrated its 12th birthday on Aug. 26, dating back to that first live stream for a 2002 Rangers at Yankees game. Jeter played in that historic game at old Yankee Stadium, and if you sign up now and are outside of the Yankees market, you are assured of being able to watch all of his final regular-season games this way in this farewell season.
"Sure, you have access now," Jeter said recently, when asked about MLB.TV. "Before, I remember growing up and we had the Cubs because they were on WGN, we had the Braves on TBS and then you had to wait for that Game of the Week that came on. Now, I mean, you have access to every team every day if you want. I think it's a great thing for the fans."
If you are an MLB.TV subscriber, you can refer your friends to MLB.TV, and for every friend who purchases a subscription, you get 10 percent off at the MLB.com Shop. Combine your discounts and save up to 50 percent.
Mark Newman is enterprise editor of MLB.com. Read and join other baseball fans on his MLB.com community blog. This story was not subject to the approval of Major League Baseball or its clubs.